Daily Zohar # 1242 – Pinchas – " I have no pleasure in the death of the dead"
Daily Zohar 1242
Daily Zohar 1242
Zohar Pinchas, Vol. 20 (English)/Vol 15 (Hebrew)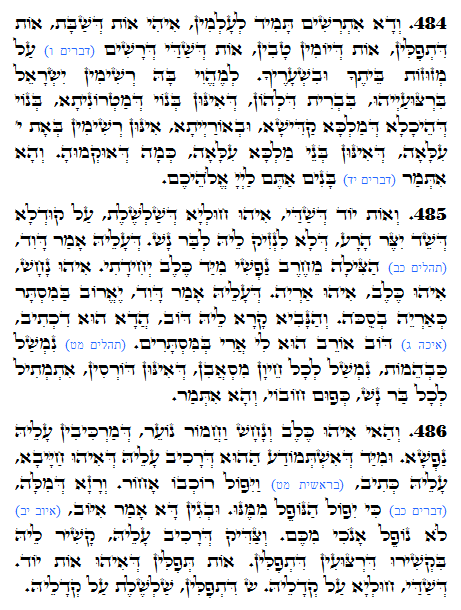 Hebrew translation:
484. וְזֶה רָשׁוּם תָּמִיד לְעוֹלָמִים, וְהִיא אוֹת הַשַּׁבָּת, אוֹת הַתְּפִלִּין, אוֹת שֶׁל יָמִים טוֹבִים, אוֹת שֵׁם שַׁדַּי שֶׁרָשׁוּם (דברים יא) עַל מְזוּזוֹת בֵּיתֶךָ וּבִשְׁעָרֶיךָ, לִהְיוֹת בָּהּ רְשׁוּמִים יִשְׂרָאֵל בָּרְצוּעוֹת, בַּבְּרִית שֶׁלָּהֶם, שֶׁהֵם בְּנֵי הַמַּלְכָּה, בְּנֵי הַהֵיכָל שֶׁל הַמֶּלֶךְ הַקָּדוֹשׁ. וּבַתּוֹרָה הֵם רְשׁוּמִים בְּאוֹת י' עֶלְיוֹנָה שֶׁהֵם בְּנֵי הַמֶּלֶךְ הָעֶלְיוֹן, כְּמוֹ שֶׁבֵּאֲרוּהוּ. וְכֵן נֶאֱמַר (דברים יא) בָּנִים אַתֶּם לַייָ אֱלֹהֵיכֶם.
485. וְאוֹת י' שֶׁל שַׁדַּי הִיא חֻלְיָה שֶׁל שַׁלְשֶׁלֶת עַל צַוָּארוֹ שֶׁל שֵׁד יֵצֶר הָרָע שֶׁלֹּא יַזִּיק לוֹ לְבֶן אָדָם. שֶׁעָלָיו אָמַר דָּוִד, (תהלים כב) הַצִּילָה מֵחֶרֶב נַפְשִׁי מִיַּד כֶּלֶב יְחִידָתִי. הוּא נָחָשׁ, הוּא כֶּלֶב, הוּא אַרְיֵה. שֶׁעָלָיו אָמַר דָּוִד, (שם י) יֶאֱרֹב בַּמִּסְתָּר כְּאַרְיֵה בְסֻכֹּה. וְהַנָּבִיא קָרָא לוֹ דֹּב. זֶהוּ שֶׁכָּתוּב (איכה ג) דֹּב אֹרֵב הוּא לִי אֲרִי בְּמִסְתָּרִים. (תהלים מט) נִמְשַׁל כַּבְּהֵמוֹת. נִמְשָׁל לְכָל חַיּוֹת טְמֵאוֹת, שֶׁהֵן דּוֹרְסוֹת. נִמְשָׁל לְכָל אָדָם כְּפִי חוֹבוֹתָיו, וַהֲרֵי נִתְבָּאֵר.
486. וְזֶהוּ כֶּלֶב וְנָחָשׁ וַחֲמוֹר נוֹעֵר, שֶׁמַּרְכִּיבִים עָלָיו נֶפֶשׁ. וּמִיָּד שֶׁנּוֹדָע זֶה שֶׁרוֹכֵב עָלָיו שֶׁהוּא הַחוֹטֵא, עָלָיו כָּתוּב (בראשית מט) וַיִּפֹּל רֹכְבוֹ אָחוֹר. וְסוֹד הַדָּבָר – (דברים כב) כִּי יִפֹּל הַנֹּפֵל מִמֶּנּוּ. וּמִשּׁוּם זֶה אָמַר אִיּוֹב, (אביו יב) לֹא נֹפֵל אָנֹכִי מִכֶּם. וְצַדִּיק שֶׁרוֹכֵב עָלָיו, קוֹשֵׁר אוֹתוֹ בִּקְשִׁירָה שֶׁל רְצוּעוֹת הַתְּפִלִּין. אוֹת תְּפִלִּין שֶׁהִיא אוֹת יוֹ"ד שֶׁל שַׁדַּי, טַבַּעַת עַל צַוָּארוֹ. ש' שֶׁל הַתְּפִלִּין הִיא שַׁלְשֶׁלֶת עַל צַוָּארוֹ.
Pinchas 484-486
The small letter י Yod that was added to Pinchas's name, is the sign of the covenant. All spiritual levels must include it in order to connect to the light of the Endless.
Deuteronomy 14:1
" בָּנִים אַתֶּם, לַיהוָה אֱלֹהֵיכֶם:"
"Ye are the sons of the LORD your God"
The Israelites are sons of YHVH because they have the covenant with God. With that they connect to the letter Yod that gives them protection from the negative side.
Deuteronomy 22:8
"כִּי תִבְנֶה בַּיִת חָדָשׁ, וְעָשִׂיתָ מַעֲקֶה לְגַגֶּךָ; וְלֹא-תָשִׂים דָּמִים בְּבֵיתֶךָ, כִּי-יִפֹּל הַנֹּפֵל מִמֶּנּוּ"
"When you build a new house, you shall make a parapet for your roof, that you may not bring the guilt of blood upon your house, if anyone should fall from it.
The last part should be translated to "if the fallen falls from it".
The verse above teaches us that even if a negative event was planned to happen in our environment we can still protect ourselves and prevent that even from happening in our place.
The 'fallen' refers to a person that already has the judgment on himself and it is only a matter of time before the judgment takes place. Our responsibility as sons of God is to provide protection in our environment.
Time is the aspect of Mercy and it gives us opportunity to correct and mitigate or remove judgment from our environment.
Ezekiel 18:32
" כִּי לֹא אֶחְפֹּץ בְּמוֹת הַמֵּת, נְאֻם אֲדֹנָי יְהוִה: וְהָשִׁיבוּ, וִחְיוּ. "
"For I have no pleasure in the death of the dead," declares YHVH GOD. Therefore, repent and live."
In Ezekiel prophecy, the message from God is very clear. Even the harsh judgment of death can be removed from a person if we follow the righteous path.
On a deeper level, we should understand that on the level of Malchut we are all considered as dead. Life is the continuous state of connection to the Light. The upper three Sefirot is true life and the lower seven create the aspect of time and temporary state of life. Connecting to the upper three completes our connection to the Tree of Life with the Ten sefirot represented in this world with the letter Yod that has the numerical value of 10.
{||}