Daily Zohar # 1254 – Pinchas – Humble yourself
Daily Zohar 1254
Daily Zohar 1254
Zohar Pinchas, Vol. 20 (English)/Vol 15 (Hebrew)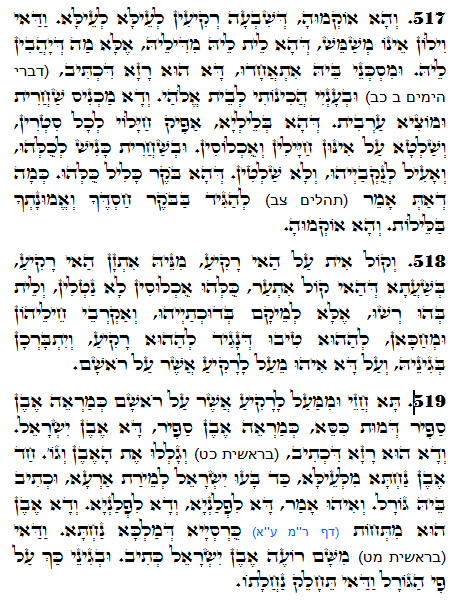 Hebrew translation:
517. וַהֲרֵי בֵּאֲרוּהָ, שֶׁשִּׁבְעָה רְקִיעִים לְמַעְלָה לְמַעְלָה. וַדַּאי וִילוֹן אֵינוֹ מְשַׁמֵּשׁ, שֶׁהֲרֵי אֵין לוֹ מִשֶּׁלּוֹ, אֶלָּא מַה שֶּׁנּוֹתְנִים לוֹ. וְהָעֲנִיִּים בּוֹ אֲחוּזִים. זֶהוּ סוֹד הַכָּתוּב, (דברי הימים-א כב) (וּ)בְעָנְיִי הֲכִינוֹתִי לְבֵית אֱלֹהַי. וְזֶה מַכְנִיס שַׁחֲרִית וּמוֹצִיא עַרְבִית. שֶׁהֲרֵי בַּלַּיְלָה מוֹצִיא חֵילוֹתָיו לְכָל הַצְּדָדִים, וְשׁוֹלֵט עַל אוֹתָם חֲיָלוֹת וַהֲמוֹנִים. וּבַשַּׁחֲרִית מְכַנֵּס לְכֻלָּם, וּמַכְנִיסָם לְנִקְבָּם וְלֹא שׁוֹלְטִים. שֶׁהֲרֵי הַבֹּקֶר כּוֹלֵל אֶת כֻּלָּם, כְּמוֹ שֶׁנֶּאֱמַר (תהלים צב) לְהַגִּיד בַּבֹּקֶר חַסְדֶּךָ וֶאֱמוּנָתְךָ בַּלֵּילוֹת. וַהֲרֵי בֵּאֲרוּהוּ.
518. וְיֵשׁ קוֹל עַל זֶה הָרָקִיעַ, מִמֶּנּוּ נִזּוֹן זֶה הָרָקִיעַ. בְּשָׁעָה שֶׁקּוֹל זֶה מִתְעוֹרֵר, כָּל הַהֲמוֹנִים לֹא נוֹסְעִים, וְאֵין לָהֶם רְשׁוּת אֶלָּא לַעֲמֹד בִּמְקוֹמָם, וּמְקָרְבִים אֶת חֵילוֹתֵיהֶם וּמְחַכִּים לְאוֹתוֹ טוֹב שֶׁנִּמְשָׁךְ לְאוֹתוֹ רָקִיעַ וְיִתְבָּרְכוּ בִגְלָלוֹ, וְעַל זֶה הוּא מֵעַל לָרָקִיעַ אֲשֶׁר עַל רֹאשָׁם.
519. בֹּא וּרְאֵה, רָקִיעַ רָקִיעַ אֲשֶׁר עַל אֶבֶן סַפִּיר דְּמוּת כִּסֵּא, מַה שֶּׁכָּתַב כְּמַרְאֵה אֶבֶן סַפִּיר – זוֹ אֶבֶן יִשְׂרָאֵל. וְזֶהוּ סוֹד הַכָּתוּב, (בראשית כט) וְגָלֲלוּ אֶת הָאֶבֶן וְגוֹ'. אֶבֶן אַחַת יָרְדָה מִלְמַעְלָה כַּאֲשֶׁר רָצוּ יִשְׂרָאֵל לָרֶשֶׁת אֶת הָאָרֶץ, וְכָתוּב בָּהּ גּוֹרָל. וְהִיא אָמְרָה: זֶה לִפְלוֹנִי, וְזֶה לִפְלוֹנִי. וְזוֹ הָאֶבֶן הִיא מִתַּחַת כִּסֵּא הַמֶּלֶךְ יוֹרֶדֶת. וַדַּאי (שם מט) מִשָּׁם רֹעֶה אֶבֶן יִשְׂרָאֵל כָּתוּב. וּמִשּׁוּם זֶה עַל פִּי הַגּוֹרָל וַדַּאי תֵּחָלֵק נַחֲלָתוֹ.
Pinchas 517-519
The seventh heaven is called Vilon, 'curtain' and represents the border from Yessod to Malchut.
(See also Daily Zohar # 1228 – Breaking through seven heavens.)
It doesn't have light of its own but only from what it receives from above. The 'poor' connects to it as it says in 1 Chronicles 22:14
" וְהִנֵּה בְעָנְיִי הֲכִינוֹתִי לְבֵית-יְהוָה, זָהָב כִּכָּרִים מֵאָה-אֶלֶף וְכֶסֶף אֶלֶף אֲלָפִים כִּכָּרִים, וְלַנְּחֹשֶׁת וְלַבַּרְזֶל אֵין מִשְׁקָל, כִּי לָרֹב הָיָה; וְעֵצִים וַאֲבָנִים הֲכִינוֹתִי, וַעֲלֵיהֶם תּוֹסִיף"
"With my poorness I have provided for the house of YHVH 100,000 talents of gold, a million talents of silver, and bronze and iron beyond weighing, for there is so much of it; timber and stone, too, I have provided. To these you must add."
I checked 18 different English translations on http://biblehub.com/1_chronicles/22-14.htm. All of them corrupted the meaning of the Hebrew verse. I assume it is so because of the conflict with the rest of the verse. I used and modified the English Standard Version translation to bring it closer to the literal meaning of the verse.
King David prepared everything for the building of the Holy Temple. In 1 Chronicles 22 he transferred the control and assigned his son, King Solomon, to continue with the actual building.
King David is the aspect of Malchut that doesn't have light of its own. He tells his son that all that he prepared for the building of the Holy Temple comes from his 'poorness', meaning from the level of Malchut.
He was a powerful king and the richness of the nation was under his control, yet he knew that nothing is actually his because everything is provided from above. King David felt the 'poorness' of Malchut and that made his vessel empty with ability to receive and channel the Light through the 'curtain' above.
The greatness of King David was in his consciousness of humility and lowliness. That gave him great connection and protection of the Light.
When he finished collecting the money for the building of the Holy Temple he gave praise to God, made connection to the upper six Sefirot (see 1 Chronicles 29:11) and said
1 Chronicles 29:14 " וְכִי מִי אֲנִי, וּמִי עַמִּי, כִּי-נַעְצֹר כֹּחַ, לְהִתְנַדֵּב כָּזֹאת: כִּי-מִמְּךָ הַכֹּל, וּמִיָּדְךָ נָתַנּוּ לָךְ. "
"But who am I, and what is my people, that we should be able thus to offer willingly? For all things come from you, and of your own hand have we given you."
He knew that everything in this world is temporary and is given from above.
His son inherited some of this lowliness and consciousness of serving the people. When God asked him (in a dream) to what kind of blessings he wished for, he answered "I am a little child…"
1 Kings 3:9 "וְנָתַתָּ לְעַבְדְּךָ לֵב שֹׁמֵעַ, לִשְׁפֹּט אֶת-עַמְּךָ, לְהָבִין, בֵּין-טוֹב לְרָע: כִּי מִי יוּכַל לִשְׁפֹּט, אֶת-עַמְּךָ הַכָּבֵד הַזֶּה"
"Give your servant therefore an understanding mind to govern your people, that I may discern between good and evil, for who is able to govern this your great people?""
God was pleased with the answer and told him "God said to him, "Because you have asked this thing and have not asked for yourself long life, nor have asked riches for yourself, nor have you asked for the life of your enemies, but have asked for yourself discernment to understand justice,",
God gave him his wishes and also everything else as we read in verse 13
" וְגַם אֲשֶׁר לֹא-שָׁאַלְתָּ נָתַתִּי לָךְ, גַּם-עֹשֶׁר גַּם-כָּבוֹד: אֲשֶׁר לֹא-הָיָה כָמוֹךָ אִישׁ בַּמְּלָכִים, כָּל-יָמֶיךָ"
"I give you also what you have not asked, both riches and honor, so that no other king shall compare with you, all your days."
In the following verse 14 we read
" וְאִם תֵּלֵךְ בִּדְרָכַי, לִשְׁמֹר חֻקַּי וּמִצְו‍ֹתַי, כַּאֲשֶׁר הָלַךְ, דָּוִיד אָבִיךָ–וְהַאֲרַכְתִּי, אֶת-יָמֶיךָ."
"And if you will walk in my ways, keeping my statutes and my commandments, as your father David walked, then I will lengthen your days.""
King Solomon was still responsible for his actions and God told him that.
We should know that even if God gives us riches and honor it doesn't mean that we are finished with our correction process. Heaven on earth is an illusionary state because in Malchut we continue the spiritual work 24×7 until our last breath. We still need to follow the spiritual laws because every moment in this life, we are responsible for every action we do.
Making donations and giving charity is a way of sharing gifts given to us for our correction. The consciousness should be of lowliness and thanking God for giving us the opportunity to share the gifts that he let us have. In most cases riches and honor is a big test and responsibility. If we can give, do, share but we don't, then we abuse the power given to us and it creates blocks and limitations on the soul. We are judged on what and how we use these gifts. After we pass away all that we can carry is our soul. Its size and purity is the only testimony to our actions.
{||}