Daily Zohar # 1264 – Pinchas – Lift up your soul
Daily Zohar 1264
Daily Zohar 1264
Zohar Pinchas, Vol. 20 (English)/Vol 15 (Hebrew)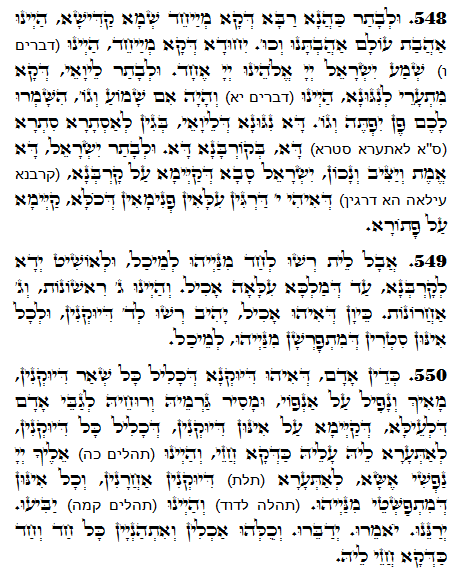 Hebrew translation:
548. וּלְבַסּוֹף הַכֹּהֵן הַגָּדוֹל שֶׁהוּא מְיַחֵד אֶת הַשֵּׁם הַקָּדוֹשׁ, וְזֶהוּ שֶׁאוֹמְרִים אַהֲבַת עוֹלָם אֲהַבְתָּנוּ וְכוּ'. וְהַיִּחוּד שֶׁמְּיַחֵד, זֶהוּ (דברים ו) שְׁמַע יִשְׂרָאֵל ה' אֱלֹהֵינוּ ה' אֶחָד. וּלְבַסּוֹף הַלְוִיִּם שֶׁמִּתְעוֹרְרִים לְנִגּוּן, זֶהוּ (שם יא) וְהָיָה אִם שָׁמֹעַ וְגוֹ', הִשָּׁמְרוּ לָכֶם פֶּן יִפְתֶּה וְגוֹ'. זֶה נִגּוּן הַלְוִיִּם, כְּדֵי לְהַסְתִּיר סֵתֶר (לְעוֹרֵר צַד) זֶה בְּקָרְבָּן זֶה. וְאַחַר כָּךְ יִשְׂרָאֵל, זֶה אֱמֶת וְיַצִּיב וְנָכוֹן, יִשְׂרָאֵל סָבָא שֶׁעוֹמֵד עַל הַקָּרְבָּן, (קָרְבָּן עֶלְיוֹן אֵלּוּ הַמַּדְרֵגוֹת) שֶׁהִיא עֶשֶׂר מַדְרֵגוֹת עֶלְיוֹנוֹת פְּנִימִיּוֹת שֶׁל הַכֹּל, עוֹמְדוֹת עַל הַשֻּׁלְחָן.
549. אֲבָל אֵין רְשׁוּת לְאֶחָד מֵהֶם לֶאֱכֹל וּלְהוֹשִׁיט יָדוֹ לַקָּרְבָּן עַד שֶׁהַמֶּלֶךְ הָעֶלְיוֹן אוֹכֵל. וְזֶהוּ ג' רִאשׁוֹנוֹת וְג' אַחֲרוֹנוֹת. כֵּיוָן שֶׁהוּא אָכַל, נָתַן רְשׁוּת לְאַרְבַּע דְּמֻיּוֹת, וּלְכָל אוֹתָם הַצְּדָדִים שֶׁנִּפְרָדִים מֵהֶן, לֶאֱכֹל.
550. וְאָז אָדָם, שֶׁהוּא דְּמוּת שֶׁכּוֹלֶלֶת אֶת כָּל שְׁאָר הַדְּמֻיּוֹת, יוֹרֵד וְנוֹפֵל עַל פָּנָיו, וּמוֹסֵר עַצְמוֹ וְרוּחוֹ לְגַבֵּי הָאָדָם הָעֶלְיוֹן שֶׁעוֹמֵד עַל אוֹתָן הַדְּמֻיּוֹת, שֶׁכּוֹלֵל כָּל הַדְּמֻיּוֹת, לְעוֹרֵר אוֹתוֹ עָלָיו כְּמוֹ שֶׁרָאוּי, וְזֶהוּ שֶׁנֶּאֱמַר (תהלים כה) אֵלֶיךָ ה' נַפְשִׁי אֶשָּׂא, לְעוֹרֵר (שָׁלֹשׁ) דְּמֻיּוֹת אֲחֵרוֹת וְכָל אֵלּוּ שֶׁמִּתְפַּשְּׁטִים מֵהֶן. (תְּהִלָּה לְדָוִד) וְזֶהוּ שֶׁכָּתוּב (שם קמה) יַבִּיעוּ. יְרַנֵּנוּ. יֹאמֵרוּ. יְדַבֵּרוּ. וְכֻלָּם אוֹכְלִים וְנֶהֱנִים, כָּל אֶחָד וְאֶחָד כְּמוֹ שֶׁרָאוּי לוֹ.
Pinchas 548-550
Another aspect of the sacrifices is the prayer of Shema Israel. The first six words is the aspect of the unification that the High Priest does in the Holy Temple. The four paragraphs of the Shema come directly from three places in the Torah and connect to the Holy Throne and the Holy Creatures. Man is the beneficiary of this connection as it fulfills the ten Sefirot with light. The entire Shema prayer has 1000 letters.
Psalms 25:1
"לְדָוִד: אֵלֶיךָ יְהוָה, נַפְשִׁי אֶשָּׂא"
"of David. Unto you, YHVH, do I lift up my soul"
The Zohar teaches us that we need to put our soul into the prayer so we can awaken the Holy Throne to spread out its light.
Psalms 25 is a good meditation to to spiritually lift up our souls and open channels for our prayers.
Have this name in front of you when you read Psalms 25.