Daily Zohar # 1268 – Pinchas – "his word is on my tongue"
Daily Zohar 1268
Daily Zohar 1268
Zohar Pinchas, Vol. 20 (English)/Vol 15 (Hebrew)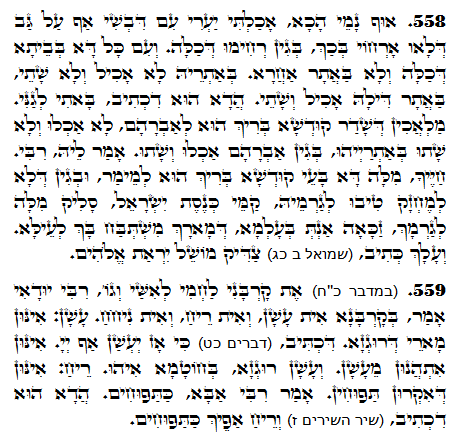 Hebrew translation:
558. אַף גַּם כָּאן, אָכַלְתִּי יַעְרִי עִם דִּבְשִׁי – אַף עַל גַּב שֶׁאֵין דַּרְכּוֹ בְּכָךְ, בִּגְלַל אַהֲבָה שֶׁל הַכַּלָּה. וְעִם כָּל זֶה בְּבֵיתָהּ שֶׁל הַכַּלָּה, וְלֹא בְמָקוֹם אַחֵר. בִּמְקוֹמוֹ לֹא אוֹכֵל וְלֹא שׁוֹתֶה – בַּמָּקוֹם שֶׁלָּהּ אוֹכֵל וְשׁוֹתֶה. זֶהוּ שֶׁכָּתוּב בָּאתִי לְגַנִּי. מַלְאָכִים שֶׁשָּׁלַח הַקָּדוֹשׁ בָּרוּךְ הוּא לְאַבְרָהָם לֹא אָכְלוּ וְלֹא שָׁתוּ בִּמְקוֹמָם – בִּשְׁבִיל אַבְרָהָם אָכְלוּ וְשָׁתוּ. אָמַר לוֹ, רַבִּי, חַיֶּיךָ דָּבָר זֶה רָצָה הַקָּדוֹשׁ בָּרוּךְ הוּא לוֹמַר, וּמִשּׁוּם שֶׁלֹּא לְהַחֲזִיק טוֹבָה לְעַצְמוֹ לִפְנֵי כְּנֶסֶת יִשְׂרָאֵל, הֵבִיא הַדָּבָר לְפָנֶיךָ. אַשְׁרֶיךָ בָּעוֹלָם, שֶׁאֲדוֹנְךָ מִשְׁתַּבֵּחַ בְּךָ לְמַעְלָה, וְעָלֶיךָ כָּתוּב (שמואל-ב כג) צַדִּיק מוֹשֵׁל יִרְאַת אֱלֹהִים.
559. אֶת קָרְבָּנִי לַחְמִי לְאִשַּׁי וְגוֹ' (במדבר כח). רַבִּי יוּדָאִי אָמַר, בַּקָּרְבָּן יֵשׁ עָשָׁן, וְיֵשׁ רֵיחַ, וְיֵשׁ נִיחוֹחַ. עָשָׁן – אֵלּוּ בַּעֲלֵי הָרֹגֶז, שֶׁנֶּאֱמַר (דברים כט) כִּי אָז יֶעְשַׁן אַף ה'. אֵלּוּ נֶהֱנִים מֵהֶעָשָׁן, וַעֲשַׁן רֹגֶז בַּחֹטֶם הוּא. רֵיחַ – אֵלּוּ שֶׁנִּקְרָאִים תַּפּוּחִים. אָמַר רַבִּי אַבָּא, כַּתַּפּוּחִים – זֶהוּ שֶׁכָּתוּב (שיר השירים ז) וְרֵיחַ אַפֵּךְ כַּתַּפּוּחִים.
Pinchas 558-559
In the previous DZs we learned that God sent Elijah to Rabbi Shimon to discuss the study of the sacrifices. Elijah came to hear Rabbi Shimon's opinion and go back to the study that was in progress in the upper worlds.
Elijah revealed to him that God didn't want to deliver the study by himself but he wanted Rabbi Shimon to do it because he was using him as a channel.
The Zohar here quotes the last words of King David revealing that the spirit of God was in him and spoke through him.
2 Samuel 23:2
"רוּחַ יְהוָה, דִּבֶּר-בִּי; וּמִלָּתוֹ, עַל-לְשׁוֹנִי"
"The Spirit of YHVH speaks by me; his word is on my tongue"
2 Samuel 23:3
"אָמַר אֱלֹהֵי יִשְׂרָאֵל, לִי דִבֶּר צוּר יִשְׂרָאֵל: מוֹשֵׁל, בָּאָדָם–צַדִּיק, מוֹשֵׁל יִרְאַת אֱלֹהִים"
"The God of Israel has spoken; to me spoke the Rock (also means Creator) of Israel, govern man – Righteous, govern the awe of God (אֱלֹהִים, ELHYM),"
The difference between regular people and righteous ones is that regular people are governed by the system of God and righteous people can control and command the spiritual system to follow their wishes.
Most people who are just beginning their study of the Zohar wish to have the 'magical' power of 'Abra cadabra'. These two words mean "I'll create as I speak". On the deeper levels, the Zohar can get us to that kind of control but the person must be totally pure, humble and without any selfish agenda. Only then he could channel the light and control the material world.
Until you achieve the purity level of Rabbi Shimon, of the humility of King David, use the Zohar to control your soul, bringing it to a higher level.
{||}