Daily Zohar # 1272 – Pinchas – When enemies lay under our feet
Daily Zohar 1272
Daily Zohar 1272
Zohar Pinchas, Vol. 20 (English)/Vol 15 (Hebrew)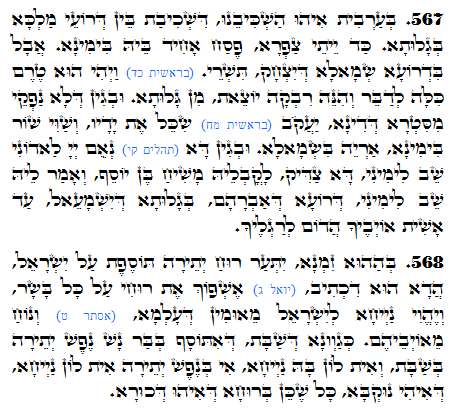 Hebrew translation:
567. בְּעַרְבִית הוּא בִּרְכַּת הַשְׁכִּיבֵנוּ, שֶׁשּׁוֹכֶבֶת בֵּין זְרוֹעֵי הַמֶּלֶךְ בַּגָּלוּת. כַּאֲשֶׁר יָבֹא הַבֹּקֶר, פֶּסַח אָחוּז בּוֹ בְּיָמִין. אֲבָל בִּזְרוֹעַ שְׂמֹאל שֶׁל יִצְחָק – חֹדֶשׁ תִּשְׁרֵי. (בראשית כד) וַיְהִי הוּא טֶרֶם כִּלָּה לְדַבֵּר וְהִנֵּה רִבְקָה יֹצֵאת, מִן הַגָּלוּת. וּמִשּׁוּם שֶׁלֹּא יוֹצֵאת מִצַּד הַדִּין, יַעֲקֹב שִׂכֵּל אֶת יָדָיו, וְשָׁם שׁוֹר בְּיָמִין, אַרְיֵה בִּשְׂמֹאל. וּמִשּׁוּם זֶה (תהלים קי) נְאֻם ה' לַאדוֹנִי שֵׁב לִימִינִי – זֶה צַדִּיק, כְּנֶגְדּוֹ מָשִׁיחַ בֶּן יוֹסֵף. וְאָמַר לוֹ שֵׁב לִימִינִי, זְרוֹעַ שֶׁל אַבְרָהָם, בַּגָּלוּת שֶׁל יִשְׁמָעֵאל, עַד אָשִׁית אֹיְבֶיךָ הֲדוֹם לְרַגְלֶיךָ.
568. בְּאוֹתוֹ זְמַן תִּתְעוֹרֵר רוּחַ יְתֵרָה תּוֹסֶפֶת עַל יִשְׂרָאֵל. זֶהוּ שֶׁכָּתוּב (יואל ג) אֶשְׁפּוֹךְ אֶת רוּחִי עַל כָּל בָּשָׂר. וְיִהְיֶה מְנוּחָה לְיִשְׂרָאֵל מֵאֻמּוֹת הָעוֹלָם, (אסתר ט) וְנוֹחַ מֵאֹיְבֵיהֶם. כְּדֻגְמַת הַשַּׁבָּת, שֶׁנּוֹסֶפֶת בָּאָדָם נֶפֶשׁ יְתֵרָה בְּשַׁבָּת וְיֵשׁ לָהֶם בָּהּ נַחַת – אִם בְּנֶפֶשׁ יְתֵרָה יֵשׁ לָהֶם נַחַת, שֶׁהִיא נְקֵבָה, כָּל שֶׁכֵּן בְּרוּחַ, שֶׁהוּא זָכָר.
Pinchas 567-568
Continued from previous DZ
The prayer of the night is optional because there is no light of Chassadim to reveal. Malchut is in exile, protected by the King. When the morning comes, the right column is revealed. It is Chessed of Zeir Anpin, the aspect of the Redemption. It is also the aspect of the month of Nissan, (Aries), when the Israelites were first redeemed from the exile of Egypt.
Zeir Anpin is holding the Malchut in its right to bring Chassadim and correct the left column. The Redemption comes only with the correction of the Left, because it is judgment.
Psalms 110:1
"לְדָוִד, מִזְמוֹר:
נְאֻם יְהוָה, לַאדֹנִי–שֵׁב לִימִינִי; עַד-אָשִׁית אֹיְבֶיךָ, הֲדֹם לְרַגְלֶיךָ"
"A Psalm of David. YHVH said unto my master: 'Sit at My right side, until I make your enemies your footstool."
This verse connects us to Jacob and his plan of bringing the Redemption after controlling the 'enemies' that are the Left side and judgment in the world.
The Zohar reveals the lesson that Jacob teaches us with his actions. Jacob knew that it will take time for his children to overcome the negative side so he allowed the left to have control over 'Malchut' while they were in exile.
{||}