Daily Zohar # 1332 – Pinchas – Control from the head
Zohar Pinchas, Vol. 20 (English)/Vol 15 (Hebrew)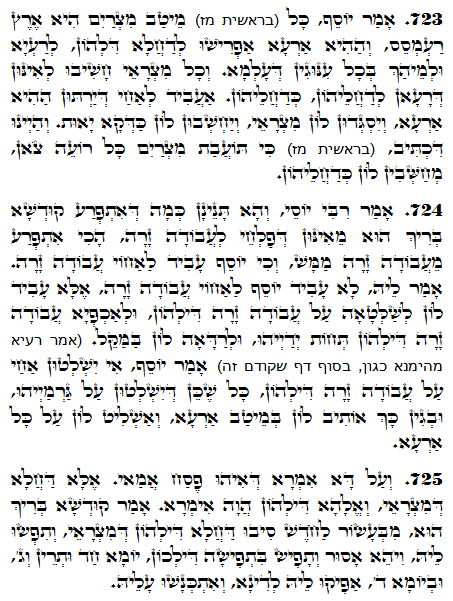 Hebrew translation:
723. אָמַר יוֹסֵף, כָּל מֵיטַב מִצְרַיִם הִיא אֶרֶץ רַעְמְסֵס, וְאוֹתָהּ אֶרֶץ הִפְרִישׁוּ לְיִרְאָתָם, לִרְעוֹת וְלָלֶכֶת בְּכָל תַּעֲנוּגוֹת הָעוֹלָם. וְכָל הַמִּצְרִים הֶחְשִׁיבוּ לְאֵלֶּה שֶׁרוֹעִים לְיִרְאָתָם, כְּיִרְאָתָם. אֶעֱשֶׂה לְאַחַי שֶׁיִּירְשׁוּ אוֹתָהּ אֶרֶץ, וְיִשְׁתַּחֲווּ לָהֶם הַמִּצְרִים, וְיַחֲשִׁיבוּ אוֹתָם כְּמוֹ שֶׁרָאוּי. וְזֶהוּ שֶׁכָּתוּב (בראשית מו) כִּי תוֹעֲבַת מִצְרַיִם כָּל רֹעֵה צֹאן. מַחֲשִׁיבִים אוֹתָם כְּיִרְאָתָם.
724. אָמַר רַבִּי יוֹסֵי, וַהֲרֵי לָמַדְנוּ, כְּמוֹ שֶׁנִּפְרַע הַקָּדוֹשׁ בָּרוּךְ הוּא מֵאֵלּוּ שֶׁעוֹבְדִים לַעֲבוֹדָה זָרָה – כָּךְ נִפְרַע מֵעֲבוֹדָה זָרָה מַמָּשׁ. וְכִי יוֹסֵף עָשָׂה לְאֶחָיו עֲבוֹדָה זָרָה?! אָמַר לוֹ, לֹא עָשָׂה יוֹסֵף לְאֶחָיו עֲבוֹדָה זָרָה, אֶלָּא עָשָׂה לָהֶם שֶׁיִּשְׁלְטוּ עַל הָעֲבוֹדָה זָרָה שֶׁלָּהֶם, וְלִכְפּוֹת הָעֲבוֹדָה זָרָה שֶׁלָּהֶם תַּחַת יְדֵיהֶם וְלִרְדּוֹתָם בְּמַקֵּל. אָמַר יוֹסֵף, אִם יִשְׁלְטוּ אַחַי עַל הָעֲבוֹדָה זָרָה שֶׁלָּהֶם, כָּל שֶׁכֵּן שֶׁיִּשְׁלְטוּ עַל עַצְמָם, וּמִשּׁוּם זֶה הוֹשִׁיב אוֹתָם בְּמֵיטַב הָאָרֶץ וְהִשְׁלִיט אוֹתָם עַל כָּל הָאָרֶץ.
725. וְעַל זֶה שֶׂה שֶׁהוּא פֶּסַח – מַדּוּעַ? אֶלָּא יִרְאָתָם שֶׁל הַמִּצְרִים וֵאלוֹהַּ שֶׁלָּהֶם הָיָה הַשֶּׂה. אָמַר הַקָּדוֹשׁ בָּרוּךְ הוּא: מִבֶּעָשׂוֹר לַחֹדֶשׁ קְחוּ אֶת יִרְאָתָם שֶׁל הַמִּצְרִים, וְתִפְשׂוּ אוֹתוֹ, וְיִהְיֶה קָשׁוּר וְתָפוּס בִּתְפִיסָה שֶׁלָּכֶם יוֹם אֶחָד וּשְׁנַיִם וּשְׁלֹשָׁה, וּבַיּוֹם הָרְבִיעִי הוֹצִיאוּ אוֹתוֹ לְדִין וְהֵאָסְפוּ עָלָיו.
Pinchas 723-725
Genesis 47:11
" וַיּוֹשֵׁב יוֹסֵף, אֶת-אָבִיו וְאֶת-אֶחָיו, וַיִּתֵּן לָהֶם אֲחֻזָּה בְּאֶרֶץ מִצְרַיִם, בְּמֵיטַב הָאָרֶץ בְּאֶרֶץ רַעְמְסֵס–כַּאֲשֶׁר, צִוָּה פַרְעֹה"
" So Joseph settled his father and his brothers and gave them a possession in the land of Egypt, in the best of the land, in the land of Rameses, as Pharaoh had ordered."
The Egyptians worshiped the constellation of Aries. Pharaoh let the Israelites settle in the best land of Egypt because as shepherds they were taking care of the sheep, the Ram that they worshiped as god.
Joseph gave his brothers the control over the idols of the Egyptians and by that control over Egypt.
Just before the tenth plague that was the Death of the first born in Egypt, God gave the last instruction.
Exodus 12:2,3
" הַחֹדֶשׁ הַזֶּה לָכֶם, רֹאשׁ חֳדָשִׁים: רִאשׁוֹן הוּא לָכֶם, לְחָדְשֵׁי הַשָּׁנָה."
" דַּבְּרוּ, אֶל-כָּל-עֲדַת יִשְׂרָאֵל לֵאמֹר, בֶּעָשֹׂר, לַחֹדֶשׁ הַזֶּה: וְיִקְחוּ לָהֶם, אִישׁ שֶׂה לְבֵית-אָבֹת–שֶׂה לַבָּיִת."
" "This month shall be for you the beginning of months. It shall be the first month of the year for you."
" "Speak to all the congregation of Israel, saying, 'On the tenth of this month they are each to take a lamb for themselves, according to their fathers' households, a lamb for each household.' "
On the Tenth day (Aspect of the complete ten Sefirot) of the first month (the head and the root of the year), which is the month of Aries, God gave the final 'blow' to the Egyptians. Following God's instructions, each of the Israelites took a lamb that is the symbol of Egyptians' god into their homes. On the fourteenth day of Aries they slaughtered the lamb, put from its blood on their door posts and door frames, then they roasted the meat (not raw or cooked in water so it will go through the transformation of fire) for eating it at night. That night God removed the 'heads' of the Egyptians from the earth, leaving them powerless.
Exodus 12:12
" וְעָבַרְתִּי בְאֶרֶץ-מִצְרַיִם, בַּלַּיְלָה הַזֶּה, וְהִכֵּיתִי כָל-בְּכוֹר בְּאֶרֶץ מִצְרַיִם, מֵאָדָם וְעַד-בְּהֵמָה; וּבְכָל-אֱלֹהֵי מִצְרַיִם אֶעֱשֶׂה שְׁפָטִים, אֲנִי יְהוָה"
" For I will pass through the land of Egypt that night, and I will strike all the firstborn in the land of Egypt, both man and beast; and on all the gods of Egypt I will execute judgments: I am YHVH."
That night was the same night that we celebrate Passover every year since then. It is called Passover because God passed over the homes of the Israelites families. Those who demonstrated control over the idol of the Egyptians and slaughtered the lamb were saved. Their actions removed the judgments giving them freedom from the desire for the self alone that bounded them and enslaved them all the years of their stay in Egypt.
When God made the covenant with Abraham he showed him the future of his descendants.
Genesis 15:14
" וְגַם אֶת-הַגּוֹי אֲשֶׁר יַעֲבֹדוּ, דָּן אָנֹכִי; וְאַחֲרֵי-כֵן יֵצְאוּ, בִּרְכֻשׁ גָּדוֹל"
" But I will punish the nation that enslaves them, and in the end they will come away with great wealth."
God's plan was to give the Israelites opportunity to have full control over the physical level, code name Egypt and the desire for the self that is the negative aspect that exists in Malchut.
Continue in the next DZ
{||}