Daily Zohar # 1334 – Pinchas – Choosing freedom
Zohar Pinchas, Vol. 20 (English)/Vol 15 (Hebrew)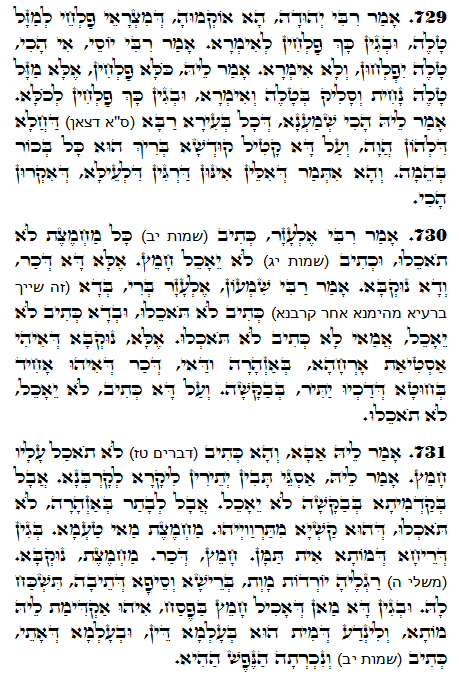 Hebrew translation:
729. אָמַר רַבִּי יְהוּדָה, כְּבָר פֵּרְשׁוּהוּ שֶׁהַמִּצְרִים עוֹבְדִים לְמַזַּל טָלֶה, וּמִשּׁוּם כָּךְ עוֹבְדִים לְשֶׂה. אָמַר רַבִּי יוֹסֵי, אִם כֵּן, יַעַבְדוּ טָלֶה וְלֹא שֶׂה. אָמַר לוֹ, הַכֹּל עוֹבְדִים, אֶלָּא שֶׁמַּזַּל טָלֶה יוֹרֵד וְעוֹלֶה בְּטָלֶה וְשֶׂה, וּמִשּׁוּם זֶה עוֹבְדִים לְכֻלָּם. אָמַר לוֹ, כָּךְ שָׁמַעְתִּי, שֶׁכָּל בְּהֵמָה גְּדוֹלָה (שֶׁל צֹאן), יִרְאָה שֶׁלָּהֶם הָיְתָה, וְעַל זֶה הָרַג הַקָּדוֹשׁ בָּרוּךְ הוּא כָּל בְּכוֹר בְּהֵמָה. וַהֲרֵי נִתְבָּאֵר שֶׁאֵלּוּ הֵן מַדְרֵגוֹת שֶׁלְּמַעְלָה שֶׁנִּקְרָאוֹת כָּךְ.
730. אָמַר רַבִּי אֶלְעָזָר, כָּתוּב (שמות יב) כָּל מַחְמֶצֶת לֹא תֹאכֵלוּ, וְכָתוּב (שם יג) לֹא יֵאָכֵל חָמֵץ. אֶלָּא זֶה זָכָר, וְזוֹ נְקֵבָה. אָמַר רַבִּי שִׁמְעוֹן, אֶלְעָזָר בְּנִי, בָּזֶה כָּתוּב לֹא תֹאכֵלוּ, וּבָזֶה כָּתוּב לֹא יֵאָכֵל. מַדּוּעַ לֹא כָתוּב לֹא תֹאכְלוּ? אֶלָּא נְקֵבָה שֶׁהִיא נוֹטָה מִדַּרְכָּהּ – וַדַּאי בְּאַזְהָרָה. זָכָר שֶׁהוּא אָחוּז בְּחוּט שֶׁל טָהֳרָה יוֹתֵר – בְּבַקָּשָׁה. וְעַל זֶה כָּתוּב לֹא יֵאָכֵל, לֹא תֹאכֵלוּ.
731. אָמַר לוֹ, אַבָּא, וַהֲרֵי כָּתוּב (דברים טז) לֹא תֹאכַל עָלָיו חָמֵץ. אָמַר לוֹ, הַרְבֵּה תֵּבוֹת יְתֵרוֹת לִכְבוֹדוֹ שֶׁל הַקָּרְבָּן. אֲבָל בַּתְּחִלָּה בַּקָּשָׁה – לֹא יֵאָכֵל, אֲבָל לְבַסּוֹף בְּאַזְהָרָה – לֹא תֹאכֵלוּ, שֶׁהוּא קָשֶׁה מִשְּׁנֵיהֶם. מַחְמֶצֶת, מַה טַּעֲמָהּ? מִשּׁוּם שֶׁרֵיחַ שֶׁל מָוֶת יֵשׁ שָׁם. חָמֵץ – זָכָר, מַחְמֶצֶת – נְקֵבָה. (משלי ה) רַגְלֶיהָ יֹרְדוֹת מָוֶת, בְּרֹאשׁ וּבְסוֹף הַתֵּבָה תִּמְצָא אוֹתָהּ. וּמִשּׁוּם זֶה מִי שֶׁאוֹכֵל חָמֵץ בְּפֶסַח הוּא מַקְדִּים לְעַצְמוֹ הַמָּוֶת, וְשֶׁיֵּדַע שֶׁהוּא מֵת בָּעוֹלָם הַזֶּה וּבָעוֹלָם הַבָּא, שֶׁכָּתוּב (שמות יב) וְנִכְרְתָה הַנֶּפֶשׁ הַהִיא.
Pinchas 729-731
Continued from previous DZ
After the slaughtering of the lamb, God instructed the Israelites that for a week they can not eat leavened bread.
Deuteronomy 16:3
"לֹא-תֹאכַל עָלָיו חָמֵץ, שִׁבְעַת יָמִים תֹּאכַל-עָלָיו מַצּוֹת לֶחֶם עֹנִי"
"You shall eat no leavened bread with it. Seven days you shall eat it with unleavened bread, the bread of affliction"
Exodus 12:19
"שִׁבְעַת יָמִים–שְׂאֹר, לֹא יִמָּצֵא בְּבָתֵּיכֶם: כִּי כָּל-אֹכֵל מַחְמֶצֶת, וְנִכְרְתָה הַנֶּפֶשׁ הַהִוא מֵעֲדַת יִשְׂרָאֵל–בַּגֵּר, וּבְאֶזְרַח הָאָרֶץ"
"For seven days leaven (מַחְמֶצֶת) is not to be found in your houses. Indeed, any person who eats anything leavened, is to be cut off from the congregation of Israel, whether an alien or a native of the land"
The word used in this verse for leavened bread is מַחְמֶצֶת. The first letter and the last letter spell מת, meaning 'death'. The middle three letters spell 'חָמֵץ', meaning leavened bread.
This restriction is not just about eating but also about possessing it. The danger of eating leavened bread during the seven days brings the aspect of death on the person regardless if he is Israelite or an alien.
WHY so?
Every 'event' in the Torah has a spiritual effect that appears every year at the same time. When God let the Israelites control the god of the Egyptians he also told them to remove the desire for the self alone. Their meal had to include unleavened bread and bitter herbs. At that time, which was the fourteenth day of Aries, Nisan, God killed all the firstborns of the Egyptians including the firstborn of their animals. That energy of removal of negativity and enjoying freedom requires the removal of the desire for the self that is impacted by the food we are eating.
The restriction of seven days is to guarantee disconnection from the negativity and purify the desire for the self alone on all the levels, which is the seven Sefirot from Malchut to Chessed. The Shabbat that occurred during that week gives the purification from Binah and that is why we also have a special Torah reading for it.
The restriction is not just about the food but also about our behavior. In order to enjoy freedom we must sacrifice the ego and all desires for the self alone.
{||}