Daily Zohar # 1341 – Pinchas – A simple goal
Zohar Pinchas, Vol. 20 (English)/Vol 15 (Hebrew)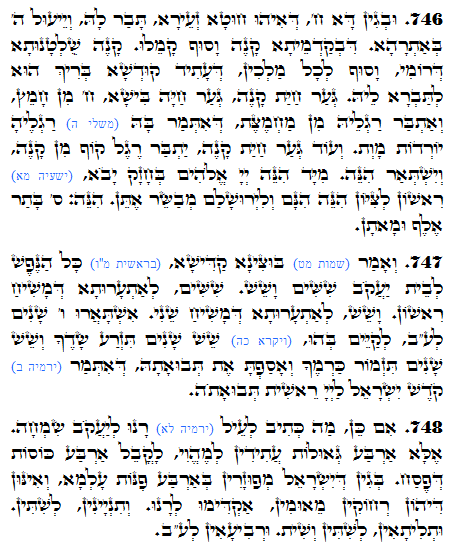 Hebrew translation:
746. וּמִשּׁוּם זֶה ח', שֶׁהוּא חוּט קָטָן, תִּשְׁבֹּר אוֹתָהּ, וְתִכָּנֵס אוֹת ה' בִּמְקוֹמָהּ. שֶׁבַּתְּחִלָּה נֶאֱמַר קָנֶה וָסוּף קָמֵלוּ. קָנֶה – שִׁלְטוֹן שֶׁל רוֹמִי. וָסוּף – לְכָל הַמַּלְכֻיּוֹת, שֶׁעָתִיד הַקָּדוֹשׁ בָּרוּךְ הוּא לִשְׁבֹּר אוֹתוֹ. גְּעַר חַיַּת קָנֶה – גְּעַר חַיָּה רָעָה, שֶׁהִיא אוֹת ח' מֵחָמֵץ, וּשְׁבֹר רַגְלֶיהָ מִן הַמַּחְמֶצֶת, שֶׁנֶּאֱמַר בָּהּ (משלי ה) רַגְלֶיהָ יֹרְדוֹת מָוֶת. וְעוֹד גְּעַר חַיַּת קָנֶה – שְׁבֹר רֶגֶל הַקּוֹ"ף מִקָּנֶה, וְיִשָּׁאֵר הִנֵּה. מִיָּד – (ישעיה מ) הִנֵּה ה' אֱלֹהִים בְּחָזָק יָבֹא, (שם מא) רִאשׁוֹן לְצִיּוֹן הִנֵּה הִנָּם וְלִירוּשָׁלַיִם מְבַשֵּׂר אֶתֵּן. הִנֵּה – ס', אַחַר אֶלֶף וּמָאתַיִם.
747. וְאָמַר הַמְּנוֹרָה הַקְּדוֹשָׁה, נֶאֱמַר (בראשית מו) כָּל הַנֶּפֶשׁ לְבֵית יַעֲקֹב שִׁשִּׁים וָשֵׁשׁ. שִׁשִּׁים, לְהִתְעוֹרְרוּת שֶׁל מָשִׁיחַ רִאשׁוֹן. וָשֵׁשׁ, לְהִתְעוֹרְרוּת מָשִׁיחַ שֵׁנִי. נִשְׁאֲרוּ שֵׁשׁ שָׁנִים לְשִׁבְעִים וּשְׁנַיִם, לְקַיֵּם בָּהֶם (ויקרא כה) שֵׁשׁ שָׁנִים תִּזְרַע שָׂדֶךָ וְשֵׁשׁ שָׁנִים תִּזְמֹר כַּרְמֶךָ וְאָסַפְתָּ אֶת תְּבוּאָתָהּ, שֶׁנֶּאֱמַר (ירמיה ב) קֹדֶשׁ יִשְׂרָאֵל לַה' רֵאשִׁית תְּבוּאָתֹה.
748. אִם כֵּן, מַה כָּתוּב לְמַעְלָה (שם לא) רָנּוּ לְיַעֲקֹב שִׂמְחָה? אֶלָּא אַרְבַּע גְּאֻלּוֹת עֲתִידוֹת לִהְיוֹת כְּנֶגֶד אַרְבַּע כּוֹסוֹת שֶׁל פֶּסַח. מִשּׁוּם שֶׁיִּשְׂרָאֵל מְפֻזָּרִים בְּאַרְבַּע פִּנּוֹת הָעוֹלָם, וְאֵלּוּ שֶׁיִּהְיוּ רְחוֹקִים מֵהָאֻמּוֹת, יַקְדִּימוּ לְרָנּוּ. וְהַשְּׁנִיִּים – לְשִׁשִּׁים. וְהַשְּׁלִישִׁיִּים – לְשִׁשִּׁים וָשֵׁשׁ. וְהָרְבִיעִיִּים – לְשִׁבְעִים וּשְׁנַיִם.
Pinchas 746-748
Isaiah 19:6
"וְהֶאֶזְנִיחוּ נְהָרוֹת, דָּלְלוּ וְחָרְבוּ יְאֹרֵי מָצוֹר; קָנֶה וָסוּף, קָמֵלוּ"
"and its canals will become foul, and the branches of Egypt's Nile will diminish and dry up, reeds and rushes (Cane) will rot away"
The קָנֶה, 'Cane' of reed is the aspect of the control Rome has over the world. וָסוּף is the aspect of the other rulers that have their roots in the negative side.
Isaiah 42:6
"הִנֵּה בָטַחְתָּ עַל-מִשְׁעֶנֶת הַקָּנֶה הָרָצוּץ הַזֶּה, עַל-מִצְרַיִם, אֲשֶׁר יִסָּמֵךְ אִישׁ עָלָיו, וּבָא בְכַפּוֹ וּנְקָבָהּ"
"Behold, you are trusting in Egypt, that broken reed of a staff, which will pierce the hand of any man who leans on it. Such is Pharaoh king of Egypt to all who trust in him."
The prophet Isaiah warns us about leaning on the broken 'cane', the Egypt and the aspect of the material world. If one trusts the 'cane' that 'sucks' energy from the material world, then he will find that his hand can not hold anything.
Genesis 46:26
" כָּל-הַנֶּפֶשׁ הַבָּאָה לְיַעֲקֹב מִצְרַיְמָה, יֹצְאֵי יְרֵכוֹ, מִלְּבַד, נְשֵׁי בְנֵי-יַעֲקֹב–כָּל-נֶפֶשׁ, שִׁשִּׁים וָשֵׁשׁ"
"All the souls belonging to Jacob that came into Egypt, that came out of his loins, besides Jacob's sons' wives, all the souls were sixty and six"
With the house of Joseph in Egypt they were all together 70. That number is key to have full control over the negativity. It represents the seven Sefirot that construct the vessel and its light. The six Sefirot of Chessed to Yessod are the process and the light that comes to the vessel, Malchut.
Rabbi Shimon quotes this verse and uses the number 66 to calculate the Final Redemption. Sixty is for the awakening of the first Mashiach and six for the second one. There are six more to complete to seventy two that will be the Redemption.
The actual calculation is encrypted with Torah verses that we cannot determine directly from the Zohar but for us the goal is simple. We should be ready for the Redemption with big and pure vessels to be able to connect and benefit from it.
Recommended reading: http://kabbalahsecrets.com/?p=2296
{||}