Zoharjev dnevnik Št. 1172 – Z njegovo desno in mogočno roko
Daily Zohar 1172
Daily Zohar 1172 Zohar Pinchas, Vol. 20 (English)/Vol 15 (Hebrew)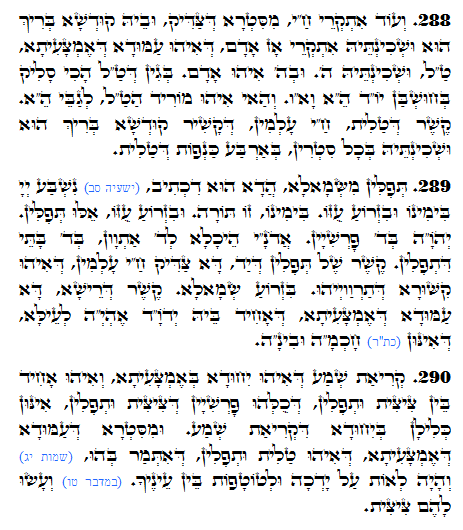 Hebrew translation:
288. וְעוֹד נִקְרָא חַ"י מִצַּד שֶׁל צַדִּיק, וּבוֹ הַקָּדוֹשׁ בָּרוּךְ הוּא וּשְׁכִינָתוֹ נִקְרָא אָז אָדָם, שֶׁהוּא הָעַמּוּד הָאֶמְצָעִי, טַ"ל, וְהַשְּׁכִינָה ה'. וּבְה' הוּא אָדָם, מִשּׁוּם שֶׁטַּ"ל כָּךְ עוֹלֶה בְּחֶשְׁבּוֹן – יוֹ"ד הֵ"א וָא"ו. וְזֶהוּ מוֹרִיד הַטַּ"ל, לְגַבֵּי אוֹת הֵ"א. קֶשֶׁר הַטַּלִּית – חַ"י הָעוֹלָמִים, שֶׁקּוֹשֵׁר הַקָּדוֹשׁ בָּרוּךְ הוּא וּשְׁכִינָתוֹ בְּכָל הַצְּדָדִים בְּאַרְבַּע כַּנְפוֹת הַטַּלִּית.
289. תְּפִלִּין מִשְּׂמֹאלוֹ, זֶהוּ שֶׁכָּתוּב (ישעיה סב) נִשְׁבַּע ה' בִּימִינוֹ וּבִזְרוֹעַ עֻזּוֹ. בִּימִינוֹ – זוֹ תּוֹרָה. וּבִזְרוֹעַ עֻזּוֹ – אֵלּוּ תְּפִלִּין. יְהֹוָ"ה בְּאַרְבַּע פָּרָשִׁיּוֹת. אֲדֹנָ"י – הֵיכָל לְאַרְבַּע אוֹתִיּוֹת בְּאַרְבָּעָה בָּתֵּי הַתְּפִלִּין. קֶשֶׁר שֶׁל תְּפִלִּין שֶׁל יָד זֶה צַדִּיק חַ"י הָעוֹלָמִים, שֶׁהוּא קֶשֶׁר שֶׁל שְׁנֵיהֶם, בִּזְרוֹעַ שְׂמֹאל. קֶשֶׁר שֶׁל רֹאשׁ זֶה הָעַמּוּד הָאֶמְצָעִי שֶׁאָחוּז בּוֹ יְהֹוָ"ה אֶהְיֶ"ה לְמַעְלָה, שֶׁהֵם (כֶּתֶ"ר) חָכְמָ"ה וּבִינָ"ה.
290. קְרִיאַת שְׁמַע שֶׁהִיא הַיִּחוּד בָּאֶמְצַע, וְהִיא אֲחוּזָה בֵּין צִיצִית וּתְפִלִּין, שֶׁכָּל הַפָּרָשִׁיּוֹת שֶׁל צִיצִית וּתְפִלִּין הֵן כְּלוּלוֹת בַּיִּחוּד שֶׁל קְרִיאַת שְׁמַע. וּמִצַּד שֶׁל עַמּוּד הָאֶמְצָעִי, שֶׁהוּא טַלִּית וּתְפִלִּין, שֶׁנֶּאֱמַר בָּהֶן (שמות יג) וְהָיָה לְאוֹת עַל יָדְכָה וּלְטוֹטָפֹת בֵּין עֵינֶיךָ. (במדבר טו) וְעָשׂוּ לָהֶם צִיצִת.
Pinhas 288-290
Nadaljevanje predhodnega DZ
Izaija 62:8
"נִשְׁבַּע יְהוָה בִּימִינוֹ, וּבִזְרוֹעַ עֻזּוֹ: אִם-אֶתֵּן אֶת-דְּגָנֵךְ עוֹד מַאֲכָל, לְאֹיְבַיִךְ, וְאִם-יִשְׁתּוּ בְנֵי-נֵכָר תִּירוֹשֵׁךְ, אֲשֶׁר יָגַעַתְּ בּוֹ"
"nishba Adonai bimino, uvizroa uzzo: im-etten et-deganech od ma'achal, le'oyevayich, ve'im-yishttu venei-nechar tiroshech, asher yaga'at bo"
"YHVH je prisegel s Svojo desno in mogočno roko: "Ne bom več dajal tvojega žita kot hrano tvojemu sovragu in tujci ne bodo več pili vina za katerega si ti delal."
The Zohar pojasni, da Tora predstavlja njegovo desno stran in njegova mogočna roka je Tefilin/molitveni jermen. V ta okvir spadajo štirje zapisi z razdelki Tore in predstavljajo ime יהוה YHVH. Postavijo s v štiri predalčke Tefilina oz. molitvenega jermena, ki predstavlja ime אדני ADNY. Ta povezava nam posreduje predstavo vidika svetlobe in prevodnika svetlobe. Čelni oz. naglavni Tefilin uporablja eden jermen, ki obkroža glavo, naredi pentljo na temenu glave in poteka navzdol proti trupu telesa, da pritegne višje ravni Chokmah/Modrost, vključujoč Keter/Krona in Binah/Razumevanje (יהוה YHVH ter אהיה AHYH) navzdol v spodnjo raven z vidikom Osrednjega debla.

Tefilin se omenja v:

Exodus 13:16
" וְהָיָה לְאוֹת עַל-יָדְכָה, וּלְטוֹטָפֹת בֵּין עֵינֶיךָ"
"vehayah le'ot al-yadechah, uletotafot bein eineicha"
"To vo znak na tvoji roki ali načelek med tvojima očesoma,"
In Talit je omenjan v
Četrta Mojzesova Knjiga 15:28
" דַּבֵּר אֶל-בְּנֵי יִשְׂרָאֵל, וְאָמַרְתָּ אֲלֵהֶם, וְעָשׂוּ לָהֶם צִיצִת עַל-כַּנְפֵי בִגְדֵיהֶם, לְדֹרֹתָם; וְנָתְנוּ עַל-צִיצִת הַכָּנָף, פְּתִיל תְּכֵלֶת"
"daber el-benei yisra'el, ve'amarta alehem, ve'asu lahem tzitzit al-kanfei vigdeihem, ledorotam; venatenu al-tzitzit hakanaf, petil techelet"
"Govori ljudem Izraela in jim povej naj naredijo rese ( Tzizit ) na vogalih oblačil za vse generacije in postavi moder opasek na resah vsakega vogala."
Ti verzi so vključeni v Tefilin in branje Shema molitve, ki ustvarja združitev v osrednjem deblu.
Prvi zgornji verz je obljuba Boga, da bo pripeljal do konca poti drugo stran, ki nam odžira sadove našega dela.
Z našim preučevanjem Zoharja in duhovno navezavo povežemo Desno in Levo, Svetlobo in Prevodnika ter postanemo del sistema. To delo nam prisluži zasluženje, ki je vključeno v Božjo obljubo ob Končni Odrešitvi.