Daily Zohar # 1374 – Pinchas – We can do it only with 'this'
Zohar Pinchas, Vol. 20 (English)/Vol 15 (Hebrew)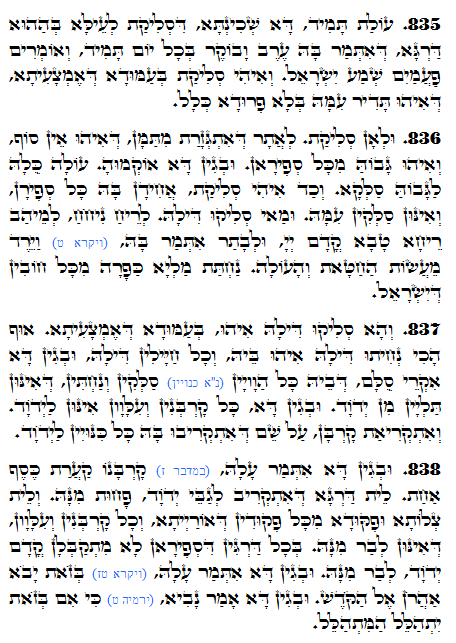 Hebrew translation:
835. עֹלַת תָּמִיד – זוֹ הַשְּׁכִינָה, שֶׁעוֹלָה לְמַעְלָה בְּאוֹתָהּ דַּרְגָּה, שֶׁנֶּאֱמַר בָּהּ עֶרֶב וָבֹקֶר בְּכָל יוֹם תָּמִיד אוֹמְרִים פַּעֲמַיִם שְׁמַע יִשְׂרָאֵל. וְהִיא עוֹלָה בָּעַמּוּד הָאֶמְצָעִי, שֶׁהוּא תָּדִיר עִמָּהּ בְּלִי פֵרוּד כְּלָל.
836. וּלְאָן עוֹלָה? לְמָקוֹם שֶׁנִּגְזְרָה מִשָּׁם, שֶׁהוּא אֵין סוֹף, וְהוּא גָּבוֹהַּ מִכָּל הַסְּפִירוֹת. וּמִפְּנֵי זֶה פֵּרְשׁוּהָ, עוֹלָה – כֻּלָּהּ לְגָבוֹהַּ עוֹלָה. וְכַאֲשֶׁר הִא עוֹלָה, אוֹחֲזוֹת בָּהּ כָּל הַסְּפִירוֹת, וְהֵן עוֹלוֹת עִמָּהּ. וּמָה הָעֲלִיָּה שֶׁלָּהּ? לְרֵיחַ נִיחֹחַ, לָתֵת רֵיחַ טוֹב לִפְנֵי ה', וְאַחַר כָּךְ נֶאֱמַר בָּהּ, (ויקרא ט) וַיֵּרֶד מֵעֲשֹׂת הַחַטָּאת וְהָעֹלָה. יָרְדָה מְלֵאָה כַּפָּרָה מִכָּל חֲטָאֵי יִשְׂרָאֵל.
837. וַהֲרֵי הָעֲלִיָּה שֶׁלָּהּ הִיא בָּעַמּוּד הָאֶמְצָעִי. וּמִפְּנֵי כָּךְ הַיְרִידָה שֶׁלָּהּ הִיא בּוֹ, וְכָל הַצְּבָאוֹת שֶׁלָּהּ. וּמִפְּנֵי זֶה נִקְרָא סֻלָּם, שֶׁבּוֹ כָּל הַהֲוָיוֹת (הַכִּנּוּיִים) עוֹלוֹת וְיוֹרְדוֹת, שֶׁהֵן תְּלוּיוֹת מִן יְהֹוָה. וּמִפְּנֵי זֶה כָּל הַקָּרְבָּנוֹת וְהָעוֹלוֹת הֵם לַיהֹוָה. וְנִקְרֵאת קָרְבָּן עַל שֵׁם שֶׁמִּתְקָרְבִים בָּהּ כָּל הַכִּנּוּיִים לַיהֹוָה.
838. וּמִפְּנֵי זֶה נֶאֱמַר עָלֶיהָ, (במדבר ז) קָרְבָּנוֹ קַעֲרַת כֶּסֶף אַחַת. אֵין דַּרְגָּה נִקְרֶבֶת לְגַבֵּי יְהֹוָה פְּחוּתָה מִמֶּנָּה. וְאֵין תְּפִלָּה וּמִצְוָה מִכָּל מִצְווֹת הַתּוֹרָה, וְכָל קָרְבָּנוֹת וְעוֹלוֹת, שֶׁהֵם לְחוּץ מִמֶּנָּה. בְּכָל דַּרְגּוֹת הַסְּפִירוֹת לֹא מִתְקַבְּלוֹת לִפְנֵי יְהֹוָה חוּץ מִמֶּנָּה. וּמִפְּנֵי זֶה נֶאֱמַר עָלֶיהָ, (ויקרא טז) בְּזֹאת יָבֹא אַהֲרֹן אֶל הַקֹּדֶשׁ. וּמִפְּנֵי זֶה אָמַר הַנָּבִיא, (ירמיה ט) כִּי אִם בְּזֹאת יִתְהַלֵּל הַמִּתְהַלֵּל.
Pinchas 835-838
The Zohar reveals that עֹלַת תָּמִיד, 'a continual burnt offering ' is the aspect of the Shechina that rises up like the prayer of the Shema Israel through the central column that is in continuous connection with her.
The Shechina is elevated with the burnt offering to the Endless where she originally came from. When she comes down she brings blessings and cleansing with her to the people below.
Leviticus 9:22
" וַיִּשָּׂא אַהֲרֹן אֶת-יָדָו אֶל-הָעָם, וַיְבָרְכֵם; וַיֵּרֶד, מֵעֲשֹׂת הַחַטָּאת וְהָעֹלָה–וְהַשְּׁלָמִים "
" Then Aaron lifted up his hands toward the people and blessed them, and it came down from offering the sin offering and the burnt offering and the peace offerings."
Aaron processed the offering and when the light came down he channeled the blessings to the Israelites.
The Shechinah must accompany the offering to open the central column for the blessings to come down. This requirement is concealed in the verse from Leviticus 16:3
"בְּזֹאת יָבֹא אַהֲרֹן, אֶל-הַקֹּדֶשׁ: בְּפַר בֶּן-בָּקָר לְחַטָּאת, וְאַיִל לְעֹלָה"
" "Aaron shall enter the holy place with this (זֹאת): with a bull for a sin offering and a ram for a burnt offering."
The secret is in the name " זֹאת", 'this' (female form).
Psalms27:3
"אִם-תַּחֲנֶה עָלַי, מַחֲנֶה– לֹא-יִירָא לִבִּי:
אִם-תָּקוּם עָלַי, מִלְחָמָה– בְּזֹאת, אֲנִי בוֹטֵחַ"
"Thougha host should encamp against me, my heart shall not fear; though war should rise up against me, even then in this (זֹאת) I be confident."
Jeremiah 9:23
"כִּי אִם-בְּזֹאת יִתְהַלֵּל הַמִּתְהַלֵּל, הַשְׂכֵּל וְיָדֹעַ אוֹתִי–כִּי אֲנִי יְהוָה, עֹשֶׂה חֶסֶד מִשְׁפָּט וּצְדָקָה בָּאָרֶץ: כִּי-בְאֵלֶּה חָפַצְתִּי, נְאֻם-יְהוָה"
"but let him who boasts boast in this (זֹאת), that he understands and knows me, that I am YHVH who practices steadfast love, justice, and righteousness in the earth. For in these things I delight, declares YHVH."
The numerical value of זֹאת is 408. The total number of foundation letters in the Torah is 599592 and with the 408 it comes up to a perfect 600,000 . This number represents the number of Israelite souls that left Egypt and received the Torah on Mount Sinai.
(read more about this number here: http://kabbalahsecrets.com/?p=110)
The lesson here is that we must connect the Shechina to the central column to have unification with the Light and draw blessings. Only with this (זֹאת) we can bring the Final redemption.
https://dailyzohar.com/daily-zohar-732/
{||}