Zohar Diário # 1373 – Um touro especial e muita responsabilidade
Daily Zohar 1373
Zohar Pinchas, Vol. 20 (English)/Vol 15 (Hebrew)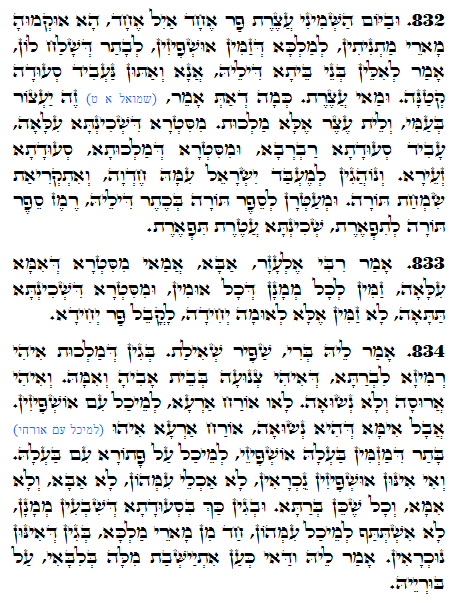 Hebrew translation:
Hebrew
Pinchas 832-834
Durante os sete dias de Sucot sacrificamos setenta touros para as setenta nações do mundo, mas no oitavo dia sacrificamos somente um touro. Este dia é chamado de "שמיני עצרת" "a montagem do oitavo" e o touro é para uma conexão espiritual especial e de festa para os israelitas com YHVH.
Durante os sete dias anteriores, as setenta nações recebem a Luz de sustento e vida de Binah através do processo de trazer 70 touros no Altar. Os israelitas eram os últimos a receber a Luz, mas a sua celebração é especial. Eles têm benefício direto a partir da unificação de Zeir Anpin e Malchut que acontece no mesmo dia. Este dia especial é chamado de "שמחת תורה", "Alegria da Torah", um dia em que completa o ciclo anual da leitura da Torah e começa de novo a partir de Gênesis 1.
Esta lição ensina-nos que os israelitas são um povo especial que é tratado de forma diferente por YHVH. Eles precisam fazer conexões para obter a luz para o mundo e compartilhá-la com o resto do mundo para que possam se beneficiar.
Isaías 42:6 "אֲנִי יְהוָה קְרָאתִיךָ בְצֶדֶק, וְאַחְזֵק בְּיָדֶךָ; וְאֶצָּרְךָ, וְאֶתֶּנְךָ לִבְרִית עָם – לְאוֹר גּוֹיִם"
"Eu sou YHVH, eu te chamei em justiça, eu vou levá-lo pela mão e mantê-lo, vou dar-lhe como uma aliança para o povo, uma luz para as nações"
As nações do mundo dependem dos israelitas para o seu sustento espiritual. Como israelitas, temos a responsabilidade por todas as nações.
Êxodo 19:6 "וְאַתֶּם תִּהְיוּ – לִי מַמְלֶכֶת כֹּהֲנִים, וְגוֹי קָדוֹשׁ"
"E vós sereis para mim um reino de sacerdotes e uma nação santa"
Rabbi Ashlag , em seu artigo sobre a "responsabilidade", Arvut , ערבות do livro "The Gift of the Bible" ("O Presente da Bíblia") "מתן תורה", escreveu o seguinte;
אולם הגמר של תיקון העולם, יהיה בהכנסת כל באי העולם בסוד עבודתו ית', כמ"ש והיה ה' למלך על כל הארץ ביום ההוא יהיה ה' אחד ושמו אחד, ודייק הכתוב "ביום ההוא" ולא לפני זה, וכן כמה כתובים: כי מלאה הארץ דעה את ה' וגו', ונהרו אליו כל הגויים וגו'. אולם תפקידם של ישראל כלפי כל העולם דומה לתפקידם של אבותינו הק' כלפי האומה הישראלית, דהיינו, כמו שזכות אבותינו עמדה לנו להתפתח ולהזדכך עד שנעשינו ראויים לקבלת התורה, שלולא אבותינו שקיימו כל התורה מטרם שניתנה, כי אז לא היינו משובחים כלל משאר האומות כמובן, (כנ"ל אות י"ט). כמו כן מוטל על האומה הישראלית ע"י העסק בתורה ובמצוות לשמה להכשיר את עצמם ואת בני העולם כולו עד שיתפתחו לקבל עליהם את העבודה הגבוהה הזו של אהבת הזולת שהוא הסולם לתכלית הבריאה, שהיא דביקותו ית' כמבואר
Tradução de Zion
Mas a correção final do mundo será alcançada através da introdução de todos o segredo da obra de Adonay, e como ele disse em Zacarias 14:9 "e YHVH será rei sobre toda a terra. Naquele dia YHVH será Um e seu nome um", e o versículo diz especificamente "naquele dia", e não antes dele, e também está escrito (Isaías 11:9): "Porque a terra está cheia com o conhecimento de YHVH", etc ( valor numérico 506, mesmo que o amor incondicional ( אהבת חנם ) . "… e reuniram-se a ele todas as nações, etc.). No entanto, o papel dos israelitas para o mundo é como o papel de nossos santos pais para a nação de Israel. O mérito dos nossos patriarcas nos permitiu desenvolver e aperfeiçoar até que tornou-se digno de receber a Torah. Sem que eles seguissem a lei da Torah, antes de ser dada, não seria melhor do que todas as outras nações. Os israelitas também têm a responsabilidade de estudar a Torah e seus preceitos para a limpeza e preparação deles próprios e do resto do mundo até que eles aceitem o alto trabalho de amor incondicional pelos outros. É a escada para alcançar o propósito da Criação, que é a de ser um com a Luz, bendito seja.
Compartilhe a luz com todas as pessoas em sua vida, trazê-los para a unidade que é necessária para o mundo inteiro para trazer Mashiach.