Daily Zohar # 1373 – Pinchas – Un toro especial y mucha responsabilidad
Daily Zohar 1373
Zohar Pinchas, Vol. 20 (English)/Vol 15 (Hebrew)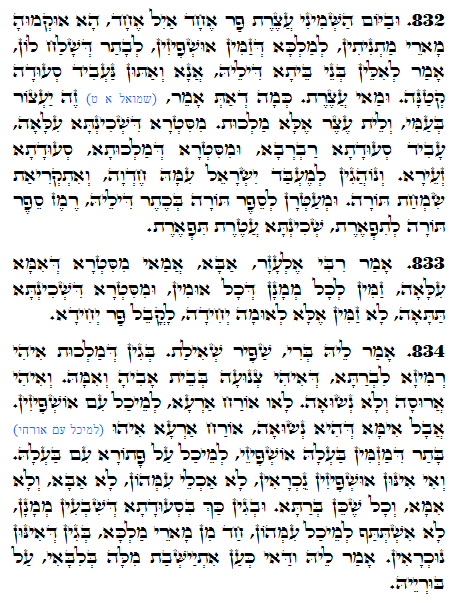 Hebrew translation:
832. וּבַיּוֹם הַשְּׁמִינִי עֲצֶרֶת, פָּר אֶחָד אַיִל אֶחָד. הֲרֵי פֵּרְשׁוּהוּ בַּעֲלֵי הַמִּשְׁנָה, לְמֶלֶךְ שֶׁזִּמֵּן אוֹרְחִים, לְאַחַר שֶׁשָּׁלַח אוֹתָם, אָמַר לְאֵלּוּ בְּנֵי בֵיתוֹ: אֲנִי וְאַתֶּם נַעֲשֶׂה סְעוּדָה קְטַנָּה. וּמָה עֲצֶרֶת? כְּמוֹ שֶׁנֶּאֱמַר (שמואל-א ט) זֶה יַעְצֹר בְּעַמִּי, וְאֵין עֶצֶר אֶלָּא מַלְכוּת. מִצַּד הַשְּׁכִינָה הָעֶלְיוֹנָה עוֹשֶׂה סְעוּדָה גְּדוֹלָה, וּמִצַּד הַמַּלְכוּת סְעוּדָה קְטַנָּה. וְנוֹהֲגִין לַעֲשׂוֹת יִשְׂרָאֵל עִמָּהּ שִׂמְחָה, וְנִקְרֵאת שִׂמְחַת תּוֹרָה. וּמְעַטְּרִים לַסֵּפֶר תּוֹרָה בַּכֶּתֶר שֶׁלּוֹ, רֶמֶז סֵפֶר תּוֹרָה לְתִפְאֶרֶת, הַשְּׁכִינָה – עֲטֶרֶת תִּפְאֶרֶת.
833. אָמַר רַבִּי אֶלְעָזָר, אַבָּא, מַדּוּעַ מִצַּד הָאִמָּא הָעֶלְיוֹנָה מְזַמֵּן כָּל הַמְמֻנִּים שֶׁל כָּל הָאֻמּוֹת, וּמִצַּד הַשְּׁכִינָה הַתַּחְתּוֹנָה לֹא מְזַמֵּן אֶלָּא אֻמָּה יְחִידָה, כְּנֶגֶד פַּר יָחִיד?
834. אָמַר לוֹ, בְּנִי, טוֹב שָׁאַלְתָּ. מִפְּנֵי שֶׁמַּלְכוּת הִיא רוֹמֶזֶת לְבַת, שֶׁהִיא צְנוּעָה בְּבֵית אָבִיהָ וְאִמָּהּ. וְהִיא אֲרוּסָה וְלֹא נְשׂוּאָה. אֵין דֶּרֶךְ אֶרֶץ לֶאֱכֹל עִם אוֹרְחִים. אֲבָל אִמָּא שֶׁהִיא נְשׂוּאָה, דֶּרֶךְ אֶרֶץ הוּא (לֶאֱכֹל עִם הָאוֹרְחִים) אַחַר שֶׁמַּזְמִין בַּעְלָהּ אוֹרְחִים לֶאֱכֹל עַל הַשֻּׁלְחָן עִם בַּעְלָהּ. וְאִם הֵם אוֹרְחִים נָכְרִים, לֹא אוֹכְלִים עִמָּהֶם לֹא אַבָּא וְלֹא אִמָּא, וְכָל שֶׁכֵּן הַבַּת. וּמִשּׁוּם כָּךְ בַּסְּעוּדָה שֶׁל שִׁבְעִים הַמְמֻנִּים לֹא מִשְׁתַּתֵּף לֶאֱכֹל עִמָּהֶם אֶחָד מִבַּעֲלֵי הַמֶּלֶךְ, מִפְּנֵי שֶׁהֵם נָכְרִים. אָמַר לוֹ, וַדַּאי עַתָּה יִתְיַשֵּׁב הַדָּבָר בְּלִבִּי עַל בֻּרְיוֹ.
Traducción Sebastian Palen
Pinjás 832-834
Durante los siete días de Sukot sacrificamos setenta toros por las setenta naciones del mundo, pero en el octavo día sacrificamos un solo toro. Este día es llamado "שמיני עצרת" "la asamblea del octavo" y el toro es para una conexión espiritual especial y celebración para los israelitas con YHVH.
En los últimos siete días, las setenta naciones reciben de Luz del sustento y la vida desde Bina a través del proceso de traer a los 70 toros sobre el Altar. Los israelitas eran los últimos en recibir la Luz, pero su celebración es especial. Ellos tienen un beneficio directo de la unificación de Zeir Anpin y Maljut que sucede en ese día. Este día especial se llama "שמחת תורה", "Alegría de la Torá", un día en el que se completa el ciclo anual de la lectura de la Torá y comenzamos nuevamente desde el Génesis 1.
Esta lección nos enseña que los israelitas son una nación especial que es tratada diferente por YHVH. Deben hacer las conexiones para lograr la luz para el mundo y compartirla con el resto del mundo antes de que puedan beneficiarse a sí mismos.
Isaías 42:6 "אֲנִי יְהוָה קְרָאתִיךָ בְצֶדֶק, וְאַחְזֵק בְּיָדֶךָ; וְאֶצָּרְךָ, וְאֶתֶּנְךָ לִבְרִית עָם – לְאוֹר גּוֹיִם"
"Yo YHVH, te he llamado en justicia, te he tomado de la mano y te he guardado; te he puesto por pacto del pueblo, por luz de las naciones"
Las naciones del mundo dependen de los israelitas por su sustento espiritual. Como hijos de Israel tenemos la responsabilidad por todas las naciones.
Éxodo 19:6 "וְאַתֶּם תִּהְיוּ – לִי מַמְלֶכֶת כֹּהֲנִים, וְגוֹי קָדוֹשׁ"
"Y seran para mi un mi reino de sacerdotes y un pueblo sagrado"
Rabí Ashlag, en su artículo sobre la "responsabilidad", Arvut, ערבות del libro "El don de la Biblia", "מתן תורה" escribió lo siguiente:
אולם הגמר של תיקון העולם , יהיה בהכנסת כל באי העולם בסוד עבודתו ית' , כמ"ש והיה ה ' למלך על כל הארץ ביום ההוא יהיה ה ' אחד ושמו אחד , ודייק הכתוב " ביום ההוא " ולא לפני זה , וכן כמה כתובים : כי מלאה הארץ דעה את ה ' וגו ' , ונהרו אליו כל הגויים וגו ' . אולם תפקידם של ישראל כלפי כל העולם דומה לתפקידם של אבותינו הק ' כלפי האומה הישראלית , דהיינו , כמו שזכות אבותינו עמדה לנו להתפתח ולהזדכך עד שנעשינו ראויים לקבלת התורה , שלולא אבותינו שקיימו כל התורה מטרם שניתנה , כי אז לא היינו משובחים כלל משאר האומות כמובן , ( כנ"ל אות י"ט ) . כמו כן מוטל על האומה הישראלית ע"י העסק בתורה ובמצוות לשמה להכשיר את עצמם ואת בני העולם כולו עד שיתפתחו לקבל עליהם את העבודה הגבוהה הזו של אהבת הזולת שהוא הסולם לתכלית הבריאה , שהיא דביקותו ית' כמבואר
Traducción de Zión:
"But the final correction of the world, will be achieved by introducing everyone to the secret of God's work, and as it said in Zecharia 14:9 " and YHVH will be king over the entire earth. On that day YHVH will be One and His name one", and the verse specifically says "on that day" and not before it, and it is also written (Isaiah 11:9): "Because the land is filled with the knowledge of YHVH", etc. (Numerical value 506, same as unconditional love ( אהבת חנם). "…and flocked to him all nations, etc..). However, the role of the Israelites for the world is like the role of our holy fathers for the nation of Israel. The merit of our patriarchs allowed us to develop and refine until we became worthy to receive the Torah. Without them following the law of the Torah before it was given, then we would not be better than all the other nations. Also the Israelites has the responsibility to study of Torah and precepts for cleansing and preparing themselves and the rest of the world until they accept the high work of unconditional love for others. It is the ladder to reach the purpose of Creation, which is to be one with the Light, blessed be He"
Pero la corrección final del mundo, se logrará mediante la introducción de toda persona al secreto de la obra de Dios, y como se dijo en Zejaria 14:9 "y YHVH será rey sobre toda la tierra. En aquel día YHVH será Uno y Su nombre uno", y el verso dice específicamente" en ese día", y no antes, y también está escrito (Isaías 11:9): "Porque la tierra está llena del conocimiento de YHVH", etc (valor numérico 506, igual que el amor incondicional (אהבת חנם)." … y acudieron a él todas las naciones, etc.) Sin embargo, el papel de los israelitas por el mundo es como el papel de nuestros santos padres por la nación de Israel. El mérito de nuestros patriarcas nos ha permitido desarrollar y refinar hasta que llegamos a ser dignos de recibir la Torá. Sin ellos cumpliendo las leyes la Torá antes de que fuera dada, no estaríamos mejor que todas las otras naciones. También los hijos de Israel tienen la responsabilidad del estudio de la Torá y los preceptos para la limpieza y la preparación de si mismos y el resto del mundo, hasta que acepten el alto el trabajo de amor incondicional por los demás. Es la escalera para llegar al propósito de la Creación, que es ser uno con la Luz, bendito sea El.
Comparte la luz con todas las personas en tu vida, llévalos a la unidad que es necesaria para el mundo entero y así atraer al Mashíaj.