Daily Zohar # 1472 – Tazria – The living shadow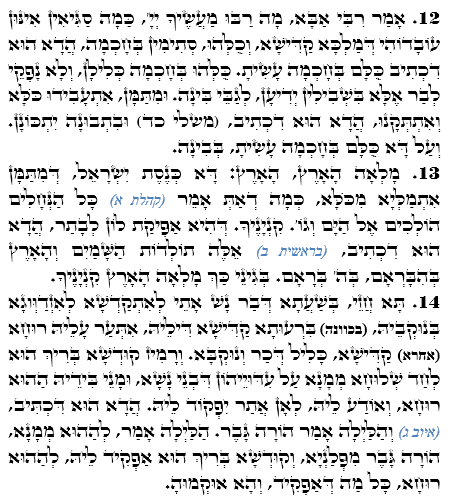 Hebrew translation:
12. אָמַר רַבִּי אַבָּא, מָה רַבּוּ מַעֲשֶׂיךָ ה', כַּמָּה רַבִּים מַעֲשֵׂי הַמֶּלֶךְ הַקָּדוֹשׁ, וְכֻלָּם סְתוּמִים בְּחָכְמָה. זֶהוּ שֶׁכָּתוּב כֻּלָּם בְּחָכְמָה עָשִׂיתָ. כֻּלָּם כְּלוּלִים בְּחָכְמָה, וְלֹא יוֹצְאִים הַחוּצָה אֶלָּא בִּשְׁבִילִים יְדוּעִים כְּלַפֵּי הַבִּינָה, וּמִשָּׁם נַעֲשִׂים הַכֹּל וְנִתְתַּקְּנִים. זֶהוּ שֶׁכָּתוּב (משלי כד) וּבִתְבוּנָה יִתְכּוֹנָן, וְעַל זֶה – כֻּלָּם בְּחָכְמָה עָשִׂיתָ, בְּבִינָה.
13. מָלְאָה הָאָרֶץ. הָאָרֶץ – זוֹ כְּנֶסֶת יִשְׂרָאֵל, שֶׁמִּשָּׁם הַכֹּל מִתְמַלֵּא, כְּמוֹ שֶׁנֶּאֱמַר (קהלת א) כָּל הַנְּחָלִים הֹלְכִים אֶל הַיָּם וְגוֹ'. קִנְיָנֶךָ – שֶׁהִיא מוֹצִיאָה אוֹתָם אַחַר כָּךְ. זֶהוּ שֶׁכָּתוּב (בראשית ב) אֵלֶּה תוֹלְדוֹת הַשָּׁמַיִם וְהָאָרֶץ בְּהִבָּרְאָם, בְּה' בְּרָאָם. מִשּׁוּם כָּךְ, מָלְאָה הָאָרֶץ קִנְיָנֶךָ.
14. בֹּא רְאֵה, בְּשָׁעָה שֶׁאָדָם בָּא לְהִתְקַדֵּשׁ לְהִזְדַּוֵּג בִּנְקֵבָתוֹ (בְּכַוָּנָה) בְּרָצוֹן קָדוֹשׁ שֶׁלּוֹ, מִתְעוֹרֶרֶת עָלָיו רוּחַ (אַחֶרֶת) קְדוֹשָׁה, כְּלוּלָה זָכָר וּנְקֵבָה, וְרוֹמֵז הַקָּדוֹשׁ בָּרוּךְ הוּא לְשָׁלִיחַ אֶחָד הַמְמֻנֶּה עַל הֶרְיוֹנוֹת בְּנֵי הָאָדָם, וּמַפְקִיד בְּיָדוֹ אוֹתָהּ הָרוּחַ, וּמוֹדִיעַ לוֹ לְאֵיזֶה מָקוֹם יִפְקֹד אוֹתוֹ. זֶהוּ שֶׁכָּתוּב (איוב ג) וְהַלַּיְלָה אָמַר הֹרָה גָבֶר. הַלַּיְלָה אָמַר לְאוֹתוֹ מְמֻנֶּה: הֹרָה גָבֶר מִפְּלוֹנִי. וְהַקָּדוֹשׁ בָּרוּךְ הוּא מַפְקִיד לוֹ, אֶת אוֹתָהּ הָרוּחַ, כָּל מַה שֶּׁמַּפְקִיד, וְהִנֵּה פֵּרְשׁוּהָ.
Zohar Tazria
The Zohar reveals that when a man wishes to sanctify himself and become holy, when he makes unification with his wife, a holy spirit is awakened and it has the aspect of male and female. The reason is that the baby is the outcome of the process done by Zeir Anpin and Malchut.
A messenger that is appointed on the impregnation receives from God a צלם 'Tzelem'. Literally means 'image' or 'a Shadow'.
Genesis 1:27 "וַיִּבְרָא אֱלֹהִים אֶת-הָאָדָם בְּצַלְמוֹ, בְּצֶלֶם אֱלֹהִים בָּרָא אֹתוֹ: זָכָר וּנְקֵבָה, בָּרָא אֹתָם"
"So God created man in his own image, in the image of God he created him; male and female he created them."
The secret of the word 'צלם', 'image'. The numerical value is 160 as the word for 'Tree', עץ that is something that is created from a seed and grows following a certain system. This is the Tree of Life that represents the system of Creation. Man is a tiny duplication of that system.
Deuteronomy 20:19 "כִּי הָאָדָם עֵץ הַשָּׂדֶה", "for man is the tree of the field".
The Field is the aspect of Malchut and man is a reflection of the entire system on the lower level.
The Endless, which is a force that we cannot grasp or discuss, released a force through a tiny point (Seed), called Keter. The force itself is called Chokmah and it includes another force with a 'desire' to continue the light further. This force is called Binah. They came out as one and that is the aspect of "male and female he created them".
The Zohar tells us that when this ''shadow' leaves the person, he dies. Everything in the physical world is connected to the Tree of Life with its own individual tree of life. Man has the ability to connect and draw light of the three soul levels Nefesh, Ruach and Neshamah. No other creature can achieve that but us.
When planning to have a child a couple should work on building a great vessel to receive a great 'Image' of God with greater level of soul.
{||}