Daily Zohar – Tikunim – #155 – Inner light to enlight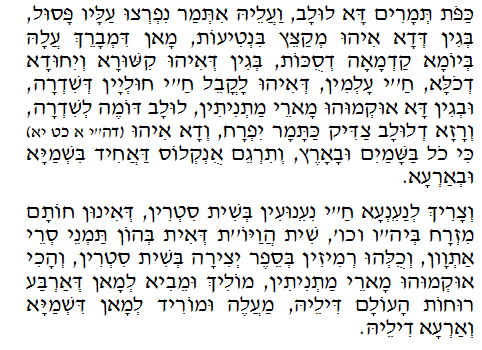 Tikkun #13 continue
The Lulav (branch of palm) that is used in Sukkot to draw inner light for the coming year. It is at the level of Yessod. The branch needs to be at the state before it's leaves open up because if they do then it's not valid for the connection. If it is open then it appears in its final state, which is the Malchut level. This transformation disconnect the Lulav from Yessod and it cannot channel the light through Yessod that is required for the set of the four species.
There are 18 shaking in the process of this connection which are 3 times in each of the 6 spiritual directions South, North, East, Up, Down and West.
From the aspect of the Sefirot 18 is 9 times two. Drawing down the light form the upper 9 Sefirot to Malchut and 9 Sefirot to return the light in order to reveal it (reflecting / pushing it back from Malchut).
The consciousness in every spiritual action is important but we must use the correct and proper tool for it otherwise the connection is flawed. You can go to the Synagogue in Shabbat but if you don't hear the Torah reading then the connection is lacking of that specific energy.
If a person has the Zohar and he doesn't open it to read and scan the text, his connection level is very limited. To increase his ability to act positively in the level of Malchut a person should make more spiritual connections with the consciousness to expand his soul and his inner light. More spiritual connection helps a person become a greater sharing being and a source of light that removes darkness from his environment.
One of the missions of the Daily Zohar is to deliver to your email box the Zohar text ready for reading or scanning. Even the few seconds that you scan the sacred text, make a spiritual connection. The more you scan the better it is for your soul.
Support the Daily Zohar project, forward the emails to your friends and encourage them to subscribe and scan daily Zohar. When you connect another person to the "system" you are part of their channel and that increases the flow of light through your vessel.