Daily Zohar # 1645 – Noah – Ark of the Covenant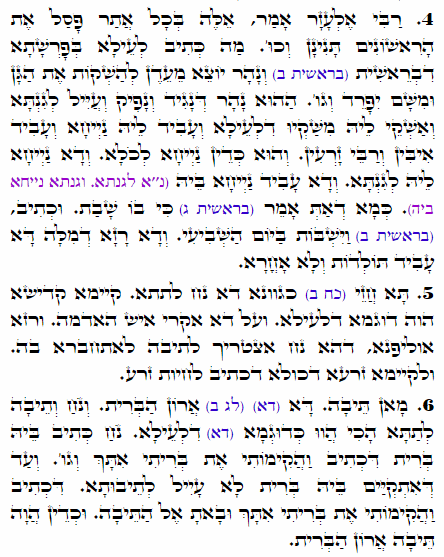 .
Hebrew translation:
4. רַבִּי אֶלְעָזָר אָמַר, אֵלֶּה – בְּכָל מָקוֹם פָּסַל אֶת הָרִאשׁוֹנִים. שָׁנִינוּ וְכוּ'. מַה כָּתוּב לְמַעְלָה בְּפָרָשַׁת בְּרֵאשִׁית? (בראשית ב) וְנָהָר יֹצֵא מֵעֵדֶן לְהַשְׁקוֹת אֶת הַגָּן וּמִשָּׁם יִפָּרֵד וְגוֹ'. אוֹתוֹ הַנָּהָר שֶׁשּׁוֹפֵעַ וְיוֹצֵא וְנִכְנָס לַגָּן וּמַשְׁקֶה אוֹתוֹ מֵהַשְׁקָאָה שֶׁלְּמַעְלָה, וְעוֹשֶׂה לוֹ נַחַת וְעוֹשֶׂה פֵרוֹת וּמְגַדֵּל זְרָעִים, הוּא אָז נוֹחַ לַכֹּל. וְזֶה נוֹחַ לַגָּן. וְזֶה עוֹשֶׂה מְנוּחָה בּוֹ [נ"א לַגָּן, וְהַגָּן נָח בּוֹ], כְּמוֹ שֶׁנֶּאֱמַר (שם) כִּי בוֹ שָׁבַת, וְכָתוּב וַיִּשְׁבֹּת בַּיּוֹם הַשְּׁבִיעִי. וְזֶה סוֹד שֶׁדָּבָר זֶה עוֹשֶׂה תוֹלָדוֹת וְלֹא אַחֵר.
5. בֹּא רְאֵה, כְּמוֹ זֶה נֹחַ לְמַטָּה הַבְּרִית הַקָּדוֹשׁ הָיָה דֻגְמָא שֶׁלְּמַעְלָה, וְעַל זֶה נִקְרָא אִישׁ הָאֲדָמָה. וְסוֹד לָמַדְנוּ, שֶׁהֲרֵי נֹחַ הִצְטָרֵךְ לַתֵּבָה לְהִתְחַבֵּר עִמָּהּ וּלְקַיֵּם זֶרַע שֶׁל הַכֹּל, שֶׁכָּתוּב לְחַיּוֹת זֶרַע.
6. מִי זוֹ הַתֵּבָה? [זֶה] אֲרוֹן הַבְּרִית. וְנֹחַ וְהַתֵּבָה לְמַטָּה כָּךְ הֵם כְּמוֹ דֻגְמָא [זוֹ] שֶׁלְּמַעְלָה. בְּנֹחַ כָּתוּב בְּרִית, שֶׁכָּתוּב וַהֲקִימֹתִי אֶת בְּרִיתִי אִתָּךְ. וְעַד שֶׁהִתְקַיֵּם בּוֹ בְּרִית לֹא נִכְנַס לַתֵּבָה, שֶׁכָּתוּב וַהֲקִימֹתִי אֶת בְּרִיתִי אִתָּךְ וּבָאתָ אֶל הַתֵּבָה. וְאָז הָיְתָה הַתֵּבָה אֲרוֹן הַבְּרִית. [זוֹ]
.
Zohar Noah
Genesis 6:18
"וַהֲקִמֹתִי אֶת-בְּרִיתִי, אִתָּךְ; וּבָאתָ, אֶל-הַתֵּבָה–אַתָּה, וּבָנֶיךָ וְאִשְׁתְּךָ וּנְשֵׁי-בָנֶיךָ אִתָּךְ"
"But I will establish my covenant with you, and you shall come into the ark, you, your sons, your wife, and your sons' wives with you."
The Zohar explains the order of connection and protection that Noah received from God. He needed to establish the covenant, which we explained in previous DZ as the connection to Yessod. Then he could come into the Ark and make it the Ark of the Covenant.
The two tablets Moses brought down from Mount Sinai were kept in a special Ark that was called the 'Ark of the Covenant'.
This Zohar adds to the previous study and emphasis on our connection to the Torah as a tool of protection.
Genesis 2:10
"וְנָהָר יֹצֵא מֵעֵדֶן, לְהַשְׁקוֹת אֶת-הַגָּן; וּמִשָּׁם, יִפָּרֵד, וְהָיָה, לְאַרְבָּעָה רָאשִׁים"
"Now a river flowed out of Eden to water the garden; and from there it divided and became four rivers."
The Zohar explains that this verse reveals the secret of Yessod that waters the Garden, which is the aspect of Malchut and brings fruits.
Noah kept the connection to Yessod and was able to manifest fruits in the world of Malchut. For that reason, the Torah describes him as 'Man of the soil (earth)'.
Because of his righteousness, Noah was able to protect his entire family.
{||}