Daily Zohar # 1725 – Bo – Greater blessings are coming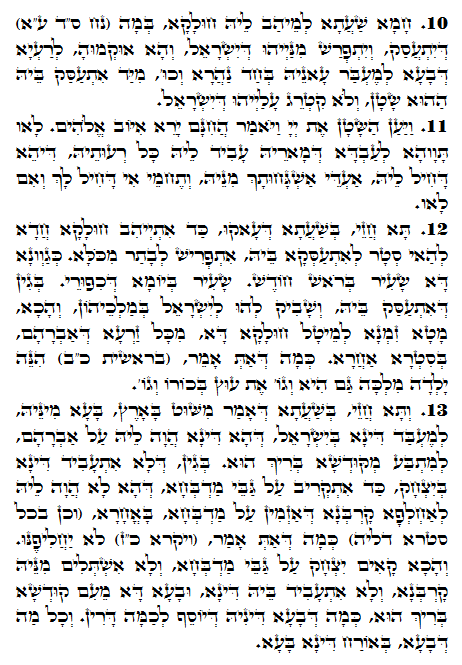 .
Hebrew translation:
10. רָאָה שָׁעָה לָתֵת לוֹ חֵלֶק בְּמַה שֶּׁיִּתְעַסֵּק, וְיִפָּרֵד מִיִּשְׂרָאֵל, וַהֲרֵי פֵּרְשׁוּהָ, לְרוֹעֶה שֶׁרָצָה לְהַעֲבִיר אֶת צֹאנוֹ בְּנָהָר אֶחָד וְכוּ', מִיָּד הִתְעַסֵּק בּוֹ אוֹתוֹ שָׂטָן וְלֹא קִטְרֵג עַל יִשְׂרָאֵל.
11. וַיַּעַן הַשָּׂטָן אֶת ה' וַיֹּאמַר הַחִנָּם יָרֵא אִיּוֹב אֱלֹהִים. אֵין תְּמִיהָה עַל עֶבֶד שֶׁרַבּוֹ עוֹשֶׂה לוֹ כָּל רְצוֹנוֹ שֶׁיִּהְיֶה יָרֵא מִמֶּנּוּ. הָסֵר מִמֶּנּוּ אֶת הַשְׁגָּחָתְךָ, וְתִרְאֶה אִם יִפְחַד מִמְּךָ אִם לֹא.
12. בֹּא רְאֵה, בִּשְׁעַת צָרָה, כְּשֶׁנִּתָּן חֵלֶק אֶחָד לַצַּד הַזֶּה לְהִתְעַסֵּק בּוֹ, נִפְרָד אַחַר כָּךְ מֵהַכֹּל. כְּמוֹ זֶה שָׂעִיר בְּרֹאשׁ חֹדֶשׁ, שָׂעִיר בְּיוֹם הַכִּפּוּרִים, כְּדֵי שֶׁיִּתְעַסֵּק בּוֹ וְיַעֲזֹב אֶת יִשְׂרָאֵל עִם מַלְכָּם, וְכָאן הִגִּיעַ זְמַן לִטֹּל חֵלֶק זֶה מִכָּל זֶרַע אַבְרָהָם בַּצַּד הָאַחֵר, כְּמוֹ שֶׁנֶּאֱמַר (בראשית כב) הִנֵּה יָלְדָה מִלְכָּה גַּם הִיא וְגוֹ' אֶת עוּץ בְּכוֹרוֹ וְגוֹ'.
13. וּבֹא רְאֵה, בְּשָׁעָה שֶׁאָמַר מִשּׁוּט בָּאָרֶץ, רָצָה מִמֶּנּוּ לַעֲשׂוֹת דִּין בְּיִשְׂרָאֵל, שֶׁהֲרֵי דִּין הָיָה לוֹ עַל אַבְרָהָם לִתְבֹּעַ מִן הַקָּדוֹשׁ בָּרוּךְ הוּא, מִשּׁוּם שֶׁלֹּא נַעֲשָׂה דִין בְּיִצְחָק כְּשֶׁהֻקְרַב עַל גַּבֵּי הַמִּזְבֵּחַ, שֶׁהֲרֵי לֹא הָיָה לוֹ לְהַחֲלִיף קָרְבָּן שֶׁמֻּזְמָן עַל הַמִּזְבֵּחַ בְּאַחֵר, [וְכֵן בְּכָל צַד שֶׁלּוֹ] כְּמוֹ שֶׁנֶּאֱמַר לֹא יַחֲלִיפֶנּוּ. וְכָאן עָמַד יִצְחָק עַל גַּבֵּי הַמִּזְבֵּחַ וְלֹא הִשְׁתַּלֵּם מִמֶּנּוּ קָרְבָּן וְלֹא נַעֲשָׂה בּוֹ דִּין, וְרָצָה אֶת זֶה מֵעִם הַקָּדוֹשׁ בָּרוּךְ הוּא כְּמוֹ שֶׁרָצָה אֶת דִּינוֹ שֶׁל יוֹסֵף לְכַמָּה דוֹרוֹת מְאֻחָר יוֹתֵר, וְכָל מַה שֶּׁרָצָה – רָצָה בְּדֶרֶךְ דִּין.
.
Zohar Bo
Job 1:7
"וַיֹּאמֶר יְהוָה אֶל-הַשָּׂטָן, מֵאַיִן תָּבֹא; וַיַּעַן הַשָּׂטָן אֶת-יְהוָה, וַיֹּאמַר, מִשּׁוּט בָּאָרֶץ, וּמֵהִתְהַלֵּךְ בָּהּ"
"YHVH said to Satan, "From where do you come?" Then Satan answered YHVH and said, "From roaming about on the earth and walking around on it.""
The Satan is the head prosecutor that looks for any opportunity to bring judgment on people. His job is like strict policeman that writes tickets and court invitations even on little sins.
The Zohar brings the story of Job in the portion of Bo in connection with the Exodus. God is giving the Satan small jobs to distract him from the great Light being revealed for the Israelites.
Job 1:8
"וַיֹּאמֶר יְהוָה אֶל-הַשָּׂטָן, הֲשַׂמְתָּ לִבְּךָ עַל-עַבְדִּי אִיּוֹב: כִּי אֵין כָּמֹהוּ בָּאָרֶץ, אִישׁ תָּם וְיָשָׁר יְרֵא אֱלֹהִים וְסָר מֵרָע"
"And YHVH said to Satan, "Have you considered my servant Job, that there is none like him on the earth, a blameless and upright man, who fears God and turns away from evil?""
God is offering Job as a challenge for the Satan. He wants him to be busy with Job leaving the Israelites in peace.
Satan (Job 1:9,10) replies; "Then Satan answered the LORD, "Does Job fear God for nothing?"
"Have you not put a hedge around him and his house and all that he has, on every side? You have blessed the work of his hands, and his possessions have increased in the land."
Satan complains that Job has the protection and blessings of God so it is easy for him to keep his faith and awe in God. He also tells God that if he loses the protection and blessings of God then Job will curse.
God gave Satan the freedom to do anything he wants with Job except for taking his life.
The antisemitism and chaos in the world that we see nowadays is part of the 'letting Satan loose' with judgment on people so God can bring the Mashiach and the Light of the Final Redemption to the world..
Many good people suffer now even without obvious reasons. Their comfort should be in the understanding that God is always just and when the great Light as revealed those who didn't lose their faith and awe to God will benefit greatly.
In the end of Job's story we read:
Job 42:12
"וַיהוָה, בֵּרַךְ אֶת-אַחֲרִית אִיּוֹב–מֵרֵאשִׁתוֹ"
"And YHVH blessed the latter end of Job more than his beginning,"
{||}