Daily Zohar # 1801 – Acharei Mot – The non-death of Nadav and Avihu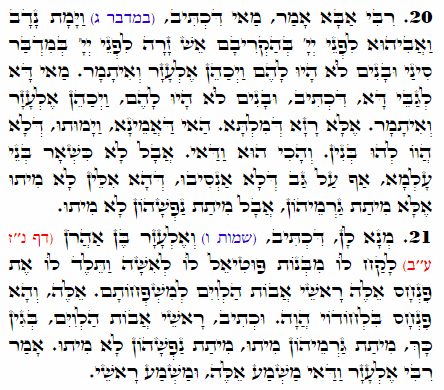 .
Hebrew translation:
20. רַבִּי אַבָּא אָמַר, מַה שֶּׁכָּתוּב (במדבר ג) וַיָּמָת נָדָב וַאֲבִיהוּא לִפְנֵי ה' בְּהַקְרִבָם אֵשׁ זָרָה לִפְנֵי ה' בְּמִדְבַּר סִינַי וּבָנִים לֹא הָיוּ לָהֶם וַיְכַהֵן אֶלְעָזָר וְאִיתָמָר. מַה זֶּה לְגַבֵּי זֶה, שֶׁכָּתוּב וּבָנִים לֹא הָיוּ לָהֶם וַיְכַהֵן אֶלְעָזָר וְאִיתָמָר? אֶלָּא סוֹד הַדָּבָר – זֶה שֶׁאָמַרְתִּי, וַיָּמֻתוּ, שֶׁלֹּא הָיוּ לָהֶם בָּנִים. וְכָךְ זֶה וַדַּאי. אֲבָל לֹא כִּשְׁאָר בְּנֵי הָעוֹלָם, אַף עַל גַּב שֶׁלֹּא נִשְּׂאוּ, שֶׁהֲרֵי אֵלּוּ לֹא מֵתוּ אֶלָּא מִיתַת עַצְמָם, אֲבָל מִיתַת נַפְשָׁם לֹא מֵתוּ.
21. מִנַּיִן לָנוּ? שֶׁכָּתוּב (שמות ו) וְאֶלְעָזָר בֶּן אַהֲרֹן לָקַח לוֹ מִבְּנוֹת פּוּטִיאֵל לוֹ לְאִשָּׁה וַתֵּלֶד לוֹ אֶת פִּינְחָס אֵלֶּה רָאשֵׁי אֲבוֹת הַלְוִיִּם לְמִשְׁפְּחֹתָם. אֵלֶּה, וַהֲרֵי פִּנְחָס לְבַדּוֹ הָיָה, וְכָתוּב רָאשֵׁי אֲבוֹת הַלְוִיִּם. מִשּׁוּם כָּךְ מֵתוּ מִיתַת עַצְמָם, וּמִיתַת נַפְשָׁם לֹא מֵתוּ. אָמַר רַבִּי אֶלְעָזָר, וַדַּאי מַשְׁמָע אֵלֶּה, וּמַשְׁמָע רָאשֵׁי.
.
Zohar Acharei Mot
Numbers 3:4
"וַיָּמָת נָדָב וַאֲבִיהוּא לִפְנֵי יְהוָה בְּהַקְרִבָם אֵשׁ זָרָה לִפְנֵי יְהוָה, בְּמִדְבַּר סִינַי, וּבָנִים, לֹא-הָיוּ לָהֶם; וַיְכַהֵן אֶלְעָזָר וְאִיתָמָר, עַל-פְּנֵי אַהֲרֹן אֲבִיהֶם."
"But Nadab and Abihu died before YHVH when they offered strange fire before YHVH in the wilderness of Sinai; and they had no children. So Eleazar and Ithamar served as priests in the lifetime of their father Aaron."
The Zohar reveals that the death of Nadav and Avihu was only a death of the body. Their souls were taken out of them, awaiting reincarnation in Pinchas.
Exodus 6:25
"וְאֶלְעָזָר בֶּן-אַהֲרֹן לָקַח-לוֹ מִבְּנוֹת פּוּטִיאֵל, לוֹ לְאִשָּׁה, וַתֵּלֶד לוֹ, אֶת-פִּינְחָס; אֵלֶּה, רָאשֵׁי אֲבוֹת הַלְוִיִּם–לְמִשְׁפְּחֹתָם"
"Aaron's son Eleazar married one of the daughters of Putiel, and she bore him Phinehas. These are the heads of the fathers' households of the Levites according to their families"
The Zohar explains that the secret is concealed in the description of the birth of Pinchas. The verse reads "and she bore him Phinehas. These are". The word after the name Pinchas 'אֵלֶּה' is in plural form that implies the reincarnation of Nadav and Avihu in Pinchas.
The death of the two holy priests is not a simple story. It connects us to Pinchas, to Immortality and the Final Redemption. Read previous studies on this subject to connect to this awesome light.
Daily Zohar # 1463 – Shemini – Nadav and Avihu 1 (intro to Immortality)
Daily Zohar # 1464 – Shemini – Nadav and Avihu 2 – Working for the future
Between Heaven and Earth: Revealing the Secrets of Pinchas
Daily Zohar # 1096 – Three souls in one
Daily Zohar # 1481 – Acharei Mot – Achieving lasting joy
{||}