Daily Zohar # 1930 – Ha'azinu – They have the keys to the gates of heavens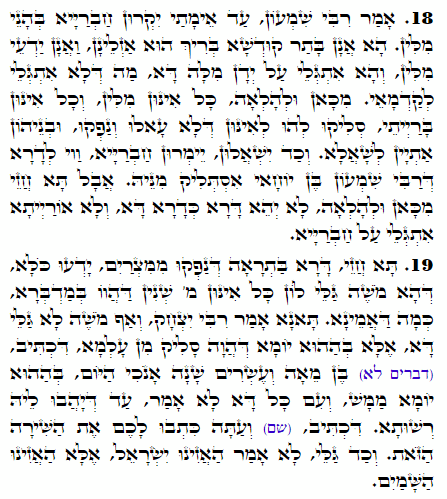 .
Hebrew translation:
18. אָמַר רַבִּי שִׁמְעוֹן, עַד מָתַי יִקְרְאוּ הַחֲבֵרִים בְּאֵלּוּ הַדְּבָרִים. הֲרֵי אָנוּ אַחַר הַקָּדוֹשׁ בָּרוּךְ הוּא הוֹלְכִים, וְאָנוּ יוֹדְעִים דְּבָרִים, וְהִנֵּה מִתְגַּלֶּה עַל יָדֵינוּ דָּבָר זֶה מַה שֶּׁלֹּא נִגְלָה לַקַּדְמוֹנִים. מִכָּאן וּלְהָלְאָה, כָּל אֵלּוּ הַדְּבָרִים וְכָל אֵלּוּ הַבָּרַיְתוֹת סִלְּקוּ אוֹתָם לְאוֹתָם שֶׁלֹּא נִכְנְסוּ וְיָצְאוּ, וּבְנֵיהֶם בָּאִים לִשְׁאֹל. וְכַאֲשֶׁר יִשְׁאֲלוּ, יֹאמְרוּ הַחֲבֵרִים: אוֹי לַדּוֹר שֶׁרַבִּי שִׁמְעוֹן בֶּן יוֹחַאי יִסְתַּלֵּק מִמֶּנּוּ. אֲבָל בֹּא רְאֵה, מִכָּאן וּלְהַבָּא לֹא יִהְיֶה דוֹר כְּדוֹר זֶה, וְלֹא תִתְגַּלֶּה תוֹרָה עַל הַחֲבֵרִים.
19. בֹּא רְאֵה, דּוֹר אַחֲרוֹן שֶׁיָּצְאוּ מִמִּצְרַיִם יָדְעוּ הַכֹּל, שֶׁהֲרֵי מֹשֶׁה גִּלָּה לָהֶם כָּל אוֹתָן אַרְבָּעִים שָׁנָה שֶׁהָיוּ בַמִּדְבָּר, כְּמוֹ שֶׁאָמַרְנוּ. לָמַדְנוּ, אָמַר רַבִּי יִצְחָק, וְאַף מֹשֶׁה לֹא גִלָּה זֶה אֶלָּא בְאוֹתוֹ יוֹם שֶׁהָיָה מִסְתַּלֵּק מִן הָעוֹלָם, שֶׁכָּתוּב (דברים לא) בֶּן מֵאָה וְעֶשְׂרִים שָׁנָה אָנֹכִי הַיּוֹם, בְּאוֹתוֹ יוֹם מַמָּשׁ. וְעִם כָּל זֶה לֹא אָמַר, עַד שֶׁנָּתְנוּ לוֹ רְשׁוּת, שֶׁכָּתוּב (שם) וְעַתָּה כִתְבוּ לָכֶם אֶת הַשִּׁירָה הַזֹּאת. וְכַאֲשֶׁר גִּלָּה, לֹא אָמַר הַאֲזִינוּ יִשְׂרָאֵל, אֶלָּא הַאֲזִינוּ הַשָּׁמַיִם.
.
Zohar Haazinu
The Zohar tells us that the generation that left Egypt knew the ways of the spiritual system because Moses revealed it to them in the wilderness.
He did that on the day he left the world as it said in Deuteronomy 31:2
"וַיֹּאמֶר אֲלֵהֶם, בֶּן-מֵאָה וְעֶשְׂרִים שָׁנָה אָנֹכִי הַיּוֹם–לֹא-אוּכַל עוֹד, לָצֵאת וְלָבוֹא; וַיהוָה אָמַר אֵלַי, לֹא תַעֲבֹר אֶת-הַיַּרְדֵּן הַזֶּה"
"And he said to them, "I am 120 years old today. I am no longer able to go out and come in. YHVH has said to me, 'You shall not go over this Jordan.'"
Moses didn't have permission to reveal all the secrets until his last day.
Deuteronomy 31:19
"וְעַתָּה, כִּתְבוּ לָכֶם אֶת-הַשִּׁירָה הַזֹּאת, וְלַמְּדָהּ אֶת-בְּנֵי-יִשְׂרָאֵל, שִׂימָהּ בְּפִיהֶם: לְמַעַן תִּהְיֶה-לִּי הַשִּׁירָה הַזֹּאת, לְעֵד–בִּבְנֵי יִשְׂרָאֵל."
""Now therefore write this song (the Torah) and teach it to the people of Israel. Put it in their mouths, that this song (Torah) may be a witness for me among the people of Israel."
When Moses revealed the secrets he didn't say "Hear O' Israel" but (Deuteronomy 32:1) "הַאֲזִינוּ הַשָּׁמַיִם, וַאֲדַבֵּרָה" "Hear, heavens, and I will speak!"
We know that Rabbi Shimon revealed great secrets in the Idra Zuta on the day he left the world. Like Moses, he started his revelations addressing the heavens. We also know that the Idra Zuta revelation was done only by Rabbi Shimon. The study and revelation made in the Idra Rabba were with Rabbi Shimon and all his students.
The image below shows the two special Torah columns with the last words of Moses. They are arranged in a special form of two gates or one gate if you place the two columns on top of each other.
The form we receive is 6+( 35 + 35=70 ) + 6. This is the 'Shield of David'. This is the aspect of the 70 righteous souls who escorted Rabbi Shimon in his ascend to heavens and many more secrets that can fill a book to explain. It's a Torah Awe/Wow moment for those who are studying the Zohar for a while.
Read the commentary to DZ 1625 to understand the deeper connection between Moses and Rabbi Shimon.
https://dailyzohar.com/daily-zohar-1625/