Daily Zohar # 1946 – Noah – Sins of the fathers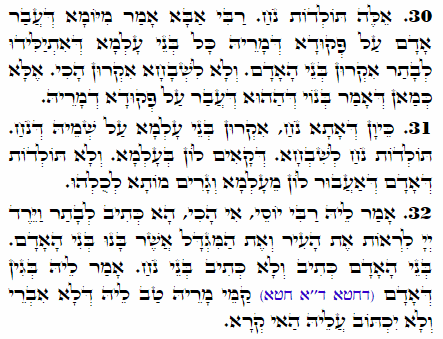 .
Hebrew translation:
30. אֵלֶּה תּוֹלְדֹת נֹחַ – רַבִּי אַבָּא אָמַר, מִיּוֹם שֶׁעָבַר אָדָם עַל מִצְוַת רִבּוֹנוֹ, כָּל בְּנֵי הָאָדָם שֶׁנּוֹלְדוּ אַחַר כָּךְ נִקְרְאוּ בְּנֵי הָאָדָם. וְלֹא לְשֶׁבַח נִקְרְאוּ כָּךְ, אֶלָּא כְּמוֹ שֶׁאָמַר בְּנוֹ שֶׁל אוֹתוֹ שֶׁעָבַר עַל מִצְוַת רִבּוֹנוֹ.
31. כֵּיוָן שֶׁבָּא נֹחַ, נִקְרְאוּ בְּנֵי הָעוֹלָם עַל שֵׁם נֹחַ. תּוֹלְדֹת נֹחַ לְשֶׁבַח. שֶׁהֶעֱמִידָם בָּעוֹלָם. וְלֹא תוֹלְדוֹת אָדָם שֶׁהֶעֱבִירָם מֵהָעוֹלָם וְגָרַם מָוֶת לְכֻלָּם.
32. אָמַר לוֹ רַבִּי יוֹסֵי, אִם כָּךְ, הֲרֵי כָּתוּב אַחַר כָּךְ, וַיֵּרֶד ה' לִרְאוֹת אֶת הָעִיר וְאֶת הַמִּגְדָּל אֲשֶׁר בָּנוּ בְּנֵי הָאָדָם. בְּנֵי הָאָדָם כָּתוּב, וְלֹא כָתוּב בְּנֵי נֹחַ. אָמַר לוֹ, מִשּׁוּם שֶׁאָדָם [שֶׁחָטָא ד"א חָטָא] לִפְנֵי רִבּוֹנוֹ, טוֹב לוֹ שֶׁלֹּא נִבְרָא וְלֹא יִכְתֹּב עָלָיו הַכָּתוּב פָּסוּק זֶה.
.
Zohar Noach
Genesis 6:9
"אֵלֶּה, תּוֹלְדֹת נֹחַ–נֹחַ אִישׁ צַדִּיק תָּמִים הָיָה, בְּדֹרֹתָיו: אֶת-הָאֱלֹהִים, הִתְהַלֶּךְ-נֹחַ"
"These are the generations of Noah. Noah was a righteous man, blameless in his generation. Noah walked with God."
After the sin of Adam all of his descendants are called 'Children of Adam' to indicate that they are part of his line and correction process.
After Noach the people of the world are called 'children of Noach' because the world was preserved because of him.
When a man is called to the Torah for reading, he is called by his name and his father's name. It links the man to his spiritual line and his correction process.
Exodus 20:4 (From the Ten Commandments)
"כִּי אָנֹכִי יְהוָה אֱלֹהֶיךָ, אֵל קַנָּא–פֹּקֵד עֲו‍ֹן אָבֹת עַל-בָּנִים עַל-שִׁלֵּשִׁים וְעַל-רִבֵּעִים, לְשֹׂנְאָי"
"or I YHVH your God am a jealous God, visiting the iniquity of the fathers on the children to the third and the fourth generation of those who hate me,"
Doing good in the name of the parents, especially the fathers and grandfathers, helps with their Tikkun and soul elevation and, at the same time, helps the living descendants.
On our Tzadikim website and app people can select a Tzadik and light a virtual candle for the soul elevation of their parents. With the merit of the Tzadikim, the soul receives a merit and elevation because the contribution supports the Daily Zohar projects of spreading Zohar to the world.
{||}