Daily Zohar # 1990 – Miketz – The river of Joseph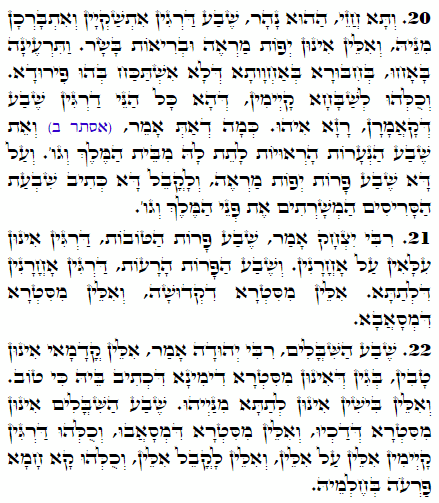 .
Hebrew translation:
20. וּבֹא רְאֵה, אוֹתוֹ הַנָּהָר, שֶׁבַע דְּרָגוֹת נִשְׁקוֹת וּמִתְבָּרְכוֹת מִמֶּנּוּ, וְאֵלּוּ הֵם יְפוֹת מַרְאֶה וּבְרִיאֹת בָּשָׂר. וַתִּרְעֶינָה בָּאָחוּ, בְּחִבּוּר וְאַחֲוָה, שֶׁאֵין נִמְצָא בָהֶם פֵּרוּד וְכֻלָּם לְשֶׁבַח עוֹמְדִים. שֶׁהִנֵּה כָּל שֶׁבַע הַדְּרָגוֹת הַלָּלוּ שֶׁאָמַרְנוּ הוּא סוֹד, כְּמוֹ שֶׁנֶּאֱמַר (אסתר ב) וְאֵת שֶׁבַע הַנְּעָרוֹת הָרְאֻיוֹת לָתֶת לָהּ מִבֵּית הַמֶּלֶךְ וְגוֹ'. וְעַל כֵּן שֶׁבַע פָּרוֹת יְפוֹת מַרְאֶה, וּכְנֶגֶד זֶה כָּתוּב שִׁבְעַת הַסָּרִיסִים הַמְשָׁרְתִים אֶת פְּנֵי הַמֶּלֶךְ וְגוֹ'.
21. רַבִּי יִצְחָק אָמַר, שֶׁבַע הַפָּרוֹת הַטּוֹבוֹת הֵם דְּרָגוֹת עֶלְיוֹנוֹת עַל הָאֲחֵרוֹת, וְשֶׁבַע הַפָּרוֹת הָרָעוֹת – הַדְּרָגוֹת הָאֲחֵרוֹת שֶׁלְּמַטָּה. אֵלּוּ מִצַּד הַקְּדֻשָּׁה, וְאֵלּוּ מִצַּד הַטֻּמְאָה.
22. שֶׁבַע הַשִּׁבֳּלִים – רַבִּי יְהוּדָה אָמַר, אֵלּוּ הָרִאשׁוֹנוֹת הֵן טוֹבוֹת, מִשּׁוּם שֶׁהֵן מִצַּד הַיָּמִין שֶׁכָּתוּב בּוֹ כִּי טוֹב, וְאֵלּוּ הָרָעִים הֵם לְמַטָּה מֵהֶם. שֶׁבַע הַשִּׁבֳּלִים הֵן מִצַּד הַטָּהֳרָה, וְאֵלּוּ מִצַּד הַטֻּמְאָה, וְכָל הַדְּרָגוֹת עוֹמְדוֹת אֵלּוּ עַל אֵלּוּ וְאֵלּוּ כְּנֶגֶד אֵלּוּ, וְאֶת כֻּלָּם רָאָה פַּרְעֹה בַּחֲלוֹמוֹ.
.
Zohar Miketz
Genesis 41:2
" וְהִנֵּה מִן-הַיְאֹר, עֹלֹת שֶׁבַע פָּרוֹת, יְפוֹת מַרְאֶה, וּבְרִיאֹת בָּשָׂר; וַתִּרְעֶינָה, בָּאָחוּ"
"and behold, there came up out of the Nile seven cows attractive and plump, and they fed in the reed grass."
Pharaoh saw in his dream the system of the Tree of Knowledge Good and Bad. The river is the aspect of Binah that nourishes the lower seven Sefirot. In the dream the river represented Joseph, who will bring blessings to the land of Egypt.
The seven healthy fat cows represented the pure system and the seven ill and lean cows represented the impure system. Seeing both puzzled Pharaoh and he needed someone of a higher spiritual level to interpret it.
The dream was sent to Pharaoh by God to give Joseph an opportunity to become the channel of Yessod and control Malchut.
Because Joseph was successful in his work, he created the channel for us to receive spiritual and material nourishments.
{||}