Daily Zohar – Tikunim – #453 – Words of light
Click here to listen to the Daily Zohar [audio:https://dailyzohar.com/wp-content/uploads/audio/dz453.mp3|titles=Daily Zohar 453]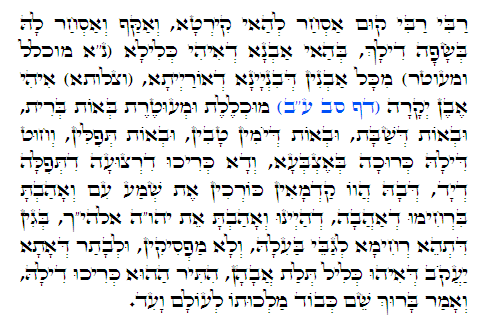 Tikkun 21 – 194
The Tefilin of the head is held with a strap that is made from one long piece. It surrounds the head as a crown to connect to the circular light of the top levels. Then, the two edges of the strap are stretched down in straight lines from the right and the left side of the body.
The Tefilin helps us tap into higher light and draw it down.
When Rabbi Shimon used words he connected to the circular light, which is at the level of Keter.
Each word he uttered was righteous and within it was the light of Shabbat and holidays and like Tefilin it was binding the upper and the lower levels together. The power of the Tefilin comes from the prayer of the Shema Israel that is inside its houses.
{||}