Daily Zohar – Tikunim – #498 – The Light rider
| | |
| --- | --- |
| Click here to listen to the Daily Zohar [audio:https://dailyzohar.com/wp-content/uploads/audio/dz498.mp3|titles=Daily Zohar 498] | Explanation in Hebrew הסבר מוקלט בעברית [audio:https://dailyzohar.com/wp-content/uploads/audio/dz-498-talk.mp3|titles=Hebrew talk DZ 498] |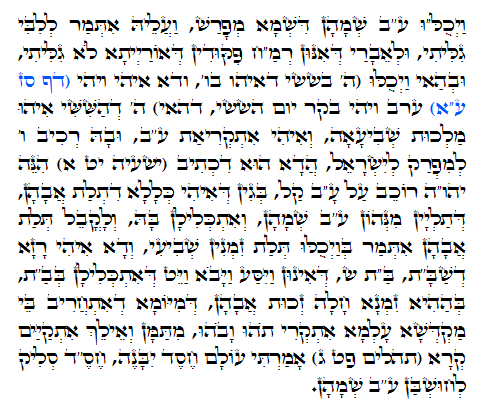 Tikkun 22 – 36
Genesis 2:1
" וַיְכֻלּוּ הַשָּׁמַיִם וְהָאָרֶץ, וְכָל-צְבָאָם "
"And the heaven and the earth were finished, and all the host of them "
The first chapter of Genesis was the creation and second chapter begins with the word וַיְכֻלּוּ that has the numerical value of 72.
From this we learn that the force of Creation that comes from the 42 letters are expressed in the 72 names.
The last word of the act of Creation that ends with the first chapter is הַשִּׁשִּׁי, meaning the sixth. Normally it should read like all the days before as שֵׁנִי ,שְׁלִישִׁי ,רְבִיעִי , חֲמִישִׁי then שִּׁשִּׁי but the Torah shows the last day of Creation with the letter Heh ה.
As we already know, this letter represents Malchut.
The first day is also different in the Torah and instead of ראשון it is called אחד, meaning one. This represents the oneness of the light that started the process of Creation. Also the numerical value of אחד is 13, for love.
72 is the numerical value of Chessed חסד
Psalms 89:3
" כִּי-אָמַרְתִּי–עוֹלָם, חֶסֶד יִבָּנֶה "
"For I have said: 'World in mercy (Chessed) built "
The first word after Creation, וַיְכֻלּוּ, with the numerical value 72, represents the first and last Redemption. The first 72 is revealed when the Israelites crossed the Red Sea and the final is mentioned in the prophecy of Isaiah.
Isaiah 19:1
"מַשָּׂא, מִצְרָיִם: הִנֵּה יְהוָה רֹכֵב עַל-עָב קַל, וּבָא מִצְרַיִם, וְנָעוּ אֱלִילֵי מִצְרַיִם מִפָּנָיו, וּלְבַב מִצְרַיִם יִמַּס בְּקִרְבּוֹ "
"The burden of Egypt. Behold, YHVH ride upon a swift cloud (עָב=72) and come unto Egypt; and the idols of Egypt shall be moved at His presence, and the heart of Egypt shall melt within it "
Egypt represents the slavery to the material world. The first redemption destroyed the hold of Egypt over the physical realm and the Final Redemption with the force of the 72 names, will transform the Egypt consciousness that is within us, into pure and one with the light.
{||}