Daily Zohar – Tikunim – #542 – "like a lily among thorns"
Click here to listen to the Daily Zohar [audio:https://dailyzohar.com/wp-content/uploads/audio/dz542.mp3|titles=Daily Zohar 542]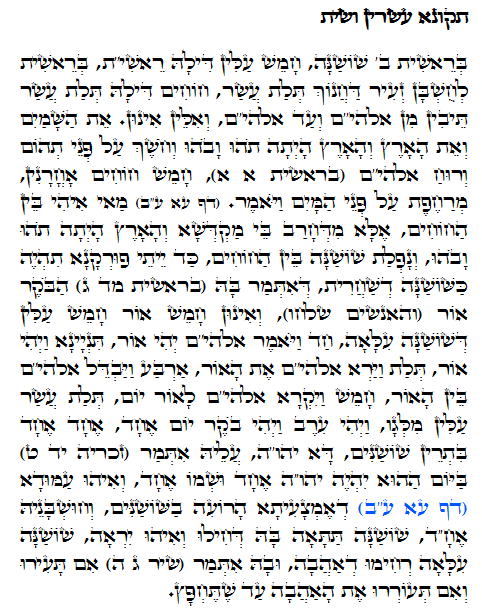 Hebrew translation:
בְּרֵאשִׁית ב' שׁוֹשַׁנָּה, חֲמֵשֶׁת הֶעָלִים שֶׁלָּהּ רֵאשִׁי"ת, בְּרֵאשִׁי"ת לְחֶשְׁבּוֹן קָטָן שֶׁל חֲנוֹךְ שְׁלֹשָׁה עָשָׂר, הַחוֹחִים שֶׁלָּהּ שְׁלֹשׁ עֶשְׂרֵה תֵבוֹת מִן אֱלֹהִי"ם וְעַד אֱלֹהִי"ם, וְאֵלֶּה הֵם: אֵת הַשָּׁמַיִם וְאֵת הָאָרֶץ וְהָאָרֶץ הָיְתָה תֹהוּ וָבֹהוּ וְחֹשֶׁךְ עַל פְּנֵי תְהוֹם וְרוּחַ אֱלֹהִי"ם, חֲמִשָּׁה חוֹחִים אֲחֵרִים – מְרַחֶפֶת עַל פְּנֵי הַמָּיִם וַיֹּאמֶר.
מַה הִיא בֵּין הַחוֹחִים? אֶלָּא מִשֶּׁחָרַב בֵּית הַמִּקְדָּשׁ, וְהָאָרֶץ הָיְתָה תֹהוּ וָבֹהוּ, וְנָפְלָה הַשּׁוֹשַׁנָּה בֵּין הַחוֹחִים. כְּשֶׁתָּבֹא הַגְּאֻלָּה, תִּהְיֶה כְּשׁוֹשַׁנָּה שֶׁל שַׁחֲרִית, שֶׁנֶּאֱמַר בָּהּ הַבֹּקֶר אוֹר (וְהָאֲנָשִׁים שֻׁלְּחוּ), וְהֵם חֲמִשָּׁה אוֹר, חֲמִשָּׁה עָלִים שֶׁל הַשּׁוֹשַׁנָּה הָעֶלְיוֹנָה, אֶחָד – וַיֹּאמֶר אֱלֹהִי"ם יְהִי אוֹר, הַשֵּׁנִי – וַיְהִי אוֹר, שְׁלֹשָׁה – וַיַּרְא אֱלֹהִי"ם אֶת הָאוֹר, אַרְבָּעָה – וַיַּבְדֵּל אֱלֹהִי"ם בֵּין הָאוֹר, חֲמִשָּׁה – וַיִּקְרָא אֱלֹהִי"ם לָאוֹר יוֹם. שְׁלֹשָׁה עָשָׂר עָלִים מִבִּפְנִים, וַיְהִי עֶרֶב וַיְהִי בֹקֶר יוֹם אֶחָד, אֶחָד אֶחָד בִּשְׁתֵּי שׁוֹשַׁנִּים, זֶה יהו"ה, עָלָיו נֶאֱמַר בַּיּוֹם הַהוּא יִהְיֶה יהו"ה אֶחָד וּשְׁמוֹ אֶחָד, וְהוּא הָעַמּוּד הָאֶמְצָעִי, הָרוֹעֶה בַּשּׁוֹשַׁנִּים, וְחֶשְׁבּוֹנוֹ אֶחָ"ד, הַשּׁוֹשַׁנָּה הַתַּחְתּוֹנָה, בָּהּ פַּחַד וְהוּא יִרְאָה, הַשּׁוֹשַׁנָּה הָעֶלְיוֹנָה אַהֲבַת הָאַהֲבָה, וּבָהּ נֶאֱמַר אִם תָּעִירוּ וְאִם תְּעוֹרְרוּ אֶת הָאַהֲבָה עַד שֶׁתֶּחְפָּץ.
Tikkun 26 – 1
Song of Songs 2:2
"כְּשׁוֹשַׁנָּה בֵּין הַחוֹחִים "
"like a lily among thorns"
The word בְּרֵאשִׁית has numerical value of 913 and in small gimatria (adding the digits of the whole number) 9+1+3 we get 13.
The first letter ב, numerically 2, is for the two lilies and the next five letters רֵאשִׁית are the 5 leaves of the lily.
בְּרֵאשִׁית is the aspect of the lily and thorns are the 13 words from the first appearance of the word God, אלהים, in the Torah to the second one.
"אֵת הַשָּׁמַיִם, וְאֵת הָאָרֶץ וְהָאָרֶץ, הָיְתָה תֹהוּ וָבֹהוּ, וְחֹשֶׁךְ, עַל-פְּנֵי תְהוֹם וְרוּחַ "
"the heaven and the earth Now the earth was unformed and void, and darkness was upon the face of the deep; and the spirit of "
The other 5 thorns are the words between the second and the third names of God,
"מְרַחֶפֶת עַל פְּנֵי הַמָּיִם וַיֹּאמֶר"
"hovered over the face of the waters"
The Zohar asks, "What is 'among the thorns'?" and explains, when the Holy Temple was destroyed, the lily fell down into the thorns, which is the chaos of the world as it is said "the earth was unformed and void".
When the Redemption comes the lily will rise like the morning light. The five leaves are the five times the word אוֹר, "light" that appears in the story of creation. The inner thirteen is from the word אֶחָד, "one" that appears twice, with numerical value of 13 + 13 for the supernal and the lower lilies. The sum of 26 is for YHVH.
Zecharia 14:9
"בַּיּוֹם הַהוּא, יִהְיֶה יְהוָה אֶחָד–וּשְׁמוֹ אֶחָד"
"On that day shall YHVH be One, and His name one."
When the two אֶחָד , "one" join together in the Final Redemption, the central column will be formed to its final state. This is the work of the 'shepherd' of the lilies, as we explained previously, and is the aspect of Moses and Jacob.
{||}