Daily Zohar – Tikunim – #581 – Come closer, closer, closer
Click here to listen to the Daily Zohar [audio:https://dailyzohar.com/wp-content/uploads/audio/dz581.mp3|titles=Daily Zohar 581]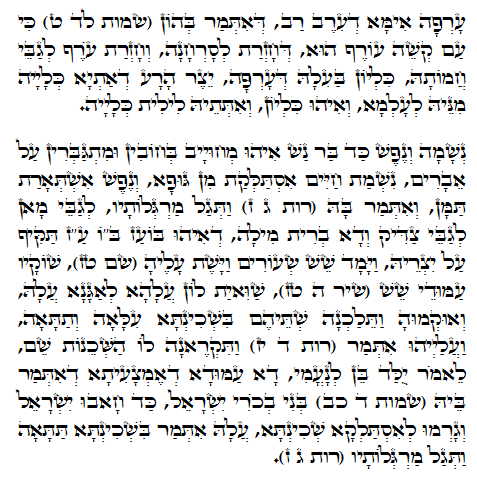 Hebrew translation:
עָרְפָּה הִיא הָאֵם שֶׁל הָעֵרֶב רַב, שֶׁנֶּאֱמַר בָּהֶם כִּי עַם קְשֵׁה עֹרֶף הוּא, שֶׁחָזְרָה לְסִרְחוֹנָהּ וְהֶחֱזִירָה עֹרֶף לַחֲמוֹתָהּ, כִּלְיוֹן בַעְלָהּ שֶׁל עָרְפָּה, יֵצֶר הָרָע, שֶׁבָּאָה כְלָיָה מִמֶּנּוּ לָעוֹלָם, וְהוּא כִּלְיוֹן, וְאִשְׁתּוֹ לִילִית כְּלָיָה.
נְשָׁמָה וְנֶפֶשׁ, כְּשֶׁאָדָם מְחֻיָּב בַּחֲטָאִים וְהֵם מִתְגַּבְּרִים עַל הָאֵיבָרִים, נִשְׁמַת חַיִּים מִסְתַּלֶּקֶת מֵהַגּוּף, וְהַנֶּפֶשׁ נִשְׁאֶרֶת שָׁם, וְנֶאֱמַר בָּהּ וַתְּגַל מַרְגְּלוֹתָיו, לְמִי? לַצַּדִּיק, וְזוֹ בְּרִית מִילָה, שֶׁהוּא בּוֹעַ"ז בּ"וֹ עַ"ז, תַּקִּיף עַל יִצְרוֹ, וַיָּמָד שֵׁשׁ שְׂעוֹרִים וַיָּשֶׁת עָלֶיהָ, שׁוֹקָיו עַמּוּדֵי שֵׁשׁ, שָׂמָה אוֹתָם עָלֶיהָ לְהָגֵן עָלֶיהָ, וּפֵרְשׁוּהָ וַתֵּלַכְנָה שְׁתֵּיהֶם, עִם הַשְּׁכִינָה הָעֶלְיוֹנָה וְהַתַּחְתּוֹנָה, וַעֲלֵיהֶם נֶאֱמַר וַתִּקְרֶאנָה לוֹ הַשְּׁכֵנוֹת שֵׁם, לֵאמֹר יֻלַּד בֵּן לְנָעֳמִי, זֶה הָעַמּוּד הָאֶמְצָעִי, שֶׁנֶּאֱמַר בּוֹ בְּנִי בְכֹרִי יִשְׂרָאֵל. כְּשֶׁחָטְאוּ יִשְׂרָאֵל וְגָרְמוּ לְהִסְתַּלְּקוּת הַשְּׁכִינָה, עַל הַשְּׁכִינָה הַתַּחְתּוֹנָה נֶאֱמַר וַתְּגַל מַרְגְּלוֹתָיו.
Tikkun 31 – 3
Turning away from the light is the aspect of the Erev Rav that distanced themselves from Mount Sinai "וַיַּרְא הָעָם וַיָּנֻעוּ, וַיַּעַמְדוּ מֵרָחֹק. " "and the people saw it, they trembled, and stood afar off.".
The Zohar tells us that when the Torah mentions הָעָם, 'people', it refers to the Mix Multitude, the Erev Rav. When it says בני ,ישראל the Children of Israel, it talks only about the descendants of Jacob.
When people don't follow the spiritual laws of the Torah, they disconnect the higher levels of their soul, Ruach and Neshama, from their body. They stay only with the Nefesh which is the basic life force in the body that circulates with the blood system.
When Boaz met with Ruth, which was the aspect of the high level of the soul, he protected her until he married her and created higher level of connection to give birth to high level souls.
Through a process of nine months in an environment of water, the soul binds itself to the body. The tikkun process that follows, gives us the opportunity to grow our soul.
Following the spiritual laws add layers of spiritual protection from negativity and helps in keeping the higher level of the souls with us for support and growth that is needed to survive from the chaos of this world.
{||}