Daily Zohar – Tikunim – #605 – Pure language
Click here to listen to the Daily Zohar [audio:https://dailyzohar.com/wp-content/uploads/audio/dz605.mp3|titles=Daily Zohar 605]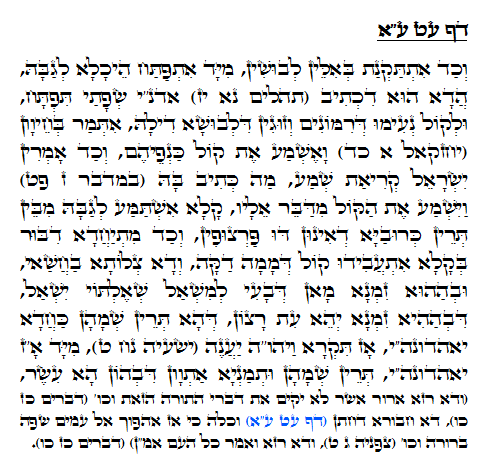 Hebrew translation:
וּכְשֶׁמִּתְתַּקֶּנֶת בַּלְּבוּשִׁים הַלָּלוּ, מִיָּד נִפְתָּח הַהֵיכָל אֵלֶיהָ. זֶהוּ שֶׁכָּתוּב אדנ"י שְׂפָתַי תִּפְתָּח, וּלְקוֹל נְעִימוּת הָרִמּוֹנִים וְהַפַּעֲמוֹנִים שֶׁל לְבוּשָׁהּ, נֶאֱמַר בַּחַיּוֹת וָאֶשְׁמַע אֶת קוֹל כַּנְפֵיהֶם, וּכְשֶׁיִּשְׂרָאֵל אוֹמְרִים קְרִיאַת שְׁמַע, מַה כָּתוּב בָּהּ? וַיִּשְׁמַע אֶת הַקּוֹל מִדַּבֵּר אֵלָיו, הַקּוֹל נִשְׁמָע אֵלֶיהָ מִבֵּין שְׁנֵי הַכְּרוּבִים, שֶׁהֵם דּוּ פַרְצוּפִים, וּכְשֶׁמִּתְיַחֵד הַדִּבּוּר עִם הַקּוֹל, נַעֲשִׂים קוֹל דְּמָמָה דַקָּה, וְזוֹ תְפִלָּה בַחֲשַׁאי, וּבְאוֹתוֹ זְמַן, מִי שֶׁרוֹצֶה לְבַקֵּשׁ בַּקָּשָׁתוֹ יְבַקֵּשׁ, שֶׁבְּאוֹתוֹ זְמַן יִהְיֶה עֵת רָצוֹן, שֶׁהֲרֵי שְׁנֵי הַשֵּׁמוֹת כְּאֶחָד – יאהדונה"י, אָז תִּקְרָא וַיהו"ה יַעֲנֶה, מִיָּד אָ"ז יאהדונה"י, שְׁנֵי שֵׁמוֹת וּשְׁמוֹנֶה אוֹתִיּוֹת שֶׁבָּהֶם, הֲרֵי עֶשֶׂר, (וְזֶה סוֹד אָרוּר אֲשֶׁר לֹא יָקִים אֶת דִּבְרֵי הַתּוֹרָה הַזֹּאת וְכוּ', זֶהוּ הַחִבּוּר שֶׁל חָתָן וְכַלָּה, כִּי אָז אֶהְפֹּךְ אֶל עַמִּים שָׂפָה בְרוּרָה וְכוּ', וְזֶה סוֹד וְאָמַר כָּל הָעָם אָמֵ"ן).
Tikkun 38 – 2
(Continue from DailyZohar #604)
When the Great Lily is decorated with the light of the unification between YHVH and ADNY, the upper palace is opened.
The sound of the angels is activated then and the light flows to Malchut.
Numbers 7:89
"וּבְבֹא מֹשֶׁה אֶל-אֹהֶל מוֹעֵד, לְדַבֵּר אִתּוֹ, וַיִּשְׁמַע אֶת-הַקּוֹל מִדַּבֵּר אֵלָיו מֵעַל הַכַּפֹּרֶת אֲשֶׁר עַל-אֲרֹן הָעֵדֻת, מִבֵּין שְׁנֵי הַכְּרֻבִים; וַיְדַבֵּר, אֵלָיו "
"And when Moses went into the tent of meeting (Tabernacle) that He might speak with him, then he heard the Voice speaking unto him from above the ark-cover that was upon the ark of the testimony, from between the two cherubim; and He spoke unto him"
The cherubim were activated when Moses came into the Holy of Holies. With his preparation by YHVH, Moses unified Malchut and Zeir Anpin. He activated the flow of light that was manifested with the sound of the cherubim.
The prophet Isaiah tells us how the system works.
Isaiah 58:7
" הֲלוֹא פָרֹס לָרָעֵב לַחְמֶךָ, וַעֲנִיִּים מְרוּדִים תָּבִיא בָיִת: כִּי-תִרְאֶה עָרֹם וְכִסִּיתוֹ, וּמִבְּשָׂרְךָ לֹא תִתְעַלָּם "
"Is it not to deal your bread to the hungry, and that you bring the poor that are cast out to your house? when you see the naked, you shall cover him, and that you hide not yourself from your own flesh "
Isaiah 58:8
"אָז יִבָּקַע כַּשַּׁחַר אוֹרֶךָ, וַאֲרֻכָתְךָ מְהֵרָה תִצְמָח; וְהָלַךְ לְפָנֶיךָ צִדְקֶךָ, כְּבוֹד יְהוָה יַאַסְפֶךָ "
"Then shall your light break forth as the morning, and your healing shall spring forth speedily; and you righteousness shall go before you, the glory of YHVH shall be your rearward "
Isaiah 58:9
"אָז תִּקְרָא וַיהוָה יַעֲנֶה, תְּשַׁוַּע וְיֹאמַר הִנֵּנִי "
"Then you shall call, and YHVH will answer; You shall cry for help, and He will say: 'Here I am.' "
In order to have the Light answer our prayers, we need to do the right action with spiritual connection. We should treat the others as our own flesh and blood. If we don't care and share with the others then we create disconnection from the light, which is darkness.
To activate the light in our life we must use the spiritual system properly.
Deuteronomy 27:26
"אָרוּר, אֲשֶׁר לֹא-יָקִים אֶת-דִּבְרֵי הַתּוֹרָה-הַזֹּאת–לַעֲשׂוֹת אוֹתָם; וְאָמַר כָּל-הָעָם, אָמֵן. "
"Cursed be he that confirm not the words of this law to do them. And all the people shall say: Amen "
The Zohar explains this verse to have the meaning of the unification of the Groom (YHVH, Zeir Anpin) and the Bride (Shechina, Malchut) with the Secret of "All the people shall say Amen", "אָמֵן". Amen has the numerical value of 91 which represents the unification of upper and lower with the names YHVH יהוה and ADNY אדני as יאהדונהי.
The result of the total unification is described in Zephaniah 3:9
"כִּי-אָז אֶהְפֹּךְ אֶל-עַמִּים, שָׂפָה בְרוּרָה, לִקְרֹא כֻלָּם בְּשֵׁם יְהוָה, לְעָבְדוֹ שְׁכֶם אֶחָד "
"For then will I turn to the peoples a pure language, that they may all call upon the name of the LORD, to serve Him with one consent. "
"Pure language","שָׂפָה בְרוּרָה" is the Hebrew of the sacred text. It is the only language that can unite all as one in pure connection with YHVH.