Daily Zohar – Tikunim – #620 – The duality of existence
Click here to listen to the Daily Zohar [audio:https://dailyzohar.com/wp-content/uploads/audio/dz620.mp3|titles=Daily Zohar 620]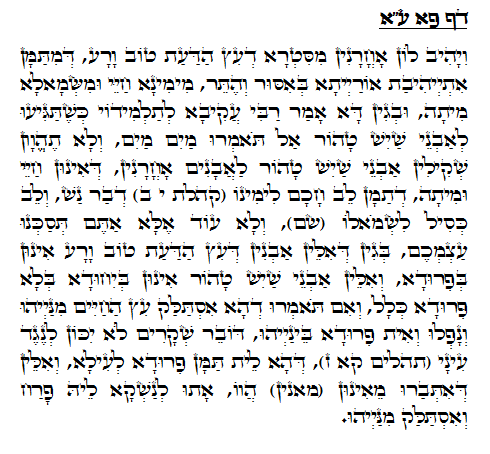 Hebrew translation:
וְנָתַן לָהֶם אֲחֵרִים מִצַּד שֶׁל עֵץ הַדַּעַת טוֹב וָרָע, שֶׁמִּשָּׁם נִתְּנָה תוֹרָה בְּאִסּוּר וְהֶתֵּר, מִיָּמִין חַיִּים וּמִשְּׂמֹאל מִיתָה, וּמִשּׁוּם זֶה אָמַר רַבִּי עֲקִיבָא לְתַלְמִידָיו, כְּשֶׁתַּגִּיעוּ לְאַבְנֵי שַׁיִשׁ אַל תַּגִּידוּ מַיִם מַיִם, וְאַל תִּהְיוּ שׁוֹקְלִים אַבְנֵי שַׁיִשׁ טָהוֹר לַאֲבָנִים אֲחֵרוֹת, שֶׁהֵן חַיִּים וּמִיתָה, שֶׁשָּׁם לֵב חָכָם לִימִינוֹ שֶׁל אָדָם, וְלֵב כְּסִיל לִשְׂמֹאלוֹ, וְלֹא עוֹד, אֶלָּא אַתֶּם תְּסַכְּנוּ עַצְמְכֶם, מִשּׁוּם שֶׁהָאֲבָנִים הַלָּלוּ שֶׁל עֵץ הַדַּעַת טוֹב וָרָע הֵן בְּפֵרוּד, וְאַבְנֵי הַשַּׁיִשׁ טָהוֹר הַלָּלוּ הֵן בְּיִחוּד, בְּלִי פֵרוּד כְּלָל, וְאִם תֹּאמְרוּ שֶׁהֲרֵי הִסְתַּלֵּק מֵהֶם עֵץ הַחַיִּים וְנָפְלוּ וְיֵשׁ בֵּינֵיהֶן פֵּרוּד – דֹּבֵר שְׁקָרִים לֹא יִכּוֹן לְנֶגֶד עֵינָי, שֶׁהֲרֵי אֵין שָׁם פֵּרוּד לְמַעְלָה, וְאֵלּוּ שֶׁנִּשְׁבְּרוּ, מֵאוֹתָם (כֵּלִים) הָיוּ. בָּאוּ לְנַשֵּׁק אוֹתוֹ, פָּרַח וְהִסְתַּלֵּק מֵהֶם.
Tikkun 40 – 6
Continue from Daily Zohar 619
There is a duality in existence that is represented by the two systems that God created, the Tree of Life and the Tree of Knowledge, Good and Bad.
The two tablets that Moses brought down from Mount Sinai as well as the Torah, represent this duality.
The right column is the precepts of positive actions that connect us to the upper levels, which is life. The precepts that guide us to avoid following or do negative are the aspect of the left column and the world controlled by time and death.
Rabbi Akiva warned his students from making a mistake when ascending to the upper levels. The "Marble stones" (see previous Daily Zohars) are the aspect of the Sacred Hebrew letters. Abraham the patriarch in his book Sefer Yetzirah, uses the word 'stones' for the Hebrew letters because they are used as building blocks. On the level of Malchut the letters represent the Tree of Knowledge good and bad and the tikkun process.
The reference to water in Rabbi Akiva's teaching, is for the two letters Yod, which together with the letter Vav construct the letter Alef. They represent the upper and lower waters, which is the upper and lower worlds.
On the upper levels there is a different set of letters that is referenced as "Pure Marble Stones". They are always in unification with the light and have no separation as in the lower worlds.
The Zohar is the tool that connects us to the pure 'Marble Stones' of the upper level.
{||}