Daily Zohar # 3234 – Vayechi – She cries for us
Daily Zohar 3234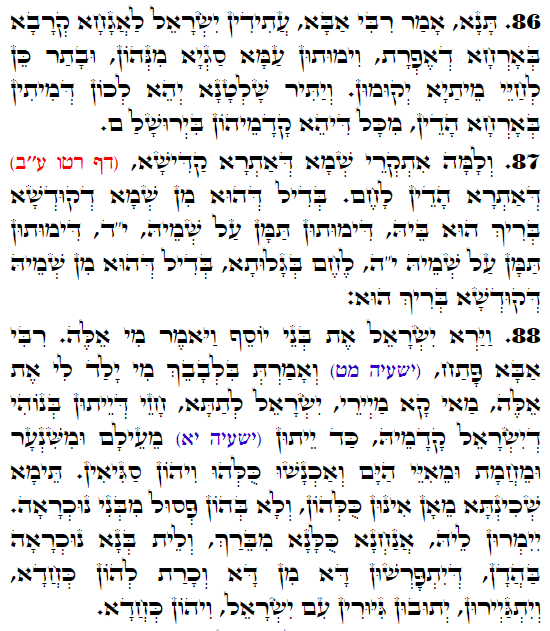 .
Hebrew translation:
86. שָׁנִינוּ, אָמַר רַבִּי אַבָּא, עֲתִידִים יִשְׂרָאֵל לַעֲרֹב קְרָב בַּדֶּרֶךְ אֶפְרָת וְיָמוּתוּ מֵהֶם עַם רַב, וְאַחַר כָּךְ יָקוּמוּ בִּתְחִיַּת הַמֵּתִים. יוֹתֵר שִׁלְטוֹן יִהְיֶה לָהֶם שֶׁמֵּתוּ בְּדֶרֶךְ זוֹ מִכָּל שֶׁהָיָה לִפְנֵיהֶם בִּירוּשָׁלַיִם.
87. וְלָמָּה נִקְרָא שֵׁם הַמָּקוֹם הַקָּדוֹשׁ שֶׁל מָקוֹם זֶה לֶחֶם? מִשּׁוּם שֶׁהוּא מִשֵּׁם הַקָּדוֹשׁ בָּרוּךְ הוּא שֶׁבּוֹ, שֶׁיָּמוּתוּ שָׁם עַל שְׁמוֹ י"ד, שֶׁיָּמוּתוּ שָׁם עַל שְׁמוֹ י"ה, לֶחֶם בַּגָּלוּת, בִּשְׁבִיל שֶׁהוּא מִשְּׁמוֹ שֶׁל הַקָּדוֹשׁ בָּרוּךְ הוּא.
88. וַיַּרְא יִשְׂרָאֵל אֶת בְּנֵי יוֹסֵף וַיֹּאמֶר מִי אֵלֶּה. רַבִּי אַבָּא פָּתַח, (ישעיה מט) וְאָמַרְתְּ בִּלְבָבֵךְ מִי יָלַד לִי אֶת אֵלֶּה. מָה רָצָה בָּזֶה? יִשְׂרָאֵל שֶׁלְּמַטָּה רָאָה שֶׁיָּבֹאוּ בְּנֵי יִשְׂרָאֵל לְפָנָיו, כְּשֶׁיָּבֹאוּ (שם יא) מֵעֵילָם וּמִשִּׁנְעָר וּמֵחֲמָת וּמֵאִיֵּי הַיָּם, וְיִתְכַּנְּסוּ כֻלָּם וְיִהְיוּ רַבִּים, תֹּאמַר הַשְּׁכִינָה: מֵאֵיפֹה כָּל אֵלֶּה, וְאֵין בָּהֶם פְּסוּל מִבְּנֵי נָכְרִים? יֹאמְרוּ לוֹ, אֲנַחְנוּ כֻּלָּנוּ מִבָּנֶיךָ וְאֵין בָּנוּ נָכְרִי עִמָּנוּ, שֶׁיִּפָּרְדוּ זֶה מִזֶּה וְיִכְרוֹת אוֹתָם כְּאֶחָד, וְיִתְגַּיְּרוּ, וְיָשׁוּבוּ גֵרִים עִם יִשְׂרָאֵל וְיִהְיוּ כְּאֶחָד.
.
Zohar Vayechi
#86
The Zohar says that Israel will make war on the way to Ephrath, which is Bethlehem. Many will die in that war but will come back to life at the time of the Resurrection. There will be preferred rules for those who died in that war compared to those who were before them in Jerusalem and even more than those who didn't die in the war.
#87
Genesis 48:7
"וַאֲנִי בְּבֹאִי מִפַּדָּן מֵתָה עָלַי רָחֵל בְּאֶרֶץ כְּנַעַן בַּדֶּרֶךְ בְּעוֹד כִּבְרַת אֶרֶץ לָבֹא אֶפְרָתָה וָאֶקְבְּרֶהָ שָּׁם בְּדֶרֶךְ אֶפְרָת הִוא בֵּית לָחֶם."
"Now as for me, when I came from Paddan, Rachel died, to my sorrow, in the land of Canaan on the journey, when there was still some distance to go to Ephrath; and I buried her there on the way to Ephrath (that is, Bethlehem)."
This holy place was called Bethlehem because the war would be on his name, meaning to bring the Light of the Holy name to this world. The name 'בית לחם' 'Bethlehem', means 'house of war' because 'לחם' is the root of 'מלחמה', a war to bring the lower part of the name וה VH with the upper part/ throne יה YH and make the name YHVH whole.
Exodus 17:16
"וַיֹּאמֶר כִּי יָד עַל כֵּס יָהּ מִלְחָמָה לַיהוָה בַּעֲמָלֵק מִדֹּר דֹּר."
"and he said, "Because a hand on the throne of YH; YHVH will have a war against Amalek from generation to generation."
Amalek corrupts with its presence in the world and blocks a complete unification of VH with YH. The war would be to eradicate Amalek from this world and people would die during this war.
#88
This paragraph starts a new study subject and would be included in the next DZ
Lesson;
Rachel the matriarch is buried on the way to Ephrath, Bethlehem, in the land inheritance of the tribe of Benjamin, her son. Her only two sons were Tzadikim, Benjamin at the level of Malchut and Joseph at the level of Yessod of Zeir Anpin.
After the final war and the Resurrection of the dead, Rachel and the Shechina would welcome those who return from exile (Zohar Vayishlach #201,202).
Rachel was buried in a visible place, not like the other patriarchs and matriarchs that were hidden in the cave of Machpelah. She represents the aspect of the Shechina in Malchut and the separation from her husband, Zeir Anpin. She feels the pain of the separation and cries for all Israelites, her children until they return to their safe 'home'.
Jeremiah 31:14-16
"כֹּה אָמַר יְהוָה קוֹל בְּרָמָה נִשְׁמָע נְהִי בְּכִי תַמְרוּרִים רָחֵל מְבַכָּה עַל בָּנֶיהָ מֵאֲנָה לְהִנָּחֵם עַל בָּנֶיהָ כִּי אֵינֶנּוּ."
"כֹּה אָמַר יְהוָה מִנְעִי קוֹלֵךְ מִבֶּכִי וְעֵינַיִךְ מִדִּמְעָה כִּי יֵשׁ שָׂכָר לִפְעֻלָּתֵךְ נְאֻם יְהוָה וְשָׁבוּ מֵאֶרֶץ אוֹיֵב. "
"וְיֵשׁ תִּקְוָה לְאַחֲרִיתֵךְ נְאֻם יְהוָה וְשָׁבוּ בָנִים לִגְבוּלָם."
"Thus says YHVH, "A voice is heard in Ramah, Lamentation and bitter weeping. Rachel is weeping for her children; She refuses to be comforted for her children Because they are no more."
"Thus says YHVH, "Restrain your voice from weeping And your eyes from tears; For your work will be rewarded," declares YHVH, "And they will return from the land of the enemy."
"There is hope for your future," declares YHVH, "And your children will return to their own territory."
{||}