Daily Zohar – Tikunim – # 676 – Looking into the depth of matter
Click here to listen to the Daily Zohar [audio:https://dailyzohar.com/wp-content/uploads/audio/dz676.mp3|titles=Daily Zohar 676]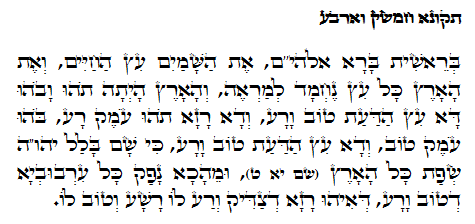 Hebrew translation:
תִּקּוּן חֲמִשִּׁים וְאַרְבָּעָה
בְּרֵאשִׁית בָּרָא אֱלֹהִי"ם, אֵת הַשָּׁמַיִם – עֵץ הַחַיִּים, וְאֵת הָאָרֶץ – כָּל עֵץ נֶחְמָד לְמַרְאֶה, וְהָאָרֶץ הָיְתָה תֹהוּ וָבֹהוּ זֶה עֵץ הַדַּעַת טוֹב וָרָע, וְזֶהוּ סוֹד תֹּהוּ, עֹמֶק רָע, בֹּהוּ – עֹמֶק טוֹב, וְזֶה עֵץ הַדַּעַת טוֹב וָרָע, כִּי שָׁם בָּלַל יהו"ה שְׂפַת כָּל הָאָרֶץ, וּמִכָּאן יָצְאָה כָּל הָעִרְבּוּבְיָה שֶׁל טוֹב וָרָע, שֶׁהוּא הַסּוֹד שֶׁל צַדִּיק וְרַע לוֹ רָשָׁע וְטוֹב לוֹ.
Tikkun 54
Genesis 1:1 "בְּרֵאשִׁית, בָּרָא אֱלֹהִים, אֵת הַשָּׁמַיִם, וְאֵת הָאָרֶץ" "In the beginning God created the heaven and the earth"
'The heavens' is the Tree of Life, 'the earth' is the Tree of Knowledge Good and Bad.
"the earth was unformed and void", תֹהוּ , "unformed" is the aspect of 'good' depth and בֹהוּ 'void' is the aspect of 'bad' depth.
The distance from the material to its spiritual root is called depth and it is all around the matter. Since there is no actual matter, the spiritual depth is the fields of energy that is controlling and forming the 'matter'.
{||}