Daily Zohar – Tikunim – # 733 – Set your heart and trust in 'This'
Click here to listen to the Daily Zohar [audio:https://dailyzohar.com/wp-content/uploads/audio/dz733.mp3|titles=Daily Zohar 733]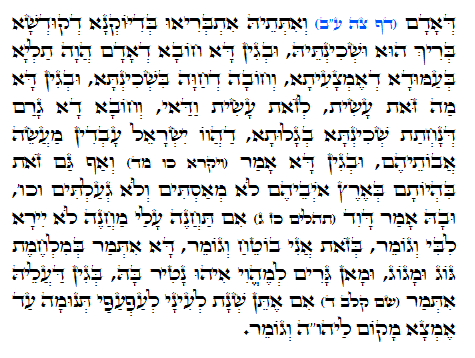 Hebrew translation:
שֶׁאָדָם וְאִשְׁתּוֹ נִבְרְאוּ בִדְיוֹקְנוֹ שֶׁל הַקָּדוֹשׁ בָּרוּךְ הוּא וּשְׁכִינָתוֹ, וּמִשּׁוּם זֶה חֵטְא הָאָדָם הָיָה תָלוּי בָּעַמּוּד הָאֶמְצָעִי, וְהַחֵטְא שֶׁל חַוָּה בַּשְּׁכִינָה, וּמִשּׁוּם זֶה מַה זֹּאת עָשִׂית, לָזֹאת עָשִׂית וַדַּאי, וְהַחֵטְא הַזֶּה גָּרַם שֶׁיָּרְדָה הַשְּׁכִינָה לַגָּלוּת, שֶׁהָיוּ יִשְׂרָאֵל עוֹשִׂים מַעֲשֵׂה אֲבוֹתֵיהֶם, וּמִשּׁוּם זֶה אָמַר וְאַף גַּם זֹאת בִּהְיוֹתָם בְּאֶרֶץ אֹיְבֵיהֶם לֹא מְאַסְתִּים וְלֹא גְעַלְתִּים וְכוּ', וּבָהּ אָמַר דָּוִד אִם תַּחֲנֶה עָלַי מַחֲנֶה לֹא יִירָא לִבִּי וְגוֹמֵר, בְּ"זֹאת" אֲנִי בוֹטֵחַ וְגוֹמֵר, זֶה נֶאֱמַר בְּמִלְחֶמֶת גּוֹג וּמָגוֹג, וּמִי גָרַם שֶׁהוּא יִהְיֶה שָׁמוּר בָּהּ? מִשּׁוּם שֶׁעָלָיו נֶאֱמַר אִם אֶתֵּן שְׁנָת לְעֵינָי לְעַפְעַפַּי תְּנוּמָה עַד אֶמְצָא מָקוֹם לַיהו"ה וְגוֹמֵר.
Tikkun 64 – 2
The man and woman were created in God's image that included the ten sefirot. Adam wasthe aspect of the central column and Eve was the aspect of Malchut as the Shechina.
The sin and the separation caused the Shechina to go to exile, which is away fromthe light and the upper Sefirot.
Leviticus 26:44
"וְאַף-גַּם-זֹאת בִּהְיוֹתָם בְּאֶרֶץאֹיְבֵיהֶם, לֹא-מְאַסְתִּים וְלֹא-גְעַלְתִּים לְכַלֹּתָם–לְהָפֵר בְּרִיתִי, אִתָּם:כִּי אֲנִי יְהוָה, אֱלֹהֵיהֶם"
"Andyet for all that (זֹאת), when they are in the land of theirenemies, I will not reject them, neither will I abhor them, to destroy themutterly, and to break My covenant with them; for I am the LORD their God."
Psalms27:3
"אִם-תַּחֲנֶה עָלַי, מַחֲנֶה– לֹא-יִירָא לִבִּי:
אִם-תָּקוּם עָלַי, מִלְחָמָה– בְּזֹאת, אֲנִי בוֹטֵחַ"
"Thougha host should encamp against me, my heart shall not fear; though war should rise up against me, even then with that (זֹאת) I be confident."
We learned in previous Daily Zohar that זֹאת is the aspect of the Shechina in our world. It is the covenant of God that lets the Shechina dwell with us to give us protection and connection to draw light from the upper levels.
{||}