Daily Zohar – Tikunim – # 812 – Let it penetrate into your vessel
Click here to listen to the Daily Zohar [audio:https://dailyzohar.com/wp-content/uploads/audio/dz812.mp3|titles=Daily Zohar 812]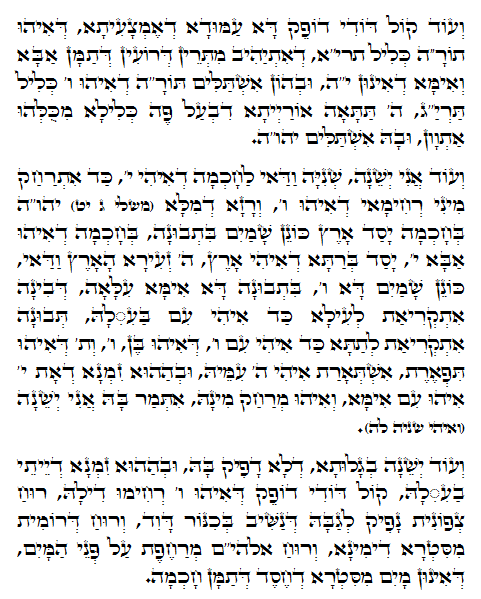 Hebrew translation:
וְעוֹד, קוֹל דּוֹדִי דוֹפֵק, זֶה הָעַמּוּד הָאֶמְצָעִי שֶׁהוּא תוֹרָ"ה כּוֹלֵל תרי"א, שֶׁנִּתַּן מִשְּׁתֵּי זְרוֹעוֹת, שֶׁשָּׁם הָאָב וְהָאֵם שֶׁהֵם י"ה, וּבָהֶם הִשְׁתַּלֵּם תּוֹרָה שֶׁהוּא ו' כּוֹלֵל תַּרְיַ"ג, ה' תַּחְתּוֹנָה, תּוֹרָה שֶׁבְּעַל פֶּה כְּלוּלָה מִכָּל הָאוֹתִיּוֹת, וּבָהּ הִשְׁתַּלֵּם יהו"ה.וְעוֹד, אֲנִי יְשֵׁנָה, שְׁנִיָּה וַדַּאי לַחָכְמָה שֶׁהִיא י', כְּשֶׁהִתְרַחֵק מִמֶּנִּי אֲהוּבִי שֶׁהוּא ו', וְסוֹד הַדָּבָר – יהו"ה בְּחָכְמָה יָסַד אָרֶץ כּוֹנֵן שָׁמַיִם בִּתְבוּנָה. בְּחָכְמָה, שֶׁהוּא אָב י', יָסַד הַבַּת שֶׁהִיא אָרֶץ, ה' קְטַנָּה – הָאָרֶץ וַדַּאי, כּוֹנֵן שָׁמַיִם זֶה ו', בִּתְבוּנָה – זוֹ הָאֵם הָעֶלְיוֹנָה, שֶׁבִּינָה נִקְרֵאת לְמַעְלָה כְּשֶׁהִיא עִם בַּעְלָהּ, וּתְבוּנָה נִקְרֵאת לְמַטָּה כְּשֶׁהִיא עִם ו' שֶׁהוּא בֵן, ו', וְת' שֶׁהוּא תִפְאֶרֶת, נִשְׁאֶרֶת הִיא ה' עִמּוֹ, וּבְאוֹתוֹ זְמַן שֶׁהָאוֹת י' הִיא עִם הָאֵם וְהִיא מְרֻחֶקֶת מִמֶּנָּה, נֶאֱמַר בָּהּ אֲנִי יְשֵׁנָה (וְהִיא שְׁנִיָּה לָהּ).
וְעוֹד יְשֵׁנָה, בַּגָּלוּת, שֶׁלֹּא דוֹפֵק בָּהּ, וּבְאוֹתוֹ זְמַן שֶׁיָּבֹא בַעְלָהּ, קוֹל דּוֹדִי דוֹפֵק, שֶׁהוּא ו', הָאָהוּב שֶׁלָּהּ, רוּחַ צְפוֹנִית יוֹצֵאת אֵלֶיהָ שֶׁנּוֹשֶׁבֶת בְּכִנּוֹר דָּוִד, וְרוּחַ דְּרוֹמִית מִצַּד הַיָּמִין, וְרוּחַ אֱלֹהִי"ם מְרַחֶפֶת עַל פְּנֵי הַמָּיִם, שֶׁהֵם מַיִם מִצַּד הַחֶסֶד שֶׁשָּׁם חָכְמָה.
Tikkun 69 – 52
Song of Songs 5:2 "קוֹל דּוֹדִי דוֹפֵק", "the voice of my beloved knocks…"
The voice is the aspect of the Torah and the central column. It was given from the right and the left that are the supernal Father, Chokmah and the Supernal mother, Binah.
The Torah is the aspect of Zeir Anpin and the letter ו Vav from the YHVH name. It is the written Torah with the 613 precepts that connect us to its light.
The oral Torah is the aspect of Malchut and the lower letter ה H of the name. It is not revealed unless we make efforts in studying it. With that work, we connect Zeir Anpin and Malchut.
Reading or scanning the Torah is not sufficient to draw its energy except on Shabbat when we are at the level of Binah. When the Torah is read in special way with the presence of at least ten men to form an image of the Tree of Life, we can draw the light of Binah.
The oral Torah, which is Kabbalah, was given to Moses together with the written Torah. Only when a man and woman come together in unification, they can bring life to the world. When we study Kabbalah we form and expand a vessel for the light to penetrate into it and inject the life force that is in the Torah into our life.
{||}