Click here to listen to the Daily Zohar [audio:https://dailyzohar.com/wp-content/uploads/audio/dz817.mp3|titles=Daily Zohar 817]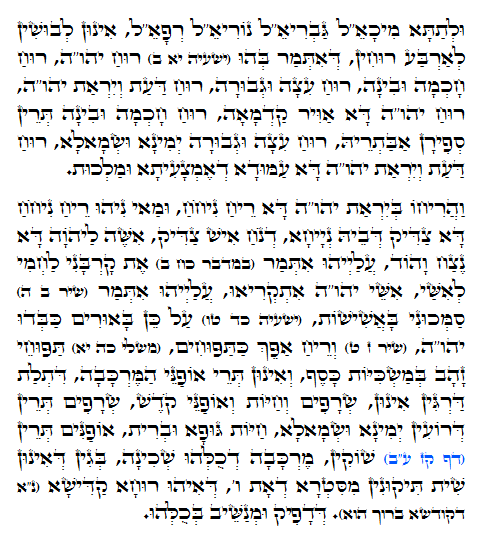 Hebrew translation:
וּלְמַטָּה מִיכָאֵ"ל גַּבְרִיאֵ"ל נוּרִיאֵ"ל רְפָאֵ"ל, הֵם לְבוּשִׁים לְאַרְבַּע הָרוּחוֹת, שֶׁנֶּאֱמַר בָּהֶם רוּחַ יהו"ה, רוּחַ חָכְמָה וּבִינָה, רוּחַ עֵצָה וּגְבוּרָה, רוּחַ דַּעַת וְיִרְאַת יהו"ה. רוּחַ יהו"ה – זֶה הָאֲוִיר הָרִאשׁוֹן, רוּחַ חָכְמָה וּבִינָה – שְׁתֵּי סְפִירוֹת אַחֲרָיו, רוּחַ עֵצָה וּגְבוּרָה – יָמִין וּשְׂמֹאל, רוּחַ דַּעַת וְיִרְאַת יהו"ה – זֶה הָעַמּוּד הָאֶמְצָעִי וּמַלְכוּת.
וַהֲרִיחוֹ בְּיִרְאַת יהו"ה, זֶה רֵיחַ הַנִּיחֹחַ, וּמַהוּ רֵיחַ נִיחֹחַ? זֶה צַדִּיק שֶׁבּוֹ מְנוּחָה, שֶׁנֹּחַ אִישׁ צַדִּיק. אִשֶּׁה לַיהו"ה, זֶה נֵצַח וְהוֹד, עֲלֵיהֶם נֶאֱמַר אֶת קָרְבָּנִי לַחְמִי לְאִשַּׁי, אִשֵּׁי יהו"ה נִקְרְאוּ, עֲלֵיהֶם נֶאֱמַר סַמְּכוּנִי בָּאֲשִׁישׁוֹת, עַל כֵּן בָּאוּרִים כַּבְּדוּ יהו"ה, וְרֵיחַ אַפֵּךְ כַּתַּפּוּחִים, תַּפּוּחֵי זָהָב בְּמַשְׂכִּיּוֹת כָּסֶף, וְהֵם שְׁנֵי אוֹפַנֵּי הַמֶּרְכָּבָה, שֶׁשָּׁלֹשׁ דְּרָגוֹת הֵן: שְׂרָפִים וְחַיּוֹת וְאוֹפַנֵּי הַקֹּדֶשׁ. הַשְּׂרָפִים – שְׁתֵּי זְרוֹעוֹת יָמִין וּשְׂמֹאל, הַחַיּוֹת – הַגּוּף וּבְרִית, הָאוֹפַנִּים שְׁתֵּי שׁוֹקַיִם, הַמֶּרְכָּבָה שֶׁל כֻּלָּם, שְׁכִינָה, מִשּׁוּם שֶׁהֵם שֵׁשׁ תִּקּוּנִים מִצַּד הָאוֹת ו', שֶׁהוּא רוּחַ קְדֻשָּׁה (שֶׁל הַקָּדוֹשׁ בָּרוּךְ הוּא), שֶׁדּוֹפֶקֶת וּמְנַשֶּׁבֶת בְּכֻלָּם.
Tikkun 69 – 57
Isaiah 10:2
"וְנָחָה עָלָיו, רוּחַ יְהוָה–רוּחַ חָכְמָה וּבִינָה, רוּחַ עֵצָה וּגְבוּרָה, רוּחַ דַּעַת, וְיִרְאַת יְהוָה"
"And the spirit of YHVH shall rest upon him, the spirit of wisdom and understanding, the spirit of counsel and might, the spirit of knowledge and of the fear of YHVH"
The four 'spirits' are the aspects of the angels Michael, Gabriel, Nuriel and Raphael that 'wrap' us with protection from four directions.
The Zohar explains the spirit of Mashiach as it was prophesized by Isaiah.
Spirit of YHVH is the Keter from the world of Atzilut. Wisdom (Chokmah) and understanding (Binah) are the Sefirot that follow it.
The spirit of counsel (Chessed) and might (Gevurah) are right and left.
The spirit of knowledge (Daat) and of the fear of YHVH (Tiferet) and Malchut.
The wheels of the upper chariot has three levels, Seraphim that are for the Chessed (Right) and Gevurah (Left), Living Creatures for the torso (Tiferet) and penis (Yessod) as the central column. The Holy Wheels are for the right and left legs that drive the body to all directions.
When the spirit of Mashiach is revealed, the angels from all levels, will be coming with him to remove all negativity from the world. He will open the gates of all worlds above, letting the light flow down and give us new life.
{||}