Daily Zohar – Tikunim – # 840 – Begin with the End in Mind
Click here to listen to the Daily Zohar [audio:https://dailyzohar.com/wp-content/uploads/audio/dz840.mp3|titles=Daily Zohar 840]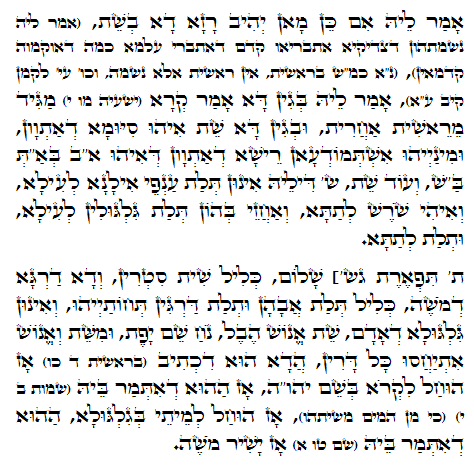 Hebrew translation:
אָמַר לוֹ, אִם כֵּן, מִי נָתַן סוֹד זֶה בְשֵׁת? (אָמַר לוֹ, נִשְׁמוֹת הַצַּדִּיקִים נִבְרְאוּ קֹדֶם שֶׁנִּבְרָא הָעוֹלָם, כְּמוֹ שֶׁבֵּאֲרוּהָ הָרִאשׁוֹנִים) (כמ"ש בְּרֵאשִׁית, אֵין רֵאשִׁית אֶלָּא נְשָׁמָה, וְכוּ' עַיֵּן לְקַמָּן קיב ע"א). אָמַר לוֹ, בִּגְלַל זֶה אָמַר הַכָּתוּב מַגִּיד מֵרֵאשִׁית אַחֲרִית, וּמִשּׁוּם זֶה שֵׁ"ת הוּא סִיּוּם הָאוֹתִיּוֹת, וּמֵהֶם נוֹדָעִים רֹאשׁ הָאוֹתִיּוֹת שֶׁהוּא א"ב בְּא"ת ב"ש, וְעוֹד שֵׁת, הַש' שֶׁלּוֹ הֵם שְׁלֹשֶׁת עַנְפֵי הָאִילָן לְמַעְלָה, וְהִיא הַשֹּׁרֶשׁ לְמַטָּה, וְהֶרְאָה בָהֶם שְׁלֹשָׁה גִלְגּוּלִים לְמַעְלָה וּשְׁלֹשָׁה לְמַטָּה.
ת' תִּפְאֶרֶת (ש') שָׁלוֹם, כּוֹלֵל שִׁשָּׁה צְדָדִים, וְזוֹ דַרְגַּת מֹשֶׁה, כּוֹלֵל שְׁלֹשָׁה אָבוֹת, וְשָׁלֹשׁ דְּרָגוֹת תַּחְתֵּיהֶן, וְהֵם הַגִּלְגּוּל שֶׁל אָדָם, שֵׁת אֱנוֹשׁ הֶבֶל נֹחַ שֵׁם יֶפֶת, וּמִשֵּׁת וֶאֱנוֹשׁ הִתְיַחֲסוּ כָּל הַדּוֹרוֹת, זֶהוּ שֶׁכָּתוּב אָז הוּחַל לִקְרֹא בְּשֵׁם יהו"ה, אָז, אוֹתוֹ שֶׁנֶּאֱמַר בּוֹ (כִּי מִן הַמַּיִם מְשִׁיתִהוּ), אָז הוּחַל לָבֹא בְגִלְגּוּל אוֹתוֹ שֶׁנֶּאֱמַר בּוֹ אָז יָשִׁיר מֹשֶׁה.
Tikkun 69 – 80
Genesis 4:26
" וּלְשֵׁת גַּם-הוּא יֻלַּד-בֵּן, וַיִּקְרָא אֶת-שְׁמוֹ אֱנוֹשׁ; אָז הוּחַל, לִקְרֹא בְּשֵׁם יְהוָה"
"And to Seth, to him also there was born a son; and he called his name Enosh; then began men to call upon the name of YHVH."
The name Seth, שת, has the last two letters of the Hebrew Alef-Bet. In Gimatria of את-בש, שם becomes אב, the first two letters of the Alef-bet and it also means 'father'.
Seth was considered to be the foundation of the world and started the reincarnation process.
Isaiah 46:10
"מַגִּיד מֵרֵאשִׁית אַחֲרִית, וּמִקֶּדֶם אֲשֶׁר לֹא-נַעֲשׂוּ; אֹמֵר עֲצָתִי תָקוּם, וְכָל-חֶפְצִי אֶעֱשֶׂה"
"Declaring the end from the beginning, and from ancient times things that are not yet done; saying: 'My counsel shall stand, and all My pleasure will I do'"
The world was created with the end already in the place. God is one and his plans are complete. He neither has human attributes, nor changes his 'mind'. If he creates something then it must be complete, beginning through end.
We learn from the Tree of Life book of the Holy Ari that the first Tzimtzum left an empty space and 'Reshimu' that included the details of everything that would be revealed later.
To have success in our plans, we should follow the same 'system', Begin with the end in mind. We must picture the end results (positively) so we can find and see the path to get there.
"A thousand miles journey starts with a single step (Lao Tseu)" but if you don't have defined destination you'll get nowhere.
{||}