Daily Zohar – Tikunim – # 866 – Before it's too late
Click here to listen to the Daily Zohar [audio:https://dailyzohar.com/wp-content/uploads/audio/dz866.mp3|titles=Daily Zohar 866]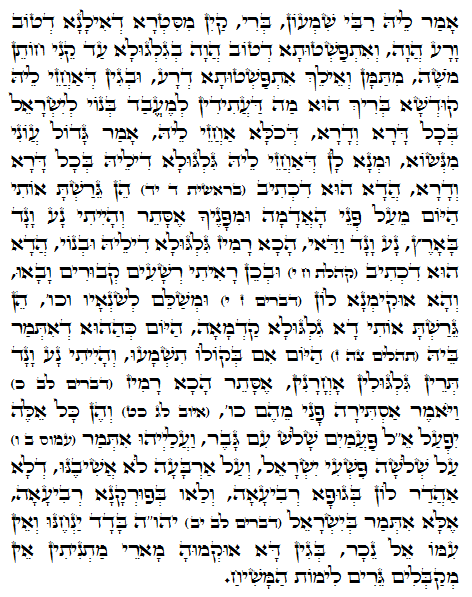 Hebrew translation:
אָמַר לוֹ רַבִּי שִׁמְעוֹן: בְּנִי, קַיִן הָיָה מִצַּד הָעֵץ שֶׁל טוֹב וָרָע, וְהִתְפַּשְּׁטוּת הַטּוֹב הָיְתָה בְגִלְגּוּל עַד קֵינִי חוֹתֵן מֹשֶׁה, מִשָּׁם וְאֵילָךְ הִתְפַּשְּׁטוּת הָרָע, וּמִשּׁוּם שֶׁהֶרְאָה לוֹ הַקָּדוֹשׁ בָּרוּךְ הוּא מַה שֶּׁעֲתִידִים לַעֲשׂוֹת בָּנָיו לְיִשְׂרָאֵל בְּכָל דּוֹר וְדוֹר, שֶׁהַכֹּל הוּא הֶרְאָה לוֹ, הוּא אָמַר גָּדוֹל עֲוֹנִי מִנְּשׂוֹא, וּמִנַּיִן לָנוּ שֶׁהֶרְאָה לוֹ אֶת גִּלְגּוּלוֹ בְּכָל דּוֹר וְדוֹר? זֶהוּ שֶׁכָּתוּב הֵן גֵּרַשְׁתָּ אוֹתִי הַיּוֹם מֵעַל פְּנֵי הָאֲדָמָה וּמִפָּנֶיךָ אֶסָּתֵר וְהָיִיתִי נָע וָנָד בָּאָרֶץ, נָע וָנָד וַדַּאי, כָּאן רוֹמֵז אֶת גִּלְגּוּלוֹ וְשֶׁל בָּנָיו. זֶהוּ שֶׁכָּתוּב וּבְכֵן רָאִיתִי רְשָׁעִים קְבֻרִים וָבָאוּ, וַהֲרֵי בֵּאַרְנוּ אוֹתָם וּמְשַׁלֵּם לְשֹׂנְאָיו וְכוּ'. הֵן גֵּרַשְׁתִּי אוֹתִי – זֶה גִלְגּוּל רִאשׁוֹן, הַיּוֹם – כְּמוֹ אוֹתוֹ שֶׁנֶּאֱמַר בּוֹ הַיּוֹם אִם בְּקֹלוֹ תִשְׁמָעוּ, וְהָיִיתִי נָע וָנָד – שְׁנֵי גִלְגּוּלִים אֲחֵרִים, אֶסָּתֵר – כָּאן רָמַז וַיֹּאמֶר אַסְתִּירָה פָנַי מֵהֶם כוּ', וְהֶן כָּל אֵלֶּה יִפְעַל אֵ"ל פַּעֲמַיִם שָׁלוֹשׁ עִם גָּבֶר, וַעֲלֵיהֶם נֶאֱמַר עַל שְׁלֹשָׁה פִּשְׁעֵי יִשְׂרָאֵל, וְעַל אַרְבָּעָה לֹא אֲשִׁיבֶנּוּ, שֶׁלֹּא מַחֲזִיר אוֹתָם לְגוּף רְבִיעִי וְלֹא בִגְאֻלָּה רְבִיעִית, אֶלָּא נֶאֱמַר בְּיִשְׂרָאֵל יהו"ה בָּדָד יַנְחֶנּוּ וְאֵין עִמּוֹ אֵל נֵכָר, בִּגְלַל זֶה פֵּרְשׁוּהָ בַּעֲלֵי הַמִּשְׁנָה אֵין מְקַבְּלִים גֵּרִים לִימוֹת הַמָּשִׁיחַ.
Tikkun 69 – 106
Rabbi Shimon said that because Cain was from the side of the Tree of Knowledge Good and Bad, the spread out of his good side was in reincarnations up to Jethro, Moses's father in law. From that point on his 'bad' side spread out.
Genesis 4:12
"כִּי תַעֲבֹד אֶת-הָאֲדָמָה, לֹא-תֹסֵף תֵּת-כֹּחָהּ לָךְ; נָע וָנָד, תִּהְיֶה בָאָרֶץ"
"When thou tillest the ground, it shall not henceforth yield unto thee her strength; a fugitive and a wanderer you shall be in the earth.'"
After Cain killed Abel, God told him his future. The Zohar reveals to us that from the words "A wanderer you shall be" we understand that God showed Cain all of his incarnations and the generations that will come from him.
When he realized the weight of his negative action, Cain responded (Gen 4:13) " וַיֹּאמֶר קַיִן, אֶל-יְהוָה: גָּדוֹל עֲו‍ֹנִי, מִנְּשֹׂא", "And Cain said unto YHVH: 'My transgression is greater than I can bear."
The Zohar teaches us more about the reincarnation process by quoting Amos 2:6
"כֹּה, אָמַר יְהוָה, עַל-שְׁלֹשָׁה פִּשְׁעֵי יִשְׂרָאֵל, וְעַל-אַרְבָּעָה לֹא אֲשִׁיבֶנּוּ:"
"Thus saith YHVH, For three transgressions of Israel, yea, for four, I will not return it:"
From this we learn that there is a limit to the number of reincarnations. A soul will not come back for the fourth time for the same correction.
The sages tell us that there will be no ability to convert when Mashiach comes. A person can not come closer to God more than his vessel is made for it.
When we see the Light and say "Oh now I see the light…", there is no conversion of the soul because it was not done through internal process of change.
When Mashaich comes and announces himself, it will be the end of the Tikkun process. From that point on, only the process of separating the bad from the good will take place.
We are getting very close to this point. God opened the channels of the Internet to connect us all together and spread the light just before it is too late. We should prepare a bigger vessel now because when Mashiach comes, it will be too late.
{||}