Click here to listen to the Daily Zohar [audio:https://dailyzohar.com/wp-content/uploads/audio/dz949.mp3|titles=Daily Zohar 949]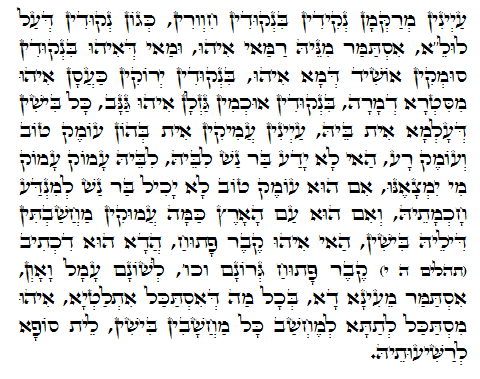 Hebrew translation:
Sorry Hebrew translation is missing from my original files.
Traducción Sebastian Palen
Tikun 70 – 54
Mirando alrededor de los ojos, podemos ver líneas largas o puntos. Punto representa el aspecto de los atributos negativos, los puntos blancos representan personas engañosas y no confiable como Labán el arameo.
Los puntos verdes son la bilis que reúne elementos negativos del cuerpo físico. Tal persona es reactivo y rápido para enojarse.
Puntos rojos una persona que fácilmente puede derramar la sangre de los demás.
Los puntos negros representan los deseos fuertes y negativas para sí, un ladrón que se llevará todo lo que pueda tomar de otros. El negro incluye todos los otros colores por lo que esta persona es capaz de todo tipo de negatividad.
Las personas con ojos hundidos tienen pensamientos profundos que nosotros no podemos leer o predecir. Si la persona es positiva, entonces él podría tener sabiduría profunda que nosotros no podemos entender.
Si es una persona negativa, entonces sus ojos nos dicen que él tiene un montón de malos pensamientos. Él es como un "agujero negro" y el Zohar explica que es como una "tumba abierta". Ellos tienen mal de ojo y podría traer la muerte con su mirada. Debemos tener cuidado y mantenernos alejados de este tipo de gente.
Nota y un recordatorio: Por favor, no juzgar a la gente con los ojos profundos livianamente. Algunas de ellas pueden parecer malas personas pero ellos podrian ocultar una gran persona, inteligente. Es raro, pero si incurrimos en una equivocación de juicio entonces podría hacernos daño.
{||}