Daily Zohar – Tikunim – # 948 – Kannst du die Engel in ihren Augen sehen?
Click here to listen to the Daily Zohar [audio:https://dailyzohar.com/wp-content/uploads/audio/dz948.mp3|titles=Daily Zohar 948]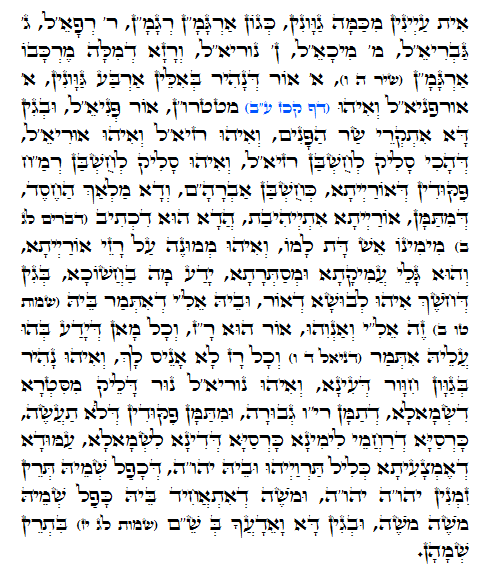 Hebrew translation:
Sorry Hebrew translation is missing from my original files.
Tikkun 70 – 53
Lied der Lieder 3:10 " עַמּוּדָיו, עָשָׂה כֶסֶף, רְפִידָתוֹ זָהָב, מֶרְכָּבוֹ אַרְגָּמָן; תּוֹכוֹ רָצוּף אַהֲבָה, מִבְּנוֹת יְרוּשָׁלִָם" "Er machte die Säulen davon aus Silber, die Spitze davon aus Gold, den Sitz davon Violett (אַרְגָּמָן), in die Innenseite wird von den Töchtern Jerusalems mit Liebe ausgelegt "
Dieser Vers offenbart uns das Folgende; ´´Er machte seine Säulen für Chessed, rechte Säule, aus Silber, Gevurah, Gold, für die linke Säule, Violett für die mittlere Säule, Tiferet und die Vehikel dafür sind in den Namen der Farben verborgen אַרְגָּמָן.
א repräsentiert die obere Quelle der Lichter, die die Lichter unter sich´ernähren´.
Das Alef ist für den Engel אור פניאל. Ohrpeniel, dessen Name ´das innere Licht Gottes´ bedeutet. Es ist ein andere Name von Metat-ron, der auch ´Minister des innern Gesichts´genannt wird. Er zieht von den inneren Lichtern. Es ist auch der Engel רזיאל. Raziel, der das Geheimnis der Geheimnisse von der Torah repräsentiert. Es ist auch אוריאל, Oriehl der das Licht zu den vier Heiligen Kreaturen des göttlichen Vehikels kanalisiert. Beide Engel haben den selben numerischen Wert von 248. Er repräsentiert die rechte Säule der Torah mit den 248 positiven Geboten. Abraham, אברהם der das Vehikel von Chessed ist, ist auch 248 .
ר für den Engel Rafael רפאל ג für den Engel Gabriel גבריאל מ für den Engel Michael מיכאל ן für den Engel Nuriel נוריאל
אוריאל, Oriehl ist die Rechte von Tiferet (Chessed, das in Tiferet ist) and Nuriel ist die Linke נוריאל (Gevurah von Tiferet). Alle diese Engel repräsentieren die Farben, die aus den Lichtern kommen, die aus den Augen strahlen.
Die Augen können die tiefsten Ebenen der Seele einer Person offenbaren. Wenn wir lernen die Lichter in den Augen einer Person zu erkennen, sehen wir die Engel die mit ihr sind.
{||}