Click here to listen to the Daily Zohar [audio:https://dailyzohar.com/wp-content/uploads/audio/dz952.mp3|titles=Daily Zohar 952]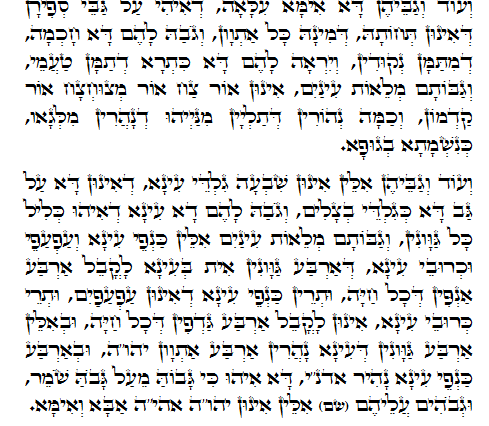 Hebrew translation:
Sorry Hebrew translation is missing from my original files.
Traduccion Sebastian Palen
Tikun 70-55
Los cuatro seres sagrados son los aspectos de Jesed (León), Gevura (Buey), Tiferet (Águila) y Maljut (el hombre).
Sobre ellos está la Madre Suprema, Bina que gobierna y cuida de ellos como de sus hijos.
El Nikkud que viene de Binah recibe su luz de Jojma antes de bajar a los recipientes de Maljut. Los Te'amim provienen de Jojma y reciben su luz de Keter.
Keter incluye tres luces del Ein Sof que establecen las raíces de Jojma, Biná y Daat. Ellos ingresan del aspecto del alma y de fuerza de vida adentro del cuerpo de las letras.
La bola del ojo tiene siete capas, como las capas de cebolla, para representar a las siete Sefirot. Sobre ellos los párpados con sus 'labios' y el pelo que protege al ojo.
Los cuatro colores de los ojos representan los rostros de los seres sagrados y el aspecto del nombre de YHWH. Los dos párpados y los dos labios representan las 'alas' de las santas criaturas y el aspecto del nombre ADNY.
Por encima de los ojos tenemos el nombre de la madre celestial, Bina, אהיה, AHYH que protege a los 'niños'.
Los detalles pueden ser confuso al principio pero lo que el Zohar nos está enseñando aquí, en el marco del estudio PFR es analizar el flujo y la jerarquía de las luces. Keter "empuja" hacia abajo la luz del Ein Sof a Jojma y Bina, y que se refleja en los ojos. Mirando dentro de los ojos y determinando sus 'verdaderos' colores nos indicará el nivel de conexión de la persona a los niveles superiores. Los párpados pueden decirnos sobre el poder de la persona de expresar su luz interior en este mundo.
{||}