Zohar Quotidien # 951 – Les yeux de Dieu
Cliquez ici pour entendre Zohar Quotidien [audio:https://dailyzohar.com/wp-content/uploads/audio/dz951.mp3|titles=Daily Zohar 951]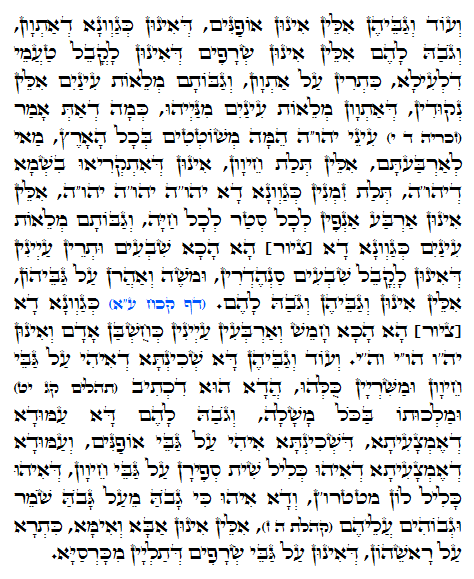 Hebrew translation:
Tikkoun 70 – 54
Les anges du monde de בריאה , Création (Béria), se nomment Séraphim. Les anges deu monde de יצירה, Formation (Yetsirah) se nomment Chayot (Saintes créatures). Les anges du monde de עשיה, Action (Assiya) se nomment Ophanim (Roues).
Les lettres sacrées de l'Hébreu sont des récipients qui reçoivent leur Lumière du Nokkoud, qui sont les voyelles Hébraïques. Literallement cela signifie 'pontiller'. Quand nous ajoutons les Nikkoud aux lettres, c'est comme amener la vie à un récipient vide et l'animer.
La Lumière descend du monde de Atsilout אצילות à travers les mondes de Béria בריאה et Yetsirah יצירה jusqu'au monde de l'Action עשיה, Malkhout ou les Ophanim (roues) activent toute l'existence. Des électrons autour du nucléus de l'atôme, les lettres de l'Hébreu, le système solaire, et tout le reste de l'univers.
La lumière qui vient aux lettres a quatre types.
Teamin – Atsilout – Marques de cantillation qui sont utilisées lors de la lecture de la Torah Nekoudot – Béria – Donne à l'âme sur les lettres
Tagin – Yetsirah – La forme la plus élevée du récipient tel que décrit dans la Torah
Otiot – Assiyah – La forme élémentaire/ récipient de la lettre.
Chaque niveau reçoit de celui qui est plus grand que lui. Les Ophanim reçoivent des Chayot et Séraphim de manière à se manifester dans le monde inférieur.
Zacharie 4:10 "עֵינֵי יְהוָה, הֵמָּה מְשׁוֹטְטִים בְּכָל-הָאָרֶץ" "…les yeux de YHVH, qui vont et viennent à travers toute la terre."
Les 'yeux de YHVH' sont l'aspect des Nekoudot, 'points' qui animent les lettres. Sans eux la lettre n'a pas de vie ou signification parce que chaque lettre pourrait avoir n'importe quel Nikkoud possible.
L'homme est une des Saintes créatures du Saint trône. Il est le canal pour les autres trois, Lion, Boeuf and Aigle au monde de Malkhout. Chacune des créatures a l'aspect de YHV sous la forme suivante:


–

–


Il a 15 'yeux' and ensemble 45 yeux, tel que le nom YHVH étendu de Zeir Anpin (מ"ה).
Les lettres YHVH sont construites de 'yeux' connectés.
Dans la plaine forme du nom nous avons 24 yeux dans chaque nom et de toute part 72 yeux.

–

–

(si vou impromez cette page s'il vous plaît ne pas en disposer, garder dans un livre du Zohar ou donnez-le à un endroit qui enterre les textes sacrés.)
{||}