Click here to listen to the Daily Zohar [audio:https://dailyzohar.com/wp-content/uploads/audio/dz957.mp3|titles=Daily Zohar 957]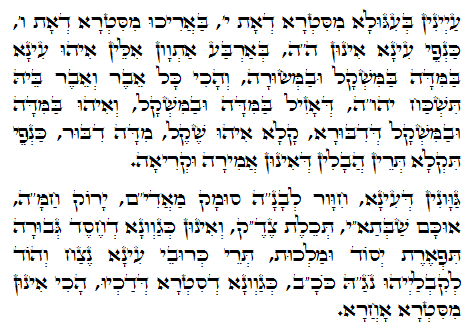 Hebrew translation:
Traduccion Sebastian Palen
Tikun 70-62
Los ojos están en el nivel de Jojma y, como tal, ocultan muchos aspectos de los niveles superiores del alma.
La redondez de los ojos es el aspecto de la letra Iud (Jojma) del Nombre YHWH. La longitud del ojo es el aspecto de la letra V (Zeir Anpin) del Nombre. El párpado superior es para la hei superior (Binah) y el párpado inferior es para la hei inferior (Maljut) del Nombre.
Los colores de los ojos tienen los aspectos de las siete Sefirot inferiores y los siete planetas mayores del sistema solar.
Blanco – Jesed – Luna
Rojo – Gevura – Marte
Verde – Tiferet – Sol
Negro – Yesod – Saturno
Azul – Maljut – Júpiter
Los párpados son de Netzach y Hod, Venus y Mercurio.
El estudio de las Sefirot y los planetas nos da otra dimensión en la comprensión de la "historia" que aquello que los ojos pueden decir.
Siempre debemos recordar que en todos los niveles está el aspecto puro e impuro.
{||}