Click here to listen to the Daily Zohar [audio:https://dailyzohar.com/wp-content/uploads/audio/dz970.mp3|titles=Daily Zohar 970]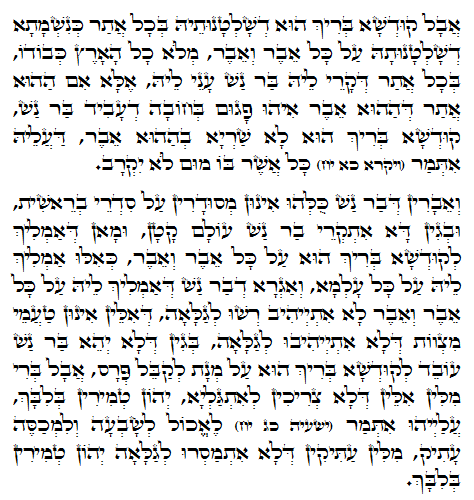 Hebrew translation:
Traduccion Sebastian Palen
Tikun 70-75
Levítico 21:18
"כִּי כָל – אִישׁ אֲשֶׁר – בּוֹ מוּם, לֹא יִקְרָב"
"Porque ningún varón en el cual haya defecto, se acercará"
Este versículo de las leyes que Dios dio a los sacerdotes revelan que el cuerpo impuro no puede acercarse a servir al Santo. Los sacerdotes necesitan tener un cuerpo puro, lo cual significa que llevan a cabo todas sus acciones con la pureza de lo contrario no se puede canalizar la luz.
En Iom Kipur, que es el día más sagrado del año, el Sumo Sacerdote entra en el Santo de los Santos para hacer una conexión especial con el nombre de la luz de YHVH y extrae luz para el mundo entero. Si él no estaba puro, moriría de inmediato cuando la luz desciende.
Para ayudar al Sumo Sacerdote a hacer su trabajo, se le instruyó a usar drogas especiales que le permitieron desconectarse de una conciencia del cuerpo.
El aprendizaje de esto es que para convertirse en un gran canal deberíamos olvidarnos de nosotros mismos y nuestro recipiente limitado. Cuando nosotros somos canales no hay ninguna carencia.
Veo a mucha gente en Facebook y Twetter compartir algunas citas positivas y motivadoras. Son bonitas, pero no tienen el poder de afectar el alma en un nivel que se convertiría en parte de esto.
El impacto de la enseñanza del Zohar es pura y en el nivel del alma que cambia el ADN espiritual. Conectar al texto sagrado nos lleva a las raíces del sistema espiritual y el código del ADN de la creación. Debemos tener el Zohar en frente de nosotros cuando lo estudiamos. Escuchar una conferencia de Cábala sin tener el Zohar no tiene el mismo efecto. Por encima de todo debemos compartir los recursos para el estudio del Zohar que utilizamos con todo el mundo que conocemos. Con esa acción nos convertimos en un canal de la luz como el Sumo Sacerdote. No sólo ayudará a los pocos que conocemos, podemos ayudar a todo el mundo.
{||}