Click here to listen to the Daily Zohar [audio:https://dailyzohar.com/wp-content/uploads/audio/dz969.mp3|titles=Daily Zohar 969]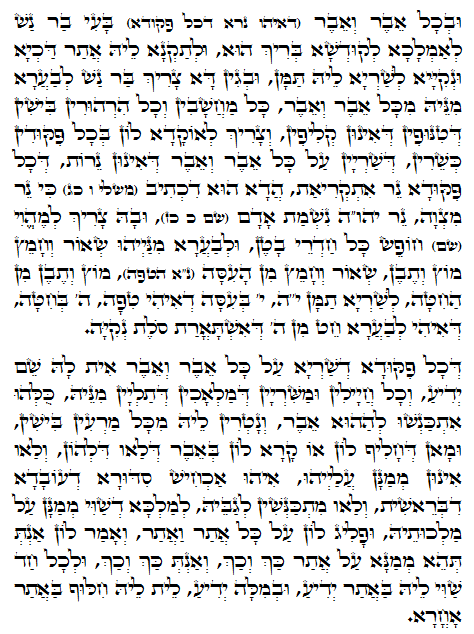 Hebrew translation:
Traducción Sebastian Palen
Tikun 70-74
La luz de YHVH es la fuerza de la vida en el cuerpo. Cada acción que hacemos afecta a la parte del cuerpo involucrada en la acción. Las acciones positivas, como en los 248 preceptos de "harás …", señala a la luz que está relacionada con ese precepto y trae limpieza y purificación del cuerpo.
El Zohar nos lo recomienda para que YHVH sea el "rey" sobre el cuerpo y quite todos los pensamientos impuros de la mente para soltar el dominio de las Klipot sobre nosotros.
El 'rey', 'מלך' en hebreo, son las iniciales de las partes que controlan el cuerpo, cerebro, corazón e hígado.
YH – יה – Cerebro – = מח nivel del Alma de la Neshamá – Pensamientos
V – ו – Corazón = לב – Nivel de Ruaj – Motivación
H – ה – Hígado = כבד – Nivel de Nefesh – Acción
Dejar que los pensamientos negativos crezcan en nuestro cerebro le da poder a la Klipah para controlar el aspecto de la motivación de la acción y le indica al hígado abastecer de energía a la acción negativa.
La sangre transporta el nivel inferior de Nefesh y se ejecuta a través del cuerpo. Fácilmente podemos ver un cambio en la apariencia de una persona cuando está lista para hacer una acción negativa.
Las acciones positivas tienen menos efecto en la apariencia de la persona ya que a mayor nivel de luz es pacífica. Si estamos en un nivel espiritual más alto podríamos ver cierto grado de luz que irradia de él.
Este versículo es recomendado por los cabalistas para ayudar a una persona bloqueada y superar la Klipah en el nivel de la semilla de los pensamientos.
Levítico 6:6
"אֵשׁ, תָּמִיד תּוּקַד עַל – הַמִּזְבֵּחַ -. לֹא תִכְבֶּה"

"Que haya un fuego constante sobre el Altar, que no se extinga"
Debemos recordar que la Klipah que significa "cáscara" es algo bueno para nosotros. No como algo de aceptar, pero si para romper.
La mayor parte de nuestra comida viene con una "cáscara" a su alrededor. Encontramos cáscaras blandas como cubierta de trigo y dura como la de nueces. Algunas son fáciles de separar y algunas necesitan una gran fuerza para romperlas, pero siempre encontramos el interior de los alimentos. La Klipah son los retos que introduce la luz en nuestro camino para recoger la luz y disfrutar de la fruta. Si evitamos el trabajo, nuestras almas van a pasar hambre de luz.
El poder de romper las Klipot proviene del estudio de la Torá y el Zohar, que nos enseña cómo identificar las Klipot y la manera de quebrarlas. La Klipah, 'Cascara', tratará de obtener la mayor cantidad de luz que pueda, para hacer crecer el fruto por dentro y por fuera de nuestro alcance. Cuanto mayor es la Klipah que bloquea la luz (fruta) de nosotros, más grande y más fuerte es la herramienta que se necesita usar para romper la cascara y es el Zohar, que es el último rompe nueces.
{||}