Click here to listen to the Daily Zohar [audio:https://dailyzohar.com/wp-content/uploads/audio/dz975.mp3|titles=Daily Zohar 975]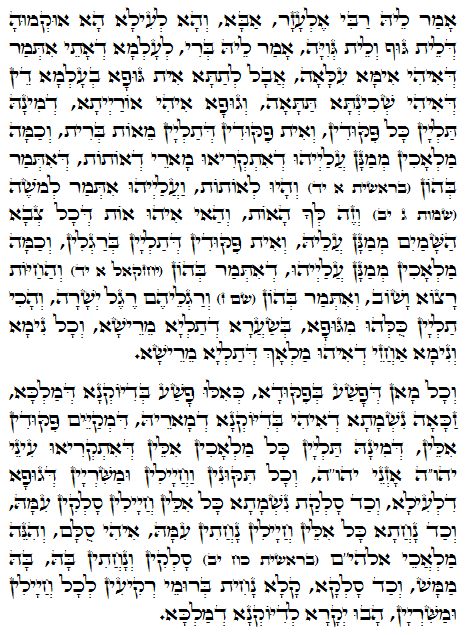 Hebrew translation:
Traduccion Sebastian Palen
Tikun 70-80
Rabí Shimon explica Rabí Elazar que la Torá es el aspecto del cuerpo de la Shejiná y de ella viene todas las mitzvot, preceptos que el mundo de Maljut se depende.
La palabra para letra es "אות", que también significa un signo, "un símbolo". Representan a diferentes luces que se revelan en Maljut.
Génesis 1:14
"וַיֹּאמֶר אֱלֹהִים, יְהִי מְאֹרֹת בִּרְקִיעַ הַשָּׁמַיִם, לְהַבְדִּיל, בֵּין הַיּוֹם וּבֵין הַלָּיְלָה; וְהָיוּ לְאֹתֹת וּלְמוֹעֲדִים, וּלְיָמִים וְשָׁנִים"
"Y dijo Dios:" Haya lumbreras en la firmamento de los cielos para separar el día de la noche, y dejar que ellos (las fuerzas celestiales, los ángeles que fueron creados antes) sean para señales (las letras), y para las estaciones (eventos) , y para los días (sefirot inferiores) y años (sefirot superiores); "
Éxodo 3:12
"וַיֹּאמֶר, כִּי – אֶהְיֶה עִמָּךְ, וְזֶה – לְּךָ הָאוֹת, כִּי אָנֹכִי שְׁלַחְתִּיךָ:. בְּהוֹצִיאֲךָ אֶת – הָעָם, מִמִּצְרַיִם, תַּעַבְדוּן אֶת – הָאֱלֹהִים, עַל הָהָר הַזֶּה"
"Y le replicó el Eterno: Es que Yo estaré contigo, y ésta será la señal de ello: cunado hayas sacado de Egipto al pueblo, rendiréis culto aDios en este monte (y entonces verán)"
Dios envió a los ángeles con Moisés, para protegerlo dondequiera que iba. Incluso el faraón y todos sus poderes no podría acercarse a hacerle daño.
Las acciones positivas que hacemos de acuerdo con las leyes espirituales de la Torah crean angeles que sostienen en la raíz de la acción en cualquier lugar al igual que el pelo en el cuerpo. La base de la acción y su conciencia, vienen como los ángeles de diferentes niveles. Que pueden conectar la persona de el nivel inferior a todo el camino hasta Atzilut.
Una persona que atente contra el sistema corrompe su conexión espiritual con la Torá y la luz que es la raíz de los preceptos.
Un justo merece tener una escalera y sus ángeles le ayudaran para conectar con los niveles superiores.
{||}