Zohar Quotidiano # 974 – Un "Grappolo" di Luce.
Click here to listen to the Daily Zohar [audio:https://dailyzohar.com/wp-content/uploads/audio/dz974.mp3|titles=Daily Zohar 974]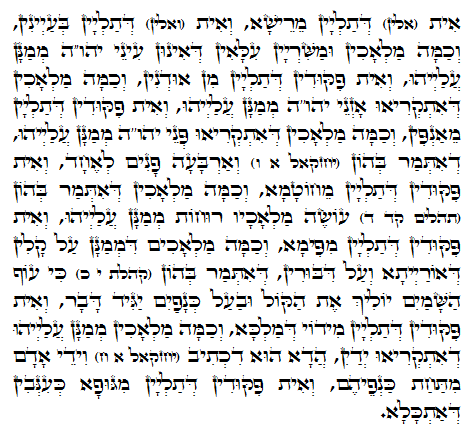 Hebrew translation:
Tikkun 70-79
I Precetti (Mitzvòt) della Toràh, sono correlati a tutte le parti del corpo. Alcuni Precetti (Mitzvòt) sono "per la testa", come indossare Tefillìn, alcuni sono collegati agli occhi come "e che voi non andiate dietro al vostro cuore e ai vostri occhi" (Numeri 15:29). Alcuni Precetti (Mitzvòt) sono collegati alle orecchie, come ascoltare lo, Shofàr la Toràh e le Preghiere. Ci sono Precetti (Mitzvòt) legati alla faccia del tipo "non devi rasare gli angoli della tua barba.». Ci sono Precetti (Mitzvòt) relativi al naso, come odorare aromi profumati alla fine dello Shabbàt. La bocca si collega ai Precetti (Mitzvòt) dello studio e delle diverse benedizioni. Anche le mani sono dotate di connessione ai precetti come il Lulàv e i Tefillìn della mano.
Lo Zohar ci insegna che ogni parte del corpo ha degli Angeli che sostengono l'azione del Precetto (Mitzvàh) relativo ed elevano la Luce specifica per purificare l'anima di quella persona.
Lo Zohar dice che come un grappolo d'uva, i Precetti (Mitzvòt) connettono alla Toràh e alla sua Luce.
{| |}