Daily Zohar – Tikunim – # 990 – Lávese las manos para las bendiciones.
Click here to listen to the Daily Zohar [audio:https://dailyzohar.com/wp-content/uploads/audio/dz990.mp3|titles=Daily Zohar 990]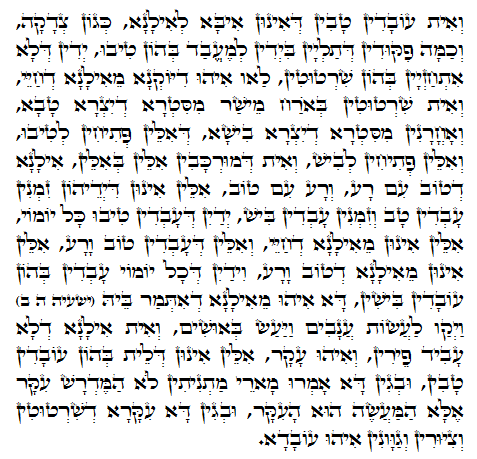 Hebrew translation:
Traduccion Sebastian Palen
Tikun 70-95
(Continua desde DZ 989)
Las raíces de todas las marcas en el cuerpo, la cara y los colores estan en Keter, Jojma y Bina.
Las líneas están el aspecto de la columna de la derecha, Jesed y el León del trono sagrado. Las formas son el aspecto de la izquierda, Guevura y buey. Los colores (no siempre visibles) son el aspecto de diferentes tipos de energía, el aspecto de la columna central, Tiferet y el Águila del trono Santo.
Llegan a ser visibles en el nivel más bajo que es el lugar de la Shejiná en la imagen de Adán. Las fuerzas espirituales se revelaron a continuación en marcas en la cara, las manos y cuerpo alli se ocultan las formas de la luz que el individuo lleva dentro y conecta.
"וַהֲסִרֹתִי, אֶת – כַּפִּי, וְרָאִיתָ, אֶת – אֲחֹרָי; וּפָנַי, לֹא יֵרָאוּ"
"Y yo apartaré mi mano, y verás Mi espalda;. Pero mi rostro no se verá" La 'espalda' de la luz es el aspecto de la ocultación. La "cara" es la revelación.
Dios le dice a Moisés que él puede ver su espalda, pero no su rostro. Como seres creados, nosotros no podemos ver a nuestro Creador, siempre y cuando nos encontramos en las formas de las vasijas. Un recipiente es la luz que es diferente de la luz circundante y tiene el deseo de una identidad específica.
En esta sección, el Zohar explica que nuestras manos son el aspecto del Árbol de la Vida.
Pulgar – Keter
Dedo índice – Jojma
Dedo medio – Bina
Anillo de dedo – Zeir Anpin (6 Sefirot de Jesed, Guevurá, Tiferet, Netzach, Hod y Yesod)
dedo Pequeño (meñique) – Maljut
Las acciones de las manos son la parte de los frutos del árbol. Las acciones positivas como Tzedaká, ayudar a otros, compartir y similares se registran en la palma de las manos.
Mediante la lectura de las manos que se puede saber si una persona está haciendo buenas acciones o negativas o si es esclavo de su naturaleza, haciendo el bien y el mal como sucede en su camino.
Isaías 05:02
"וַיְקַו לַעֲשׂוֹת עֲנָבִים, וַיַּעַשׂ בְּאֻשִׁים"
"Lo cavó, lo limpió de piedras y plantó la viña mas escogida"
La luz positiva extraida abajo del hacer buenas acciones permanecen en las manos y aportan bendición a la persona. La energía de las acciones negativas dañará aún cuando son resultado de intenciones positivas.
No use sus manos para cualquier acción negativa y lávese las manos cada vez que toque las cosas negativas, incluso si no están visiblemente sucias.
Para extraer la bendición de Tzedaka, meditar con L'shem Ijud (DZ 980 https://dailyzohar.com/?p=8068).
Medita que lo que se da es la Yod י del nombre porque todo viene de la Luz. La mano con 5 dedos es el aspecto de la letra H ה, la consciencia del hecho es el aspecto de la letra ו Vav, que es como una extensión de la mano. La entrega real es el aspecto de la letra ה H de Maljut. Con eso, la luz desciende y endulza los juicios.
La conexión y la fe en la luz también se considera como Tzedaka ya que se conecta a la luz y el recipiente. Las personas que dedican su vida como Abraham como en el versículo a continuación se considera también la acción de la Tzedaká con su conexión.
"וְהֶאֱמִן, בַּיהוָה; וַיַּחְשְׁבֶהָ לּוֹ, צְדָקָה"
Y él creía en el Señor, y Él lo contó por justicia (tzedaká)
El rabino Nissim Peretz זצ"ל de bendita memoria explicó que una moneda, פרוטה, פרט tiene un valor numérico de רפח con el kolel (sumando 1 para el conjunto). רפח es 288 que representa el mundo de Tikun.
Cada acción sola que hacemos con las manos puras y por el bien de conectar la luz y el recipiente, la Shejiná, es Tzedaka, una moneda o millones de ellos. Todo el mundo debería hacer Tzedaka en los niveles físicos y espirituales tanto como pueda para aportan bendiciones a sus manos.
{||}