Click here to listen to the Daily Zohar [audio:https://dailyzohar.com/wp-content/uploads/audio/dz999.mp3|titles=Daily Zohar 999]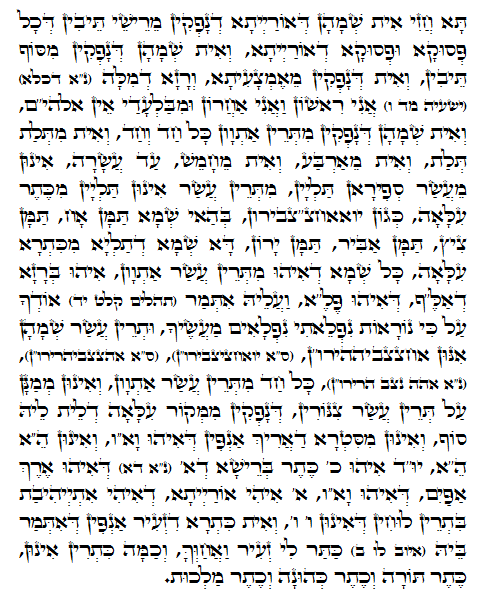 Tikkun 70 – 104
Os versículos da Torah escondem Nomes Sagrados. De suas iniciais vem nomes que tem suas raízes em Chochmah. Das letras finais vem nomes da raiz de Binah e das letras do meio vem nomes de Keter.
Esta seção do Zohar explica que este segredo é 'sugerido' em 'Eu sou o primeiro e Eu sou o último' do versículo abaixo.
Isaías 44:6 " כֹּה-אָמַר יְהוָה מֶלֶךְ-יִשְׂרָאֵל וְגֹאֲלוֹ, יְהוָה צְבָאוֹת: אֲנִי רִאשׁוֹן וַאֲנִי אַחֲרוֹן, וּמִבַּלְעָדַי אֵין אֱלֹהִים" "Assim diz YHVH, o Rei de Israel, seu Redentor YHVH dos Exércitos: Eu sou o primeiro, e Eu sou o último, e fora de Mim não há D'us."
D'us está no início, no fim e em tudo entre os dois. Não existe nada além D'Ele.
O Zohar continua e nos ensina que nomes de duas letras vem da raiz de Chochmah. Nomes de três letras da raiz de Binah, quatro de Chessed, cinco de Gevurah e assim por diante, onde nomes de dez letras estão em Malchut.
Nomes de 12 letras são de Arich Anpin como o nome יואאחצ"צבירון. Este nome inclui referências à luzes de Keter com palavras אח,ציץ,ירון que vem de fora. Cada letra tem 12 canais atribuídas a ela que vem da cabeça superior de Keter. (Existem três cabeças para Keter, porém aqui não é o lugar para ampliar)
Salmos 139:14 " אוֹדְךָ– עַל כִּי נוֹרָאוֹת, נִפְלֵיתִי: נִפְלָאִים מַעֲשֶׂיךָ; וְנַפְשִׁי, יֹדַעַת מְאֹד" "Eu Te louvarei, porque de um modo assombroso, e tão maravilhoso fui feito; maravilhosas são as Tuas obras, e a minha alma o sabe muito bem."
O Rei Davi viu a glória de D'us em tudo ao seu redor e todos os salmos que escreveu são testemunhas disso. Com esse versículo ele dá graças a D'us pela capacidade de enxergar as maravilhas da criação e de permir que sua alma se conecte a essas maravilhas.
Nós não somos o Rei Davi, porém temos o Zohar que nos revela todas as maravilhas do mundo. O Zohar são nossos olhos para os Nomes Sagrados que estão ocultos tão maravilhosamente ocultos na Torah. O Zohar entrega-nos os segredos em uma forma que todos estamos aptos a conectar e atrair luzes elevadas em nossas vidas.
{||}
traduzido por Denis Schaefer