Täglicher Zohar #1077 Wie sauber sind deine Seelen Gewänder?
Click here to listen to the Daily Zohar [audio:https://dailyzohar.com/wp-content/uploads/pinchas/audio/dp-1077.mp3|titles=Daily Zohar Pinchas 1077]
Apple/Mobile devices, touch here to play audio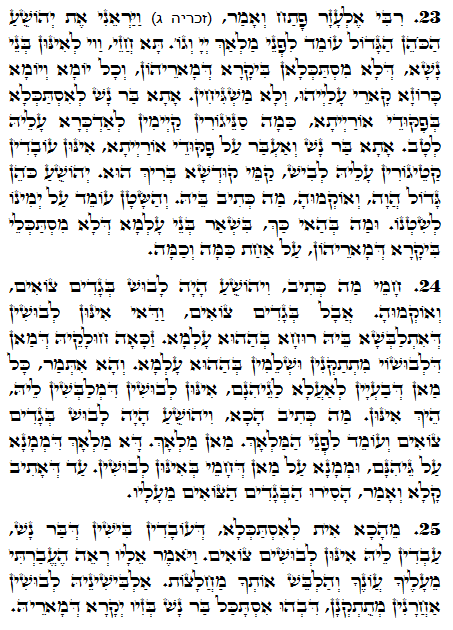 Hebrew translation:
23. רַבִּי אֶלְעָזָר פָּתַח וְאָמַר, (זכריה ג) וַיַּרְאֵנִי אֶת יְהוֹשֻׁעַ הַכֹּהֵן הַגָּדוֹל עֹמֵד לִפְנֵי מַלְאַךְ ה' וְגוֹ'. בֹּא וּרְאֵה, אוֹי לְאוֹתָם בְּנֵי אַדָם שֶׁלֹּא מִסְתַּכְּלִים בִּכְבוֹד רִבּוֹנָם, וְכָל יוֹם וָיוֹם הַכָּרוֹז קוֹרֵא עֲלֵיהֶם, וְלֹא מַשְׁגִּיחִים. בָּא אָדָם לְהִסְתַּכֵּל בְּמִצְווֹת הַתּוֹרָה – כַּמָּה סָנֵגוֹרִים עוֹמְדִים לְהַזְכִּירוֹ לְטוֹב. בָּא אָדָם וְעוֹבֵר עַל מִצְווֹת הַתּוֹרָה – אוֹתָם מַעֲשִׂים מְקַטְרְגִים עָלָיו לְרַע לִפְנֵי הַקָּדוֹשׁ בָּרוּךְ הוּא. יְהוֹשֻׁעַ כֹּהֵן גָּדוֹל הָיָה, וּפֵרְשׁוּהָ, מַה כָּתוּב בּוֹ? וְהַשָּׂטָן עֹמֵד עַל יְמִינוֹ לְשִׂטְנוֹ. וּמַה בָּזֶה כָּךְ, בִּשְׁאָר בְּנֵי אָדָם שֶׁלֹּא מִסְתַּכְּלִים בִּכְבוֹד רִבּוֹנָם עַל אַחַת כַּמָּה וְכַמָּה.
24. רְאֵה מַה כָּתוּב, וִיהוֹשֻׁעַ הָיָה לָבֻשׁ בְּגָדִים צוֹאִים, וּפֵרְשׁוּהָ. אֲבָל בְּגָדִים צוֹאִים, וַדַּאי אוֹתָם לְבוּשִׁים שֶׁהָרוּחַ הִתְלַבְּשָׁה בָהֶם בְּאוֹתוֹ עוֹלָם. אַשְׁרֵי חֶלְקוֹ שֶׁל מִי שֶׁלְּבוּשָׁיו מְתֻקָּנִים וּשְׁלֵמִים בְּאוֹתוֹ עוֹלָם. וַהֲרֵי נִתְבָּאֵר, כָּל מִי שֶׁצְּרִיכִים לְהַכְנִיסוֹ לַגֵּיהִנֹּם, אוֹתָם לְבוּשִׁים שֶׁמַּלְבִּישִׁים אוֹתוֹ אֵיךְ הֵם? מַה כָּתוּב כָּאן? וִיהוֹשֻׁעַ הָיָה לָבֻשׁ בְּגָדִים צוֹאִים וְעֹמֵד לִפְנֵי הַמַּלְאָךְ. אֵיזֶה מַלְאָךְ? זֶה הַמַּלְאָךְ הַמְמֻנֶּה עַל גֵּיהִנֹּם וּמְמֻנֶּה עַל מִי שֶׁרָאָה בְּאוֹתָם לְבוּשִׁים. עַד שֶׁבָּא קוֹל וְאָמַר: הָסִירוּ הַבְּגָדִים הַצֹּאִים מֵעָלָיו.
25. מִכָּאן יֵשׁ לְהִסְתַּכֵּל, שֶׁמַּעֲשִׂים רָעִים שֶׁל אָדָם עוֹשִׂים לוֹ בְּגָדִים צוֹאִים. וַיֹּאמֶר אֵלָיו רְאֵה הֶעֱבַרְתִּי מֵעָלֶיךָ עֲוֹנֶךָ וְהַלְבֵּשׁ אֹתְךָ מַחֲלָצוֹת. הִלְבִּישׁוּהוּ לְבוּשִׁים אֲחֵרִים מְתֻקָּנִים שֶׁבָּהֶם מִסְתַּכֵּל אָדָם בְּזִיו כְּבוֹד רִבּוֹנוֹ.
Pinchas 23-25
Zechariah 3:1
"וַיַּרְאֵנִי, אֶת-יְהוֹשֻׁעַ הַכֹּהֵן הַגָּדוֹל, עֹמֵד, לִפְנֵי מַלְאַךְ יְהוָה; וְהַשָּׂטָן עֹמֵד עַל-יְמִינוֹ, לְשִׂטְנוֹ "
´Und zeigte mir Joshua den Hohepriester vor dem Engel des HERRN stehend und Satan an seiner rechten Hand stehend um ihn anzuklagen.´´
In seiner Vision und Prophezeiung sah Zechariah den Hohepriester vor dem Engel Gottes stehend und Satan war an seiner rechten Seite, bereit seine Missetaten zu zeigen.
Der Zohar lehrt uns, dass, wenn der Hohepriester solch eine Behandlung bekommt, was ist dann mit dem Rest der Menschen.
Unsere Aktionen werden ausgewertet und erschaffen positive oder negative Energien (Engel) die uns unterstützen oder gegen uns gehen.
Zechariah 3:3
"וִיהוֹשֻׁעַ, הָיָה לָבֻשׁ בְּגָדִים צוֹאִים; וְעֹמֵד, לִפְנ הַמַּלְאָךְ. "
´´Jetzt wurde Joshua mit schmutzigen Gewändern bekleidet und stand vor dem Engel.´´
Die ´schmutzigen´ Gewänder sind die Anhänge die wir zu unserer Seele mit unseren Aktionen und Wünschen in der physischen Welt hinzufügen.
Zechariah 3:4
"וַיַּעַן וַיֹּאמֶר, אֶל-הָעֹמְדִים לְפָנָיו לֵאמֹר, הָסִירוּ הַבְּגָדִים הַצֹּאִים, מֵעָלָיו; וַיֹּאמֶר אֵלָיו, רְאֵה הֶעֱבַרְתִּי מֵעָלֶיךָ עֲו‍ֹנֶךָ, וְהַלְבֵּשׁ אֹתְךָ, מַחֲלָצוֹת "
´´Und er antwortete und sprach zu denen die vor ihm standen, sagte: ´ Nehmt die schmutzigen Gewänder von ihm weg´. Und zu ihm sagte er: ´Siehe, ich habe deine Missetaten von dir genommen und kleide dich mit Roben.´
Wenn wir im nächsten Leben ankommen sollten alle ´physischen´Anhänge von unserer Seele in einem Prozess von Reinigung entfernt sein, der für jede Seele anders ist, basierend auf der Ebene von Wünschen für die physische Existenz.
Gerechte Seelen gehen durch diesen Prozess sogar wenn es für einen kurzen Übergang ist, der jeden Link zu der materiellen Existenz entfernt.
Nach dem Reinigungsprozess, erhält die Seele ihrem Niveau angepasste spirituelle Gewänder, basierend auf der Menge von Licht das sie in der Welt enthüllt hat.
{||}