Click here to listen to the Daily Zohar [audio:https://dailyzohar.com/wp-content/uploads/pinchas/audio/dp-1076.mp3|titles=Daily Zohar 1076]
Apple/Mobile devices, touch here to play audio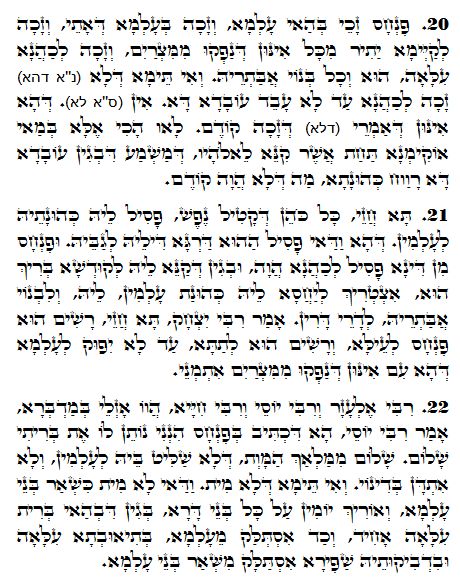 Hebrew translation:
20. פִּנְחָס זָכָה בְּזֶה הָעוֹלָם, וְזָכָה בָּעוֹלָם הַבָּא, וְזָכָה לְהִתְקַיֵּם יוֹתֵר מִכָּל אֵלּוּ שֶׁיָּצְאוּ מִמִּצְרַיִם, וְזָכָה לִכְהֻנָּה גְּדוֹלָה, הוּא וְכָל בָּנָיו אַחֲרָיו. וְאִם תֹּאמַר שֶׁלֹּא (שֶׁהֲרֵי) זָכָה לִכְהֻנָּה עַד שֶׁלֹּא עָשָׂה מַעֲשֶׂה זֶה – נָכוֹן (לֹא). שֶׁהֲרֵי אוֹתָם שֶׁאוֹמְרִים (שֶׁלֹּא) זָכָה קֹדֶם – לֹא כָּךְ. אֶלָּא כְּמוֹ שֶׁבֵּאַרְנוּ – תַּחַת אֲשֶׁר קִנֵּא לֵאלֹהָיו, שֶׁמַּשְׁמָע שֶׁבִּגְלַל מַעֲשֶׂה זֶה הִרְוִיחַ הַכְּהֻנָּה, מַה שֶּׁלֹּא הָיָה מִקֹּדֶם.
21. בֹּא וּרְאֵה, כָּל כֹּהֵן שֶׁהוֹרֵג נֶפֶשׁ, נִפְסְלָה כְהֻנָּתוֹ לְעוֹלָמִים, שֶׁהֲרֵי וַדַּאי פָּסַל אוֹתָהּ דַּרְגָּה שֶׁלּוֹ אֵלָיו. וּפִנְחָס מֵהַדִּין הָיָה פָּסוּל לִכְהֻנָּה, וּבִגְלַ שֶׁקִּנֵּא לַקָּדוֹשׁ-בָּרוּךְ-הוּא, הִצְטָרֵךְ לְיַחֵס לוֹ כְּהֻנַּת עוֹלָמִים, לוֹ וּלְבָנָיו אַחֲרָיו לְדוֹרֵי דוֹרוֹת. אָמַר רַבִּי יִצְחָק, בֹּא וּרְאֵה, פִּנְחָס רָשׁוּם הוּא לְמַעְלָה, וְרָשׁוּם הוּא לְמַטָּה, עַד שֶׁלֹּא יֵצֵא לָעוֹלָם, שֶׁהֲרֵי עִם אוֹתָם שֶׁיָּצְאוּ מִמִּצְרַיִם נִמְנָה.
22. רַבִּי אֶלְעָזָר וְרַבִּי יוֹסֵי וְרַבִּי חִיָּיא הָיוּ הוֹלְכִים בַּמִּדְבָּר. אָמַר רַבִּי יוֹסֵי, זֶה שֶׁכָּתוּב בְּפִנְחָס הִנְנִי נֹתֵן לוֹ אֶת בְּרִיתִי שָׁלוֹם. שָׁלוֹם מִמַּלְאַךְ הַמָּוֶת שֶׁלֹּא שׁוֹלֵט בּוֹ לְעוֹלָמִים וְלֹא נִדּוֹן בְּדִינָיו. וְאִם תֹּאמַר שֶׁלֹּא מֵת – וַדַּאי לֹא מֵת כִּשְׁאָר בְּנֵי הָעוֹלָם, וְהֶאֱרִיךְ יָמִים עַל כָּל בְּנֵי דוֹרוֹ, מִשּׁוּם שֶׁהִתְאַחֵז בַּבְּרִית הָעֶלְיוֹנָה הַזּוֹ. וּכְשֶׁהִסְתַּלֵּק מֵהָעוֹלָם, בְּתַאֲוָה עֶלְיוֹנָה וּבִדְבֵקוּת נָאָה הִסְתַּלֵּק מִשְּׁאָר בְּנֵי הָעוֹלָם.
Pinchas 20-22
Nummern 25:13
´´und es wird ihm sein, und seinen Nachkommen, das Abkommen einer ewigen Priesterschaft; weil er eifersüchtig war für seinen Gott und Sühne machte für die Kinder Israels.´´
" וְהָיְתָה לּוֹ וּלְזַרְעוֹ אַחֲרָיו, בְּרִית כְּהֻנַּת עוֹלָם–תַּחַת, אֲשֶׁר קִנֵּא לֵאלֹהָיו, וַיְכַפֵּר, עַל-בְּנֵי יִשְׂרָאֵל "
Einem Priester geht alles um Chessed, das ist Kanalisierung von Liebe, Heilung, Güte und Barmherzigkeit.
Als Pinchas die Menschen tötete, die den Abfluss von Energie von den Israeliten verursachten, disqualifizierte er sich ein Priester zu sein, aufgrund des Urteils von der Handlung. Aber diese Aktion enthüllte auch großes Licht, als er den Namen instand setzte der das spirituelle System von YHVH ist.
Pinchas brachte das Hei von Malchut und das Vav von Zeir Anpin zusammen und das erlaubte seiner Priesterschaft für alle Generationen wiederhergestellt zu werden.
Pinchas Aktion bekam er in dieser Welt und in der nächsten Welt belohnt.
Die Abbildung unten zeigt den Namen Gottes wie der Heilige Ari vorschlägt ihn in unseren Gedanken zu haben wenn wir meditieren um dicht beim Licht mit Liebe und Ehrfurcht zu sein.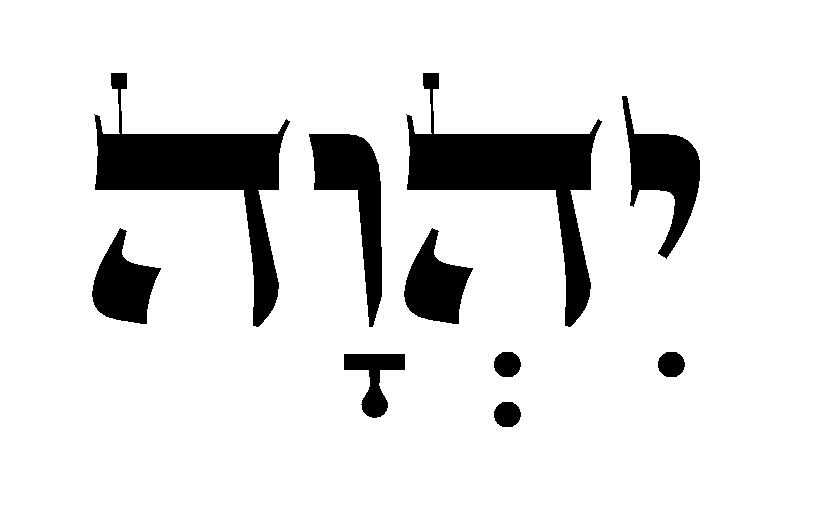 {||}