Zohar Quotidiano # 993 – Tre Passi Prima di Considerare un Divorzio.
Click here to listen to the Daily Zohar [audio:https://dailyzohar.com/wp-content/uploads/audio/dz993.mp3|titles=Daily Zohar 993]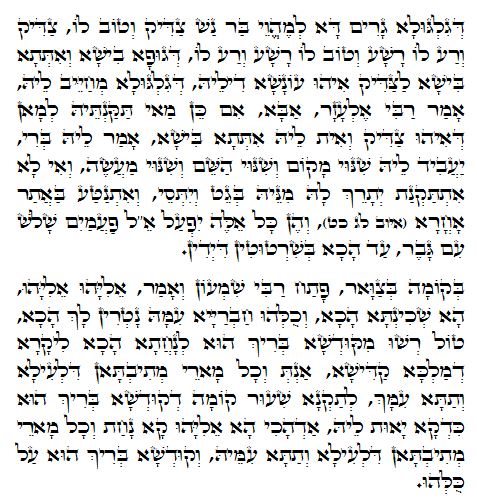 :
Tikkun 70– 98.
Una persona può venire in questa vita con una correzione (Tikkùn) legata alla fede e alla sua connessione con la Luce. Egli può diventare Giusto, ma può essere sposato con una donna che sfida la sua fede e gli dà tempi difficili per seguire la giusta strada.
Rabbi Elazar chiede al padre come questa persona può correggere il suo rapporto con sua moglie. Rabbi Shimon risposte che avrebbe dovuto provare tre cambiamenti nella sua vita.
1. Muoversi verso un nuovo posto, che l'avrebbe resa felice, perché a volte l'ambiente sociale crea una energia che colpisce la relazione.
2. Cambiare il suo nome. Con questo lei otterrà un'anima rinnovata che potrebbe darle una migliore comprensione ed un apprezzamento per il lavoro spirituale di suo marito.
3. Cambiare le sue azioni. Trattare sua moglie con amore e rispetto per influenzare il cambiamento positivo in lei.
Giobbe 33:29. "הֶן – כָּל – אֵלֶּה, יִפְעַל – אֵל – פַּעֲמַיִם שָׁלוֹשׁ עִם – גָּבֶר. "
"Ecco, tutte queste cose HaShèm le fa, due volte, tre volte , con un uomo,"
Rabbi Shimòn cita questo verso e dice che Dio HaShèm fa queste operazioni per noi durante il processo di correzione (Tikkùn).
Se questi tre passi non porteranno la coppia insieme sulla stessa strada, allora l'uomo deve proteggere se stesso dalla caduta divorziando da sua moglie e sposando una donna che lo aiuterà a costruire una vaso/recipiente migliore per la Luce.
Il processo a tre fasi è una cosa seria e gli uomini non dovrebbero cercare una scusa veloce per ottenere il divorzio, perché è permesso. Il processo di Tikkùn può prendere una persona in un rapporto difficile e impegnativo. L'uomo è quello responsabile di portare a casa la Luce e la donna di manifestarla. L'uomo deve fare grandi sforzi per risolvere tutti i problemi e per portare la pace e l'unità tra di loro. Solo dopo che egli ha esaurisce tutti e tre i metodi di cambiamento, esso è considerato il completamento di un Tikkùn con la moglie e allora egli può scrivere l' atto di divorzio.La regola è che l'uomo fa l'azione di scrivere a mano il divorzio, perché è la sua responsabilità e il suo Tikkùn. Al giorno d'oggi, gli uomini nominano scribi autorizzati a svolgere l'attività per loro conto.Una donna che è sposata con un uomo che è lontano dalla Luce dovrebbe creare un vaso/recipiente per lui per desiderare la Luce e dargli le possibilità di dimostrare a se stesso di essere un canale adeguato per lei e per la famiglia. La donna ha il potere di manifestazione e può determinare la direzione della relazione. Se l'uomo è 'impotente', che significa cioè che non è in grado di incanalare la Luce, allora lei può prendere in considerazione il divorzio, ma se hanno figli insieme, allora è già una manifestazione di Luce e lei non può chiedere il divorzio senza considerare il benessere e la stabilità dei bambini.Il denaro ed il successo materiale della famiglia non dovrebbe mai essere un problema per il divorzio. Dobbiamo sempre essere felici con quello che abbiamo nella vita e concentrarsi sulle connessioni spirituali e dell'anima. I Saggi ci hanno insegnato che questa vita è solo un corridoio verso il palazzo del grande Re. Se l'anima è pura, allora può andare nelle stanze interne e grandi del palazzo perché il Re non si preoccupa dell'oro o del tipo di tessuto sulla pelle.
{| |}