Zohar Quotidiano # 984 – Porta Pace e Riposo nel tuo Cuore.
Click here to listen to the Daily Zohar [audio:https://dailyzohar.com/wp-content/uploads/audio/dz984.mp3|titles=Daily Zohar 984]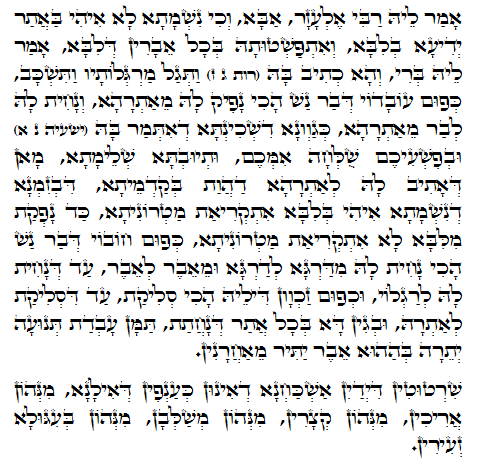 Hebrew translation:
Tikkun 70 – 89
Molte persone muovono alcune parti del loro corpo, mentre parlano. Alcune persone muovono gli occhi, le mani,la testa e alcuni muovono le gambe. La parte del corpo è animata dall'energia dell'anima.
Isaia 50:1
"הֵן בַּעֲוֹנֹתֵיכֶם נִמְכַּרְתֶּם, וּבְפִשְׁעֵיכֶם שֻׁלְּחָה אִמְּכֶם. "
"… per le vostre iniquità siete stati venduti, e per le vostre trasgressioni vostra madre è stata ripudiata."
Rabbi Shimòn spiega che in questo versetto la Madre, che è la Shechinà, è stata mandata via da uno stato di completa unificazione con la Luce per aiutare con il Tikkùn delle persone.L'intera esistenza, che è il mondo del Tikkun è in costante movimento, niente è inanimato. Il Senza Fine (Endless) è in un luogo di riposo totale perché non c'è nessun aspetto di mancanza in Esso. Il movimento esiste solo nel mondo di Malchùt che è stato creato in questo modo perchè così possiamo fare le nostre correzioni.
Durante lo Shabbàt, ci colleghiamo all'aspetto del riposo per ricevere dall'energia di Binah, che è al di sopra del mondo del Tikkùn. Le nostre preghiere dello Shabbàt parlano del 'riposo', al fine di connettersi a tale energia di Binàh.Shabbàt pomeriggio, dopo la preghiera di Minchà, è il più alto stato di 'riposo' ed è il momento migliore per leggere lo Zohar a tale scopo (10.000 volte più potente della connessione rispetto ai giorni normali!).
L'anima come l'aspetto della Shechinàh, si esprime con forza in diverse parti del corpo che necessitano di correzione. Abbiamo imparato che tutto il corpo rappresenta l'essenza spirituale e il tipo dell'anima di una persona. Se una persona ha o ha avuto impurità,allora si vedrà come movimento 'extra' nel corpo o con qualcosa che si esprime in modo diverso dal normale. Particolari movimenti degli occhi, della bocca, delle mani e delle altre parti del corpo indicano la correzione spirituale che è legata a quella zona del corpo.
La correzione è quella di portare il nostro corpo in completo equilibrio con le nostre connessioni ed azioni spirituali . Quando sentiamo uno stato di pace e di riposo nel nostro cuore, mentre stiamo seguendo il nostro processo di Tikkùn, allora siamo sulla strada giusta.
{| |}