Daily Zohar 1189
Daily Zohar 1189 Zohar Pinchas, Vol. 20 (English)/Vol 15 (Hebrew)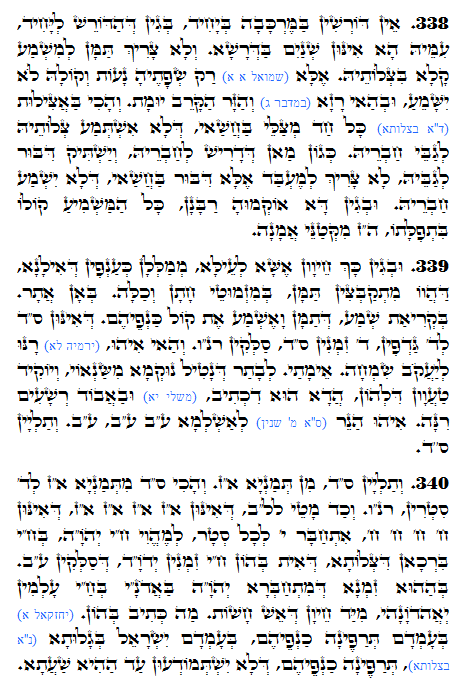 Pinhas 338-340
Prva Samuelova knjiga 1:13
;וְחַנָּה, הִיא מְדַבֶּרֶת עַל-לִבָּהּ–רַק שְׂפָתֶיהָ נָּעוֹת, וְקוֹלָהּ לֹא יִשָּׁמֵעַ
.וַיַּחְשְׁבֶהָ עֵלִי, לְשִׁכֹּרָה
Črkovanje iz Heb. črk v AlfaBet
וְחַנָּה vechannah, הִיא hi מְדַבֶּרֶת medaberet עַל-לִבָּהּ–רַק al-libah–rak שְׂפָתֶיהָ sefateiha נָּעוֹת na'ot, וְקוֹלָהּ vekolahלֹא lo יִשָּׁמֵעַ yishamea; וַיַּחְשְׁבֶהָ vayachsheveha עֵלִי eli, לְשִׁכֹּרָה leshikorah.
"Namreč Ana je spregovorila v svojem srcu. Njene ustnice so se sicer premikale, vendar njen glas se ni slišal. Zato je Eli menil, da je pijana."
Ta verz iz Prve Samuelove Knjige nam opisuje Ano, ki ni mogla zanositi. Tako je šla v Svetišče v mestu Šiloh in molila pred Bogom. Tamkajšni svečenik Eli joe videl premikati ustnice brez vsakršnega glasu. In potem je menil, da je pijana.
Zohar nam poudarja ta verz, da nas z njim poduči o duhovni povezavi. Naslednji verz nam dodatno odstira skrivnost.
Četrta Mojzesova Knjiga 3:10
.וְאֶת-אַהֲרֹן וְאֶת-בָּנָיו תִּפְקֹד, וְשָׁמְרוּ אֶת-כְּהֻנָּתָם; וְהַזָּר הַקָּרֵב, יוּמָת
Črkovane Heb črke v AlfaBet ( beri levo proti desni ).
וְאֶת-אַהֲרֹן ve'et-aharon וְאֶת-בָּנָיו ve'et-banav תִּפְקֹד tifkod, וְשָׁמְרוּ veshameru אֶת-כְּהֻנָּתָם et-kehunnatam; וְהַזָּרvehazzar הַקָּרֵב hakkarev, יוּמָת yumat.
"Arona in njegove sinove pa obdrži pri tem, da služijo kot duhovniki. Tujec, ki pa bi se približal noči, bo izočen smrti."
O čem Tora govori, ko omenja Arona in sinove, ki služijo kot duhovniki. "Tujci" pa bodo predani smrti?
Pojasnilo je zelo preprosto. Vzpostaviti duhovno povezavi na višji ravni zahteva od nas naklonjenost oz. privlačnost k tej ravni. Če je nekomu ta raven tuja ( TUJEC ), ali pa mu je tuj celoten proces dviga na to raven potem ta ne zmore narediti povezave.
Naše molitve so konstruirane na tak način, da nas vodijo v dvig na duhovno raven svetov: svet Udejanjanja (עשיה Asiah), Svet Oblikovanja (יצירה Yetzirah) in Svet Stvaritve(בריאה Beriah). Z namenom doseči svet Izžarevanja (אצילות Atziluth) s tiho stoječo molitivijo Amidah. Vanjo lahko vtkemo naše molitve za biti vreden in prisoten na višjih duhovnih ravneh.
Ana je vedela, da bi z glasno izgovorjavo besed bi znižala moč in vrednost duhovne povezave tukajšnega sveta Malchut (Asiah ), ki je daleč od sveta Izžarevanja (Atziluth ). Premikanje njenih ustnic brez glasu je ustvarjalo energijo, ki prihaja iz srca v um proti duhovni ravni sveta Atziluth.
Zohar nas poduči, da lahko tiha molitev ( Amidah ) izrečena z dovolj veliko glasnostjo, tako da ga sliši oseba ob njem, sproži izgubo gotovosti/vere.
Jeremija 17:10
.אֲנִי יְהוָה חֹקֵר לֵב, בֹּחֵן כְּלָיוֹת: וְלָתֵת לְאִישׁ כִּדְרָכָו, כִּפְרִי מַעֲלָלָיו
Črkovanje iz Heb pisave v AlfaBet ( beri levo proti desni )
אֲנִי ani יְהוָה Adonai חֹקֵר choker לֵב lev, בֹּחֵן bochen כְּלָיוֹת kelayot: וְלָתֵת velatet לְאִישׁ le'ish כִּדְרָכָו kidrachav,כִּפְרִי kifri מַעֲלָלָיו ma'alalav
"Kajti jaz YHVH Gospod preiskujem srca, preizkušam obisti, da podelim vsakemu po njegovih poteh v skladu s sadovi njegovih dejanj."
Energija, ki vzdržuje dušo in telo skupaj je razširitev Boga. Ko se izključimo iz fizične ravni našega obstoja lahko pridemo bližje Bogu s svojim srcem in umom. Med stoječo molitvijo, bi se morali izogibati vsake povezave s fizičnim svetom. Nobenega glasu, šuma, nobenih pogledov na druge ljudi, niti preverjanja časa na uri. Čas je namreč vidik materijalnega kraljestva Malchut. Kar pomeni padec iz sveta Atziluth.
Če nekoga zlahka zmotijo premiki ali glasovi okoli njega, potem bi se moral natrenirati, da zmore zanemariti vzdrževati neprekinjeno povezavo medtem, ko njegova duša obiskuje svet Atzilutha.
Če nekdo vlaga napore v molitev, potem to mora delati praivlno. Bog namrel ne uporablja varnostne kamere ali web-kamere, da bo vohunila za njim. Bog je znotraj nas in raven povezave določa kako globoko, smo prerezali vez s telesom in sebičnimi željami, Ponarejati lastne molitve lahko naredijo vtis na meso in kri. Apak ne na Boga.
Ezekijel 1:24
וָאֶשְׁמַע אֶת-קוֹל כַּנְפֵיהֶם כְּקוֹל מַיִם רַבִּים כְּקוֹל-שַׁדַּי, בְּלֶכְתָּם–קוֹל
.הֲמֻלָּה, כְּקוֹל מַחֲנֶה; בְּעָמְדָם, תְּרַפֶּינָה כַנְפֵיהֶן
Črkovana Heb pisava ( beri levo proti desni )
וָאֶשְׁמַע va'eshma אֶת-קוֹל et-kol כַּנְפֵיהֶם kanfeihem כְּקוֹל kekol מַיִם mayim רַבִּים rabim כְּקוֹל-שַׁדַּי kekol-shaday,בְּלֶכְתָּם–קוֹל belechttam–kol .הֲמֻלָּה .hamullah, כְּקוֹל kekol מַחֲנֶה machaneh; בְּעָמְדָם be'amedam, תְּרַפֶּינָהterapeinah כַנְפֵיהֶן chanfeihen.
Zohar pojasnjuje, da se angeli zaustavijo, ko smo v stoječi molitvi. Tako nas lahko začutijo (חשות). Preberi DZ št. 1169 https://dailyzohar.com/daily-zohar-1169/
Da imamo naklonjenost do Zoharja, potrebujemo njegova učenja. Večina Kabbala organizacij, učiteljev Kabbale, posebej tistih izven Izraela zlahka jemljejo ta del Zoharja. Večina ljudi, bi želela ceneno duhovno povezavo. Vendar resnica je, da če ne sledimo duhovni tehnologiji, ki nam jo odstira Zohar iz Tore potem nimamo naklonjenosti za pritegnitev svetlobe.
Ženskam ni potrebno opravljati vseh molitev, ki jih morajo narediti moški. Vendar bi morale narediti kar je v njihovih močeh za duhovno povezavo. Če že gremo k služenju Šabata, potem maksimalne 100% napore, da se usmerimo na na molitve. Posebej bodimo usmerjeni na molitve: Shema Israel ( Oj sliši Izrael ), Amidah (Stoječa molitev) ter pozorno poslušanje Tore in Mussaf.
Tudi, če plačaš rabinu ali učitelju veliko denarja, da moli zate, je tiha stoječa molitev samo tvoja. Noben je ne more moliti namesto tebe. Tvoje srce in um bi morala imeti naklonjenost do vseh molitev tako za zdravje, blagostanje kot uspešne in lepe medsebojne odnose.
{||}