Daily Zohar # 1188 – Pinchas – Bride and groom
Daily Zohar 1188
Daily Zohar 1188
Zohar Pinchas, Vol. 20 (English)/Vol 15 (Hebrew)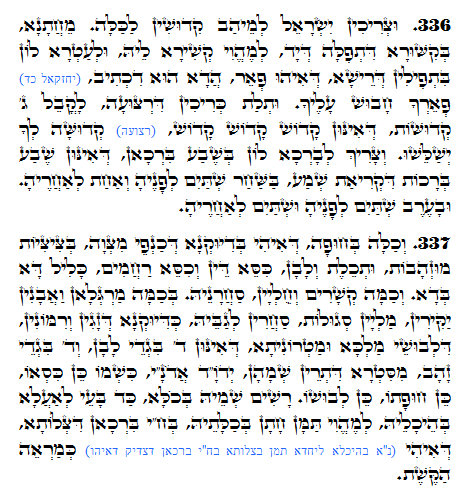 Hebrew translation:
336. וּצְרִיכִים יִשְׂרָאֵל לָתֵת קִדּוּשִׁין לַכַּלָּה מֵהֶחָתָן בִּקְשִׁירַת תְּפִלָּה שֶׁל יָד, לִהְיוֹתָהּ קְשׁוּרָה לוֹ, וּלְעַטֵּר אוֹתָם בִּתְפִלִּין שֶׁל רֹאשׁ, שֶׁהִיא פְּאֵר. זֶהוּ שֶׁכָּתוּב (יחזקאל כד) פְּאֵרְךָ חֲבוֹשׁ עָלֶיךָ. וְשָׁלֹשׁ כְּרִיכוֹת שֶׁל רְצוּעָה כְּנֶגֶד שָׁלֹשׁ קְדֻשּׁוֹת, שֶׁהֵן קָדוֹשׁ קָדוֹשׁ קָדוֹשׁ, (רְצוּעָה) קְדֻשָּׁה לְךָ יְשַׁלֵּשׁוּ. וְצָרִיךְ לְבָרֵךְ אוֹתָן בְּשֶׁבַע בְּרָכוֹת, שֶׁהֵן שֶׁבַע בְּרָכוֹת שֶׁל קְרִיאַת שְׁמַע – בַּשַּׁחַר שְׁתַּיִם לְפָנֶיהָ וְאַחַת לְאַחֲרֶיהָ, וּבָעֶרֶב שְׁתַּיִם לְפָנֶיהָ וּשְׁתַּיִם לְאַחֲרֶיהָ.
337. וְכַלָּה בְּחֻפָּה, שֶׁהִיא בְּצוּרַת כַּנְפֵי מִצְוָה, בְּצִיצִיּוֹת מֻזְהָבוֹת, וּתְכֵלֶת וְלָבָן, כִּסֵּא דִין וְכִסֵּא רַחֲמִים, כָּלוּל זֶה בָּזֶה. וְכַמָּה קְשָׁרִים וְחֻלְיוֹת סְבִיבָהּ, בְּכַמָּה מַרְגָּלִיּוֹת וַאֲבָנִים יְקָרוֹת מְלֵאוֹת סְגֻלּוֹת, סוֹבְבִים אֶצְלוֹ כִּדְמוּת פַּעֲמוֹנִים וְרִמּוֹנִים שֶׁל לְבוּשֵׁי הַמֶּלֶךְ וְהַמַּלְכָּה, שֶׁהֵם אַרְבָּעָה בִּגְדֵי לָבָן וְאַרְבָּעָה בִּגְדֵי זָהָב, מִצַּד שֶׁל שְׁנֵי שֵׁמוֹת – יְהֹוָ"ה אֲדֹנָ"י. כִּשְׁמוֹ כֵּן כִּסְאוֹ, כֵּן חֻפָּתוֹ, כֵּן לְבוּשׁוֹ. רָשׁוּם שְׁמוֹ בַּכֹּל כַּאֲשֶׁר רוֹצֶה לַעֲלוֹת בַּהֵיכָל לִהְיוֹת שָׁם חָתָן בְּכַלָּתוֹ בְּח"י בִּרְכוֹת הַתְּפִלָּה, שֶׁהִיא (בַּהֵיכָל לְהִתְיַחֵד שָׁם בִּתְפִלָּה בְּח"י בְּרָכוֹת שֶׁל הַצַּדִּיק שֶׁהוּא) כְּמַרְאֵה הַקֶּשֶׁת.
Pinchas 336-337
Ezekiel 24:17
"פְּאֵרְךָ חֲבוֹשׁ עָלֶיךָ"
"Your glory is dressed upon you"
To draw the light to Malchut, we need to connect the Shechina as the aspect of ADNY אדני with the upper levels יהוה YHVH.
The unification of the hand Tefilin with the head Tefilin is done with the prayer of the Shema Yisrael. Three wraps of the strap on the middle finger is for the three words, Kadosh, Kadosh, Kadosh of the Kedusha that we recite together in the standing prayer. Then, seven wraps on the arm that connects the lower seven Sefirot and the seven blessings that come with the Shema. In the morning prayer we have two blessings before the Shema and one after. In the evening, we have two before and two after the Shema.
The wedding ceremony is called Kidushin and it comes from the word Kedusha, holiness. During this process the bride that is the aspect of Malchut, surrounds the groom, Zeir Anpin, seven times 'wrapping' and binding the seven Sefirot as one. The Chupah, which is the Talit that is held above them, represents the YHVH with the four Tzizits in the corners.
The Seven blessings under the Chupah 'link' the YHVH with ADNY and the groom is elevated to Zeir Anpin. He now enjoys the higher level and the light aspect of Ruach.
Serving and making the bride and groom happy is a spiritual connection with great benefits.
Additional explanation about the verse above.
The verse in Ezekiel 27:17 has a lot of deeper meaning.
The Glory is the aspect of revelation of Light and in the DZ reference is the act of wearing the Tefilin on the head to make connection to the upper level.
The general meaning from the verse is that we need to 'dress' ourselves with the tools of light in order to connect to the light.
Like if we are invited to visit the king we will dress ourselves with the best cloths we have or even order custom clothing to fit the event. Our cloths represent our respect to the King and in return he will treat us with similar respect. When we come to meet with God with our requests and prayers we should wear a clothing of Light. The Tefilin has Torah scrolls inside of Them. Our prayers use sacred verses from the Torah and the Bible. We use them to come closer to a level that gives us a bridge to upper levels with ability to draw light.
The Zohar is a great tool that use the sacred text of Torah and Bible and provide a greater channel to draw the light.
{||}